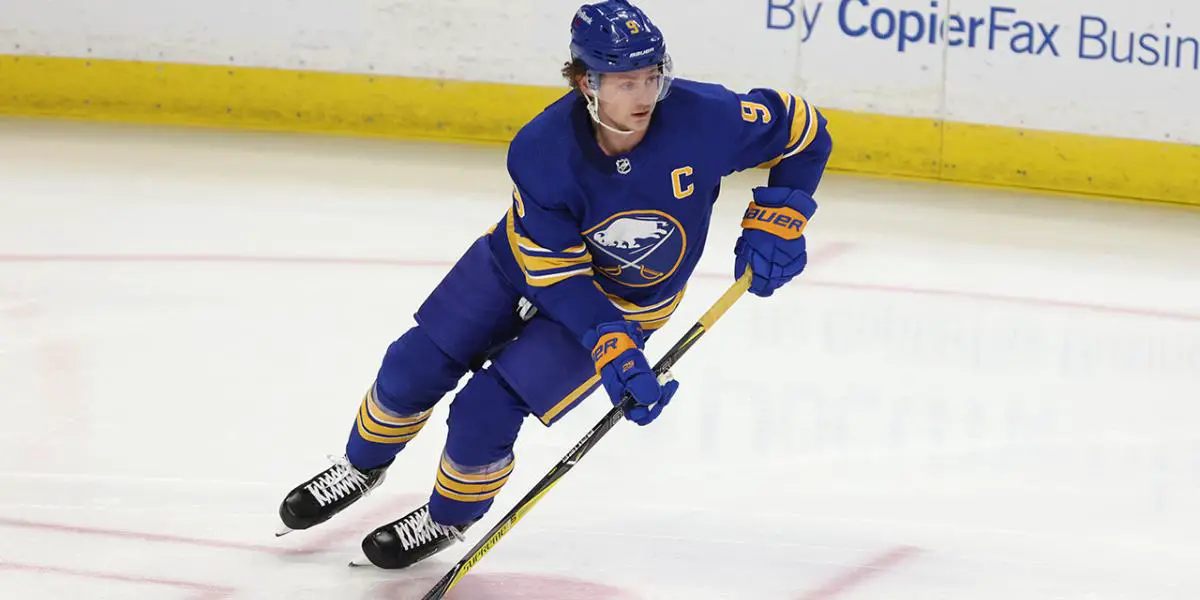 Jack Eichel and a 2023 3rd round pick have been traded to the Vegas Golden Knights in exchange for Alex Tuch, Payton Krebs, 2022 1st round pick, and a 2023 2nd round pick.
That is it! After all of this time, expecting a massive haul to land in Buffalo for Eichel, this is what we were left with. We will break this trade down separately for each time and what it means for their franchises.
Buffalo Sabres
Buffalo can finally put their Eichel drama is going to lift a giant weight off of the franchise. Kevyn Adams was left with a situation in his lap that no other general manager in the league would want to deal with. Trading your franchise captain, superstar, and former second overall pick after a disgruntled ending. Now I will leave the surgery discussion out, for now, let us focus on the actual return.

Alex Tuch, Payton Krebs, 1st rounder, 2nd rounder.
Alex Tuch came to Vegas via the Minnesota Wild in the expansion draft, he was one of their sneaky pick-ups that offseason and Tuch has done nothing but impress since making the Golden Knights roster. Tuch has tallied 102 points in 171 games with Vegas over the last 3 seasons while he now has 5 years and a $4.75 million per year contract let on the books.
Payton Krebs is what I deem the centerpiece of this trade, Krebs was selected 17th overall by Vegas in 2019, and many within the organization believed Krebs would be the beginning of their future at the center ice position. Obviously, Eichel is a more established talent right now, but, Krebs will rise to the occasion down the road. Krebs is currently in year 1 of his entry-level contract.
Overall, this is trade is going to boil down to what happens with Alex Tuch, while many think the Sabres have cooled on futures because of their hot start this season, if I were in Kevyn Adams shoes, I would be looking to see what Tuch could get me on the market this season and move him onto another contender in the league for some more lottery tickets in the draft. All in all, great work by Kevyn Adams to get these pieces in a trade where leverage was fleeting at best.
Vegas Golden Knights
Vegas has been a lightning rod for the NHL since they joined the league, with constant chatter about acquiring stars, their on-ice performances before and during games, and of course their social media presence doesn't hurt either. Vegas has had extremely high expectations since making the Stanley Cup Final in their first season. They really have never cooled off since the Cup final run, only stoked the flames higher by continuing to add superstar after superstar to their roster. Enter Jack Eichel, Eichel is no doubt one of the premier centers in the NHL and he is paid like one as well. Eichel's contract carries a $10 million AAV for the next 4 years past this season, that's not chump change and NO salary was retained in this deal.
The question has to be asked, how will Vegas fit their salary cap structure together when the likes of Eichel, Pacioretty, Patrick, Whitecloud, and Stone return. I can tell you, no one seems to care at the moment but that will be a whole other saga in itself. This trade will most likely go down as the Blockbuster of the year no doubt.
Jack Eichel is expected to take 8 weeks of recovery after returning for the artificial disk replacement surgery and could play for Vegas to close out the season and playoffs. Vegas is in a wide-open Pacific division with only having one true rival, the Colorado Avalanche, Colorado was the favorite to win the and possibly the Stanley Cup. This trade is going to tip those scales heavily, make sure you place any futures on Vegas ASAP!