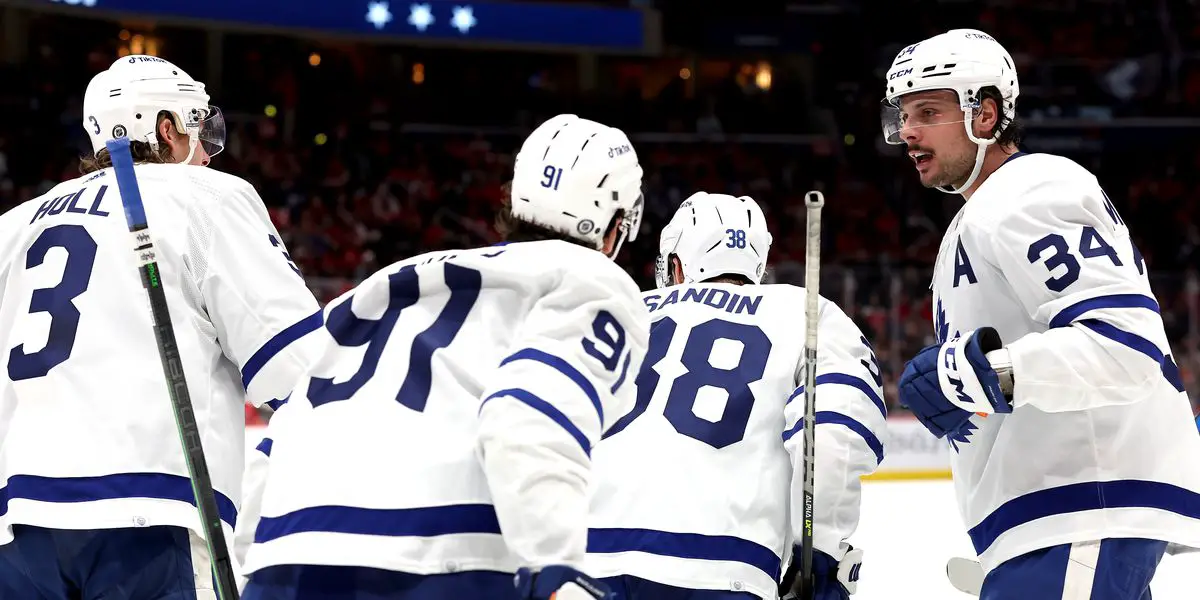 Tonight marks the start of the 2022-2023 season for the Toronto Maple Leafs. The Leafs ended their last campaign with another round 1 exit, and hope this is the year they can push through to the second round and beyond. The offseason came with many mixed feelings and opinions as players like Jack Campbell, Ilya Mikheyev, and more are now on new clubs, while the Leafs brought in new goaltending and depth pieces. While most of the doubters need to see playoff results before believing in the team, you need to first qualify for the playoffs, and that starts with the regular season, beginning tonight.
Leafs Projected Lineup
Forwards
Bunting – Matthews – Marner
Nylander – Tavares – Malgin
Engvall – Kerfoot – Järnkrok
Aston-Reese – Kämpf – Aubé-Kubel
Defense
Rielly – Brodie
Muzzin – Holl
Giordano – Sandin
Goalies
Murray
Samsonov
Canadiens' Projected Lineup
Forwards
Caufield – Suzuki – Anderson
Hoffman – Dach – Monahan
Slafkovsky – Dvorak – Gallagher
Pitlick – Evans – Dadonov
Defense
Guhle – Savard
Xhekaj – Wideman
Harris – Kovacevic
Goalies
Allen
Montembeault
5 Things to Look Out For
1. Murray's debut with the Leafs
This offseason, the Leafs decided to fully revamp their goaltending department, as they replaced longtime goaltending coach Steve Briere with Curtis Sanford. They didn't stop there as they moved on from Campbell and Mrazek, replacing them with Murray and Samsonov. Murray gets the nod tonight as he looks to return to the form that helped the Penguins win back-to-back Stanley Cups.
2. Järnkrok's gameplay
Järnkrok proved through training camp that he can be a versatile player and can play up and down the lineup, but I think he will excel the most in a third-line winger role. Järnkrok excels on the defensive end of the game and will be a key part of holding down leads late in games. At the same time, Järnkrok has a powerful shot that shouldn't be underrated. I wouldn't be surprised to see his offensive output grow this season on the Leafs, especially while playing with Kerfoot and Engvall.
3. Sandin playing on the right side
Sandin looks to be starting out the year on the right side, which is his off-hand, but with the right pairing and deployment, Sandin will become an effective player on both sides. You may remember the game where Sandin played top-line minutes on the right side paired with Rielly, or you may have tried to block that out of your mind. While that game didn't have many positives from it, it's a new season, and in the small sample size of Sandin on the right side since then, he has looked solid. Sandin will be paired with a veteran defenseman Giordano tonight on the third pairing. Starting on the third pairing is a major key to Sandin doing well on the right side, but playing with Giordano is another big factor, as he will help to mentor Sandin. Giordano has a lot of game experience, and we noticed last year how much he helped Liljegren to grow.
4. Tavares' return from injury
Tonight Tavares is expected to return to play with the Leafs. As mentioned in a previous article of mine, if, for some reason, come game time, he isn't ready to go, the Leafs would have to dress one player short. Assuming that Tavares is ready to go tonight, I'm sure the Leafs' medical team will keep in contact with him throughout the night to ensure he is feeling good the whole game. Tonight will be the first look we have at the full second line, with Tavares centering Malgin and Nylander.
5. Leafs' special teams
Special teams are a big part of the game today, and the Leafs ended the year last year with the top-ranked powerplay, sitting at 27.3%, and the 8th-best penalty kill, sitting at 82.1%. The Leafs will look to keep those numbers up as they head into the 2022-2023 season and keep the momentum they had to end the preseason on special teams. The top powerplay line remains unchanged, but the second line will start tonight with Bunting, Malgin, Kerfoot, Järnkrok, and Giordano. I expect this second powerplay line to be able to produce effectively and expect this to be where Järnkrok's shot shines the most. Now, as for the penalty kill, it's a bit of a different story. Last year any time Mikheyev was on the ice during a penalty kill, you could expect at least one 2 on 1, and oftentimes a goal too. With Mikheyev no longer on the Leafs, I wouldn't be surprised if there was some shuffling in the penalty kill to find a new regular to join the penalty-killing core, currently consisting of Marner, Kämpf, and Engvall.
Tonight marks the start of a new season, and for those excited for a new season, you should be! Tonight we get to see a new Leafs lineup and get a chance to start the season with momentum. The game begins at 7:00 PM EST and can be found on Sportsnet! Go Leafs!
Thanks for reading! Feel free to follow me on Twitter @nathan_bondy.
Appreciation in Leafs Nation – RD2 GAME 5
–
Leafs Late Night
WELCOME BACK TO LEAFS LATE NIGHT! Presented by Inside The RinkRoscoe / Fanalyst / Galaxy Biehn / Marty From Keswick- We Didn't Want Florida- Rielly Robbed- Roscoe vs. Fanalyst: What Was The Deciding Factor?- Does The Regular Season Matter?- Leafs Nation Stays *mostly* PositiveMERCH IS AVAILABLE!JOIN OUR DISCORD!Remember to follow us on Twitter @LeafsLateNight & IG @LeafsLateNightCheck out Mike, Josh, and Nathan's articles on the Leafs + many more! insidetherink.com