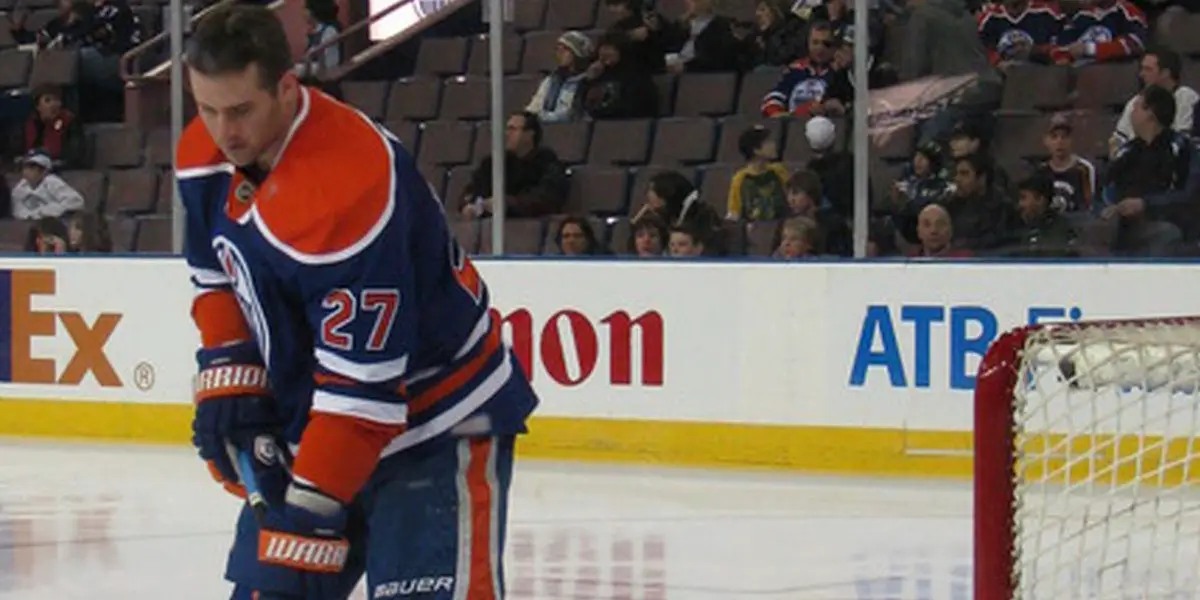 It was the summer of 2007; the Anaheim Ducks had just won their first Stanley Cup in franchise history. The Edmonton Oilers, a year after going to the Stanley Cup Finals, started the first year of what would eventually be a ten year Playoff drought, finishing 24th place in a league that still had 30 teams. Then General Manager Kevin Lowe felt desperate to make moves that would help put his team back into the Playoff picture, especially after having to move on from franchise icon Ryan Smyth. Then General Manager Brian Burke, running the Ducks, wasn't in a position where he could re-sign the restricted free agent, Penner, coming off a 29 goal/45 point regular season and eight additional points in the Playoffs. Lowe took his chance to strike with an offer sheet of $21.25M for five years. It wasn't matched, and thus, Penner became an Oiler. This was after Lowe had also attempted another offer sheet towards Thomas Vanek, who'd been coming off a sophomore season of 43 goals and 84 points with the Buffalo Sabres, along with 10 points in 16 Playoff games. That offer sheet was for seven years at $50M, but the Sabres matched. A price tag that was beyond hefty, but keeping Vanek was necessary for Buffalo after Chris Drury and Daniel Briere departed as unrestricted free agents. This started a war of insults between Burke and Lowe, maybe more so for Burke since he was making most of the comments while Lowe just took each vocal blow. To put it lightly, the former Ducks GM was not a happy camper.
Penner's first season with the Oilers in 2008 was pretty decent, with a slight drop off in goals from 29 to 23 but a slight increase in points from 45 to 47. Before his second Oilers season had started in 2009, Kevin Lowe decided he was finally fed up with Brian Burke bashing him and went on his own bashing spree against Burke, bringing up one of his famous "Six Stanley Cup rings" defenses. NHL Commissioner Gary Bettman spoke out against Lowe and Burke, announcing that the two men would be fined if the feud continued. Burke threw punch after punch after punch, and Lowe only tapped once before they needed to stop. Now, getting back to hockey. Penner's second Oilers season saw a big downgrade in production, finishing the year with 37 points and at one point was healthy scratched for two straight games after being called out by then Head Coach Craig MacTavish for lack of proper fitness and not playing competitive enough.
Then, he was involved in a blockbuster trade along with forward Andrew Cogliano and defenseman Ladislav Smid for star forward Dany Heatley from the Ottawa Senators. This deal was announced late one evening, but then Heatley himself vetoed it the morning after. Oilers fans would not see a back-to-back 50 goal scorer in Orange and Blue silks after all. But Penner, Cogliano, and Smid still had a good sense of humor about it. At a Halloween party, Cogliano and Smid wore Heatley Senators jerseys, and Penner dressed up as Santa Claus but was instead called "No Trade Claus." Penner had a bounce-back season in 2010, putting up 32 goals and 63 points. In 2011, he dropped off a bit again, playing 62 games and registering 39 points before getting traded to the L.A. Kings, who he'd win his second Stanley Cup with the following year.
If you don't know much about this player's career and wonder what fans would associate most with him? Well, imagine the hot dog jokes about Phil Kessel and replace hot dogs with pancakes. Penner was really big on pancakes. So much so that he actually had to sit out a game for the Kings due to back spasms that he had when eating a pancake breakfast. But jokes aside, offer sheet aside, I've always felt that Dustin Penner was just a tad over-hated as an Oiler. While the contract may've been controversial at the time, his production ten years later would equal that contract. I've seen worse contracts come with worse play. Ironically, the season that he was in MacT's dog house was his only bad season in Edmonton. In all the other seasons, he was a respectable 45-50 point forward with one 60 point season. The latter was in a season when Shawn Horcoff started on the decline, and Ales Hemsky missed three quarters of the season due to injury. He had a career year essentially without the team's #1 center (figuratively speaking) or #1 winger; that's pretty impressive. Even in the season that he was traded, he was top 5 in team scoring and would've finished higher had he stayed. 6 points in 19 games with L.A. after the trade is little, but you could also argue that he needed to get more comfortable with new teammates. Was he a strong and intimidating power forward not to mess with? No. Was he a poor and useless player? Also no. While you're reading this piece, I hope you have or had yourself a nice pancake breakfast in this former Oiler's honor.