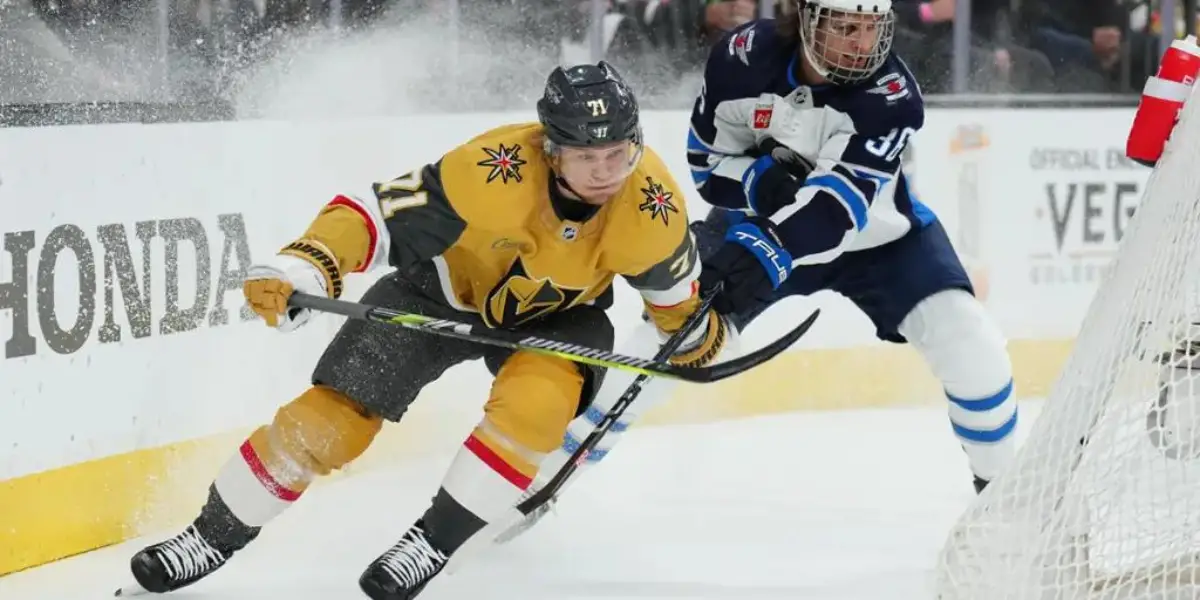 Vegas Golden Knights hold a 3-1 series lead against the Winnipeg Jets
SERIES AT A GLANCE
Game 1: Jets 5, Golden Knights 1
Game 2: Golden Knights 5, Jets 2
Game 3: Golden Knights 5, Jets 4 (2OT)
Game 4: Golden Knights 4, Jets 2
Game 5: Thursday, April 27 at 7 p.m. PT at T-Mobile Arena
Game 6: Saturday, April 29 at TBD at Canada Life Centre (if necessary)
Game 7: Monday, May 1 at TBD at T-Mobile Arena (if necessary)
The Vegas Golden Knights know that their 3-1 series lead against the Winnipeg Jets represents a successful start to the best-of-seven duel, but the job is far from finished on Thursday at 7 p.m. PT at T-Mobile Arena.
Of their seven series wins all-time, the Golden Knights have only closed a team out on home ice twice. Vegas defeated the Minnesota Wild in Game 7 at T-Mobile Arena in 2021. 
Defenseman Shea Theodore, who ranks second in franchise history in home playoff points with 30, said that the chance to advance at home is another opportunity for the Golden Knights to show what they're made of. 
"We want to play well in front of our fans," Theodore said. "We want to be good in these types of situations. We obviously know that if we win, we're going on. It's exciting, but it's not over by any means. We know they're going to have their best game yet. 
Quote Credit: Gordon Weigers @Golden Knights / VegasGoldenKnights.com
Winnipeg was bit hard by the injury bug in Games 3 and 4, as Josh Morrissey and Mark Scheifele have been ruled out for Game 5. Head Coach Rick Bowness confirmed that Kevin Stenlund, Pierre-Luc Dubois, and Mason Appleton are also dealing with "nagging stuff." There's optimism for Jets fans that forward Nikolaj Ehlers could make his series debut in Game 5 as he engaged in contact in the team's practice on Wednesday, but Bowness said he's still a game-time decision. 
Despite their missing personnel, the Jets have their backs against the wall and don't want their season to end just yet. The Golden Knights have been in similar situations in the past and know what they'll be up against when Game 5 gets going Thursday night. 
"The work is not done yet," said William Karlsson. "They're a good team. They're not going to lay down. They're going to give everything they've got."
Gordon Weigers @GoldenKnights/ VegasGoldenKnights.com
On the opposite end of the injury spectrum, the Golden Knights welcomed William Carrier back to practice on Wednesday as a full participant. Vegas has been without the veteran forward since March 3, when his career-best 16-goal season was halted due to injury. 
"He checked another box today by practicing with the group," Bruce Cassidy said. "That was going to be the next hurdle for him. He'd been skating with our extra guys when we were in Winnipeg. He's been progressing well, so that's good to see. We'll find out if there are any setbacks tomorrow morning from today's practice. At the end of the day, if he feels good, there's an opportunity that he may play." 
Contributions have come from up and down the lineup through the first four games of the postseason for the Golden Knights, as 13 different skaters have registered at least one point, 12 of whom have multiple points in the series.
"Our depth is something that we've looked forward to having at this time of year," said Theodore. "It's one of our strongest assets. Hopefully, we can get everyone in the lineup, get some chemistry, and keep building on that as we go."
Gordon Weigers @Goldenknights / VegasGoldenKnights.com
The Vegas Golden Knights can close out their first round series against the Winnipeg Jets in Game 5 on Thursday at 7 p.m. PT at T-Mobile Arena. Vegas leads the series, 3-1. 
THE GOLDEN KNIGHTS ARE IN THE STANLEY CUP FINAL !!!!
–
The Vegas Fever Podcast
In this episode, we talk about:-How the Golden Knights defeated Dallas in the WCF, startING strong against Florida in the Cup final.-Review Games 1 and 2 of the SCF.-Dedan Thomas makes his reclassification official.-Oakland A's to Vegas stadium update.-We answer some of your questions, comments, and emotional outbursts.Plus more!Thanks for checking us out! Please subscribe after you listen!