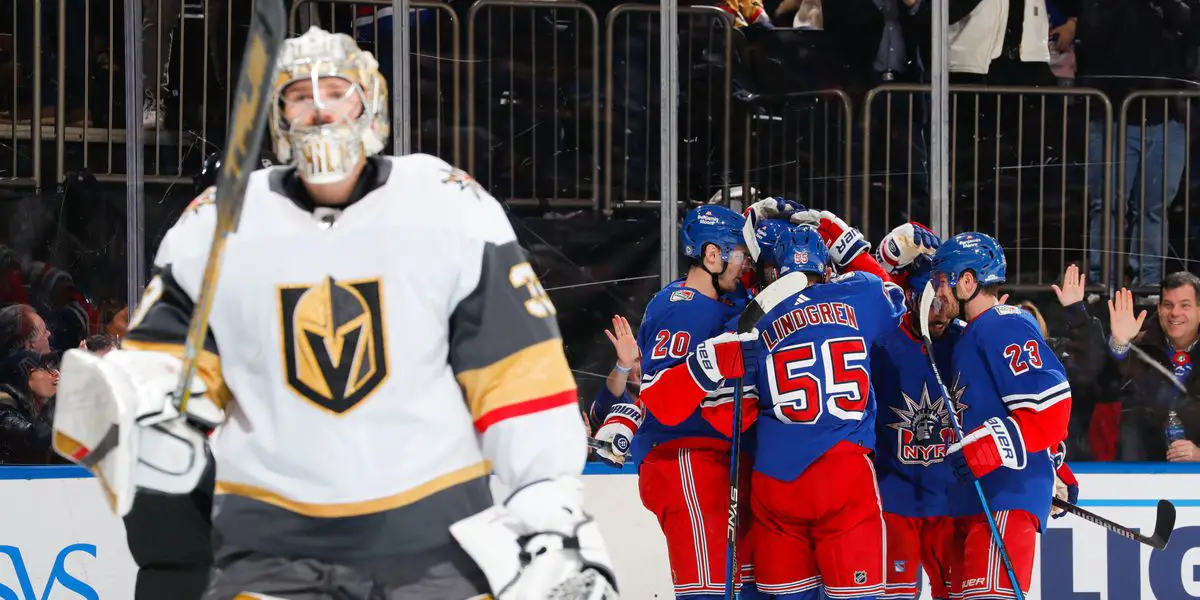 This one will last a lifetime! Okay, that's a little bit dramatic; however, last night's 4-1 victory over the Vegas Golden Knights will be the Rangers' last game for ten days, so that positive result will need to resonate for quite a while. So let's break it down.
THAT'S GOOD!
JARO HALAK
An underrated aspect of the Rangers turning their erratic season around has been the improved play of Jaroslav Halak. Brought in as a solid veteran backup, Halak was incredibly shaky in his first handful of starts. Thankfully, he rebounded nicely and was excellent last night, especially early on while the Rangers were displaying their usual slow start.
He probably should have hugged the post tighter on Vegas' one goal (which never should have been allowed to happen; more on that below), but it was just a mere blip in what was one of his strongest performances to date.
REBOUNDING
My favorite trait of this recent version of our Rangers has been their ability to persevere and rebound from adversity. Last season especially, whether it was in-game or after a loss, they never stayed down for too long.
That characteristic also applies to individual players, so it was particularly heartening to see Chris Kreider and Vincent Trocheck have great games.
Chris Kreider, above all, needed this one. His effort against Toronto was subpar up to his standards, so to see him engaged and productive last night was encouraging. He drove the net and benefitted from a sweet move and pass by Trocheck for his 20th goal of the season and a 1-0 lead.  
Trocheck continued his dominating first period with his 14th goal off a sweet pass from Goodrow from behind the net.
That whole line was the team's best for the game despite not tallying any more goals. For the Bluehsirts to reach that next level, they must receive contributions from all lines. To expect production every night from everyone is unrealistic, but they also can't fall into black holes for extended periods of time either.
Seeing an instant bounceback like this from two of our top players is the type of resiliency that defines the best of what this team has to offer.
THAT'S BAD!
PASSING
This is more of a general concern, but last night was another game where the Rangers' passing was off, both in execution and decision-making.  
For every great pass like Goodrow's for the Trocheck goal, several others were off the mark. They've led to failed breakaways and stunted offensive zone rushes or disrupted any rhythm or cohesion.
Even worse is this team's constant need to make cross-ice passes through a sea of sticks with a very low percentage of getting through. It's even more maddening when they pass up point-blank shots to do so.  
No one is saying this team needs to adopt a shooting gallery mentality, but there are too many wasted opportunities of passes that go to die when a shot at the net could provide more fruitful.
POWER PLAY
No more analysis to add that has yet to be covered. It just needs to be better. Another two non-productive power plays last night. Let's hope the extended break somehow cures its ills.
CAN I GO NOW?
First fight for the kid, Will Cuylle, and he held his own very well against a big enforcer. Hoping we see more of him after the hiatus.
That was just a BRUTAL missed call by the refs on a blatant trip of Lafreniere in the second period. It kept the puck in the zone and directly led to Kessel's goal to make it 2-1. It didn't matter at the end of the day, but it could have been a game-changing sequence.
I LOVED the effort and drive on Chytil's goal. What an absolute revelation he's been this season. So many times in his career, his modus operandi was elite skill in driving the net, but he ended up with nothing to show for it. Now he's found another gear that has opened up production for him we all hoped we would see. A long time coming, but worth the wait if this continues.
There's nothing more underrated from a skill perspective than an empty net goal, and Vesey proved that last night. Call me crazy, but we should be celebrating a down-the-middle empty net goal when firing from your own zone under pressure: Vesey's ninth and a dagger to boot.
Our next game is Monday, February 6th, at home vs. Calgary. Let's hope we come out of the break without missing a beat.
In this week's episode we discuss the new rumors regarding the Rangers coaching situation. Then go on to the fun stuff discussing the impact Tkachuck's play will make on the game, Rangers players and more. Thanks for listening! Please rate and review our show on your favorite listening platform. Check out our partner's website at www.insidetherink.com for all your latest hockey news.