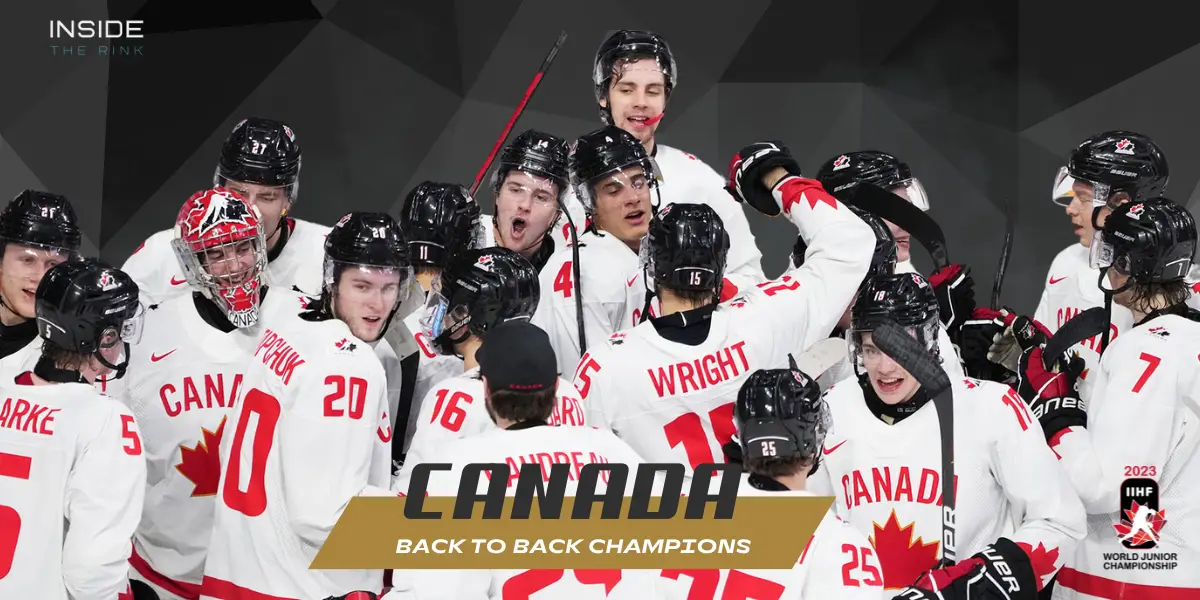 Redemption. A common term used by many Canadian players during interviews leading up to this rematch. Czechia defeated Canada in a 5-2 upset on Boxing Day. Today, Canada seeks their revenge as the two teams were set to face off once again, but this time it's for the gold medal. Canadian goaltender has been nothing short of stellar in this tournament, and he's only gotten better with each passing game. His best game was obviously in the semi-finals against Team USA. I would argue Canada would not be playing for gold today if it wasn't for Milic's remarkable 43 save performance last night. On the other side, Czechia's goaltender, Suchanek, has been fantastic yet again for team Czechia. He carried a 5-1 record, and a 0.938 save percentage into the gold medal game. This is Czechia's first gold medal appearance since 2001, simply an amazing accomplishment for this team and the entire country of Czechia. 
A fantastic pace to start this game, but Canada was given the first penalty of the game as Gaucher was called for interference as he laid a hit on a guy who didn't even have possession of the puck. Time of the penalty was 1:45. Hinds came up with a couple of crucial blocks early on in the man advantage for Czechia that was greatly appreciated by the Canadian faithful in attendance. Czechia could only generate a single shot on goal during the power play due to Canada's fantastic penalty killers. While there was a high tempo to the game, there wasn't much happening in the offensive zone for either team in the first seven minutes. Brennan Othmann found Shane Wright in the slot, but he was tied up and fell down, the Canadian fans thought there should have been a penalty on the play, but there was no call. On the next shift, Bedard was also taken down in the offensive zone, and there was no call. The crowd let the refs hear it this time as they chanted, "ref, you suck," to let them know how they felt about the noncalls. It looked as though Canada made it 1-0 off of a shot from the point by Bedard, but the play was deemed offside. On the next shift, Czechia went the other way, and they came within inches of scoring the game's first goal, but Szturc absolutely wired the puck off the post, and it stayed out. Finally, Czechia was called for a minor as Jiricek was called for holding Othmann. Canada's power play was 13 for 28, coming into the gold medal game with a 46% success rate. Canada's top unit elected to stay out for the entire power play, and it paid off as Dylan Guenther rifled a one-timer bar down in the dying seconds of the man advantage for his sixth goal of the tournament to give Canada a 1-0 lead. All six of Guenther's goals in this tournament have come on the power play. Brennan Othmann was making his presence felt all over the ice in this one as he laid another bone-crushing hit in the offensive zone sending the crowd into a frenzy once again. Thomas Milic picked up right where he left off against Team USA last night. He made a huge save on a Czechia breakaway, which resulted in the crowd serenading him just like they did last night. As the first period came to a close, Canada would carry their 1-0 lead into the second period. Shots on goal after 20 minutes of play were 10-6 in favor of Canada. 
Forty seconds into the second period Ethan del Mastro was called for tripping, but the whistle on the play was very late. Nevertheless, Czechia was awarded their second power play of the game. Bankier managed to get in all alone, but he ran over Suchanek. The puck eventually rolled over the line, but it was waived off due to the contact with the goaltender. Suchanek stayed down for a while, but he did elect to remain in the game. A bad look for the Canadian crowd as they were booing Suchanek for staying down but eventually deciding to stay in the game. Ostapchuk generated a short-handed breakaway where Suchanek made an unbelievable toe save.
I guess Suchanek's knee was okay after the collision with Bankier, after all. Yet another Canadian breakaway occurred as Stankoven managed to get in all alone because of a fantastic diving effort by Bedard to get the puck to him. Still, once again, Suchanek shut the door. 4:35 into the period, Canadian captain Shane Wright made his mark on this game as he scored a gorgeous individual effort goal for his fourth of the tournament to give Canada a 2-0 lead. As the second period progressed, Canada began to tilt the ice as they were generating more offensive zone time. Halfway through regulation, Czechia managed to generate just ten shots on goal, simply not good enough if they wanted to get back in this game. Jiricek let an absolute bomb fly from the point that caught Zellweger somewhere in the mud section; he immediately went directly to the Canadian bench in considerable discomfort. With 5:49 to go in the period, Brabenec was called for kicking a Canadian defender's stick away, giving Canada their second power play of the game. Much to the appreciation of Canadian fans, Zellweger was back on the ice for the man advantage. Bedard made a beautiful pass to find Othmann alone on the doorstep, but Suchanek shut the door with a couple of massive saves. Seconds after that scoring opportunity, Canada was caught with too many men on the ice, negating the remainder of the power play and resulting in four on four for 32 seconds. After the four-on-four play concluded, Czechia had an abbreviated power play of their own, but Canada's penalty killers did another fantastic job. With 1:03 remaining in the middle frame, play was blown dead as Joshua Roy was called for a crease violation resulting in a face off outside the Czechia zone. The second period would come to a close, with Canada leading 2-0. Shots on goal after 40 minutes of play were 22-14 in favor of Canada. 
The third period would start with an icing call against team Canada just 13 seconds into the frame. Canada would generate the first couple of shots on goal off the rush to start the period courtesy of Shane Wright and Joshua Roy, and both were turned aside by Suchanek. There was a lot of back and forth between both teams over the course of the first seven minutes of the final frame but no high-danger chances for either team. Which team Canada was more than happy to take as the clock continued to tick away. Every single player on team Canada was fully bought into defending their 2-0 lead as they were just rolling their lines over, and each line had the same mindset, keep the puck out of our zone as much as possible. With 7:30 remaining in regulation, Czechia finally managed to break through as Kulich buried his seventh goal of the tournament, a fantastic talent for Czechia. Just 54 seconds later, Czechia tied the game on a goal from Kos, who deflected his second goal of the tournament past Milic. All of the fantastic work by Canada throughout the first 13 minutes all went for, not in just 54 seconds; what action! This is precisely why junior hockey is the best. In my opinion, everything is high-octane, and momentum can completely shift on a dime. After tying the game, Czechia hemmed Canada in their own zone for a couple of shifts in a row, building on the momentum they gained with their two goals. The Canadian faithful in attendance were doing absolutely everything they could to try and will Canada on as the volume reached a new level. Canada iced the puck with less than a minute to go, which resulted in a couple of great scoring chances for Czechia but Thomas Milic somehow managed to keep the puck out on both occasions. The final seconds would tick away in regulation, with this one still tied 2-2, meaning there would be continuous three-on-three action until someone scored. What a hockey game! Shots on goal after 60 minutes were 34-24 in favor of Canada. 
Canada elected to go with Stankoven, Bedard, and Zellweger to start overtime, while Czechia countered with Sapovaliv, Szturc, and Jiricek. Both teams were very defensive-minded through the first couple of shifts of overtime. There was tons of speed on display from both teams, but neither team gave the other an inch of space to generate much offensively. The puck took an unfortunate bounce off the glass, forcing Hinds to make a great defensive play. Clarke made a great defensive play and then made an outlet pass to Guenther, which led to a 2 on 1 for him and Roy as they worked a give-and-go resulting in Guenther scoring the golden goal! Absolute bedlam in Halifax! 
Player of the game for Czechia was Jakub Brabenec, while the player of the game for Canada was Dylan Guenther. Nothing but respect for team Czechia who left absolutely everything they had on the ice. They had an unbelievable tournament from start to finish. That concludes an unbelievable tournament in Halifax and Moncton. Hats off to the outstanding fans in Halifax who showed up every single game, not just for Canada games. They were electric from start to finish, and I really hope it isn't another 20 years before they get to host their next world juniors! Next year's tournament will take place in Gothenburg, Sweden, and I cannot wait.
WELCOME BACK TO LEAFS LATE NIGHT! Presented by Inside The RinkRoscoe / Galaxy Biehn – Dubas Out?!?- Remember All The Good Times We Shared- I Don't Love Our Options- Matthews Next Deal?- Keefe's Fate- AI MascotsSPORTS! IS FUNMERCH IS AVAILABLE!JOIN OUR DISCORD!Remember to follow us on Twitter @LeafsLateNight & IG @LeafsLateNightCheck out Mike, Josh, and Nathan's articles on the Leafs + many more! insidetherink.com