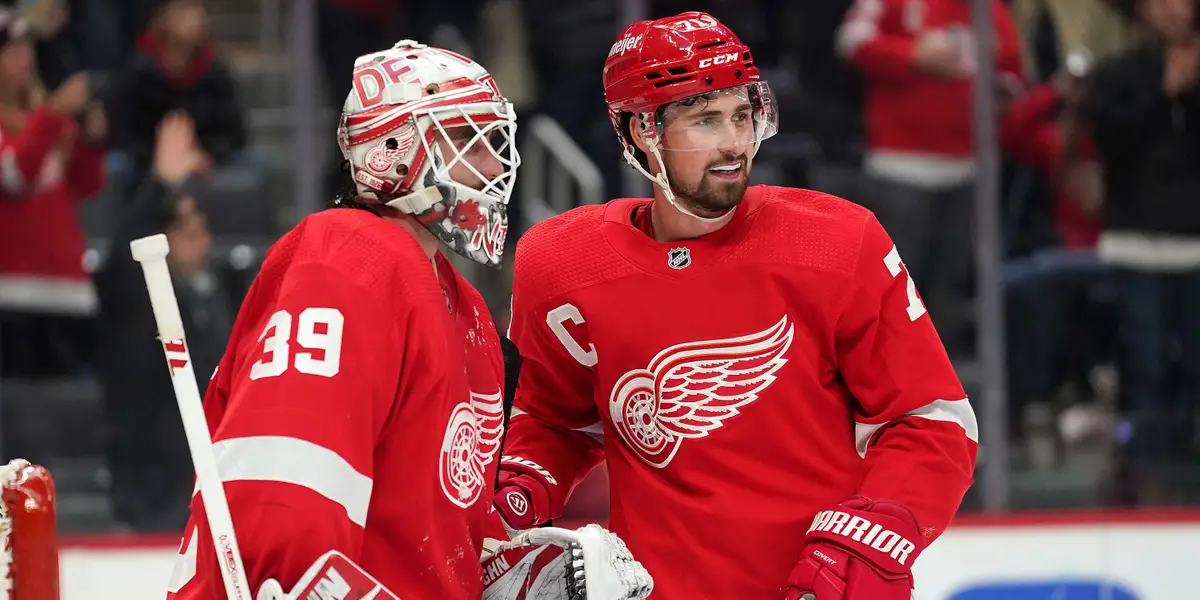 Santa Claus is coming to town! People all over the world are counting on Jolly Old St. Nick to provide the gift they desire. The Detroit Red Wings have a list of desired blessings they need to see the man in Red and White deliver to Hockeytown. It is not a ridiculously long or complicated list. But still, it is a list that, hopefully, the ageless Santa can deliver.
Health, sure, injuries are a part of sports. Currently, the Red Wings have nine players injured. As with most injuries, the time lost depends on the severity of the injured player. Dylan Larkin, Olli Matta, Filip Hronek, Robert Hagg, Tyler Bertuzzi, Mark Pysyk, Matt Luff, Filip Zadina, Robbi Fabbri, and Jakub Vrana have all missed time. So this tops the holiday wish list.
Some players (Larkin, Matta, Hronek, and Vrana) are closer to returning. Still, there have not been many games played where the Red Wings have had the whole team on the bench. In order to stay in playoff contention, the Red Wings need their full arsenal of players available. Santa, please make this wish priority #1.
Continued growth and development of young players. Lucas Raymond, Joe Veleno, and Moritz Seider are a big part of the Red Wings going forward. Yet, each one of the players listed could use just a bit more consistency in their game. As good as they are, they each need to take the next step in development. This would be a big boost to a Detroit hockey team looking to climb the standings.
Next on the Holiday Wish List is actually for one specific player, G- Alex Nedeljkovic. You see, Mr. Claus, when "Ned" is in goal, the Red Wings have a habit of not scoring many goals. "Ned" is not as bad a goalie as his stats suggest, the team seems to have defensive breakdowns combined with a lack of scoring. That is a whole lot of bad. Sure, "Ned" could be better, but if the players are well, playing well in front of him, I believe his game would come around. So perhaps some holiday confidence for "Ned" would be great.
One last wish on the list, continued good decisions by head coach Derek Lalonde. Lalonde has done a solid job of getting the Red Wings to play better in most games. Still, the team needs to begin to play better against the top teams to show they are close to being one of the better teams in the Eastern Conference.
Well, Santa, that is the 2022 Holiday Wish List for the Detroit Red Wings. P.S. there will be cookies left out for you, please take all of them. Thank you in advance.
In this episode, we recap the Red Wings' last three games versus St. Louis, Philadelphia, and Pittsburgh. David Perron scored his first hat trick as a Red Wing, Simon Edvinsson scored his first NHL goal, and more! We also discuss the Red Wings signing prospects Carter Mazur and William Wallinder to their ELCs, their impacts for the rest of the season in Grand Rapids, and if they could make the Red Wings next season. Marco Kasper is also reportedly coming over to North America for the rest of the season and could possibly report to Detroit.We wrap up by discussing the bottom of the NHL and where the Red Wings rank in the draft lottery odds, and which teams would be the best fit for Connor Bedard.Please rate and review our show on your favorite listening platform. Check out our partner's website at www.insidetherink.com for all your latest hockey news.