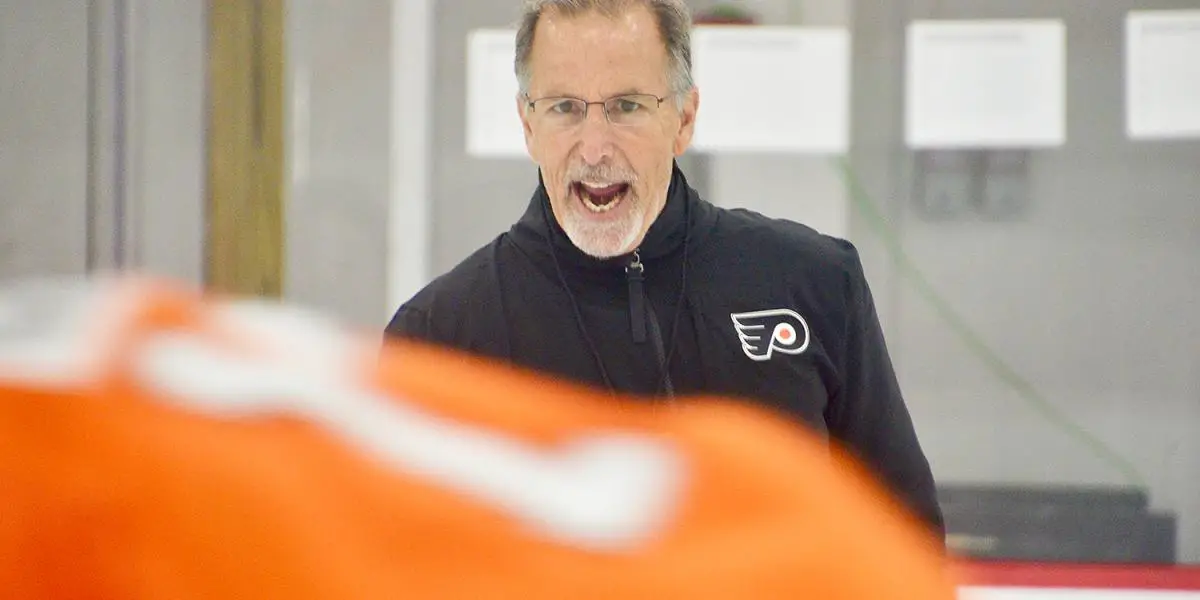 Getting kicked in the face by your horse is not ideal, nor is losing four hockey games in a row. That has been life recently for Philadelphia Flyers' Head Coach John Tortorella. The first-year coach of the Flyers took a kick to the face from his horse in an incident that the coach described himself as "awfully lucky. It could have been a lot worse." On Tuesday, Tortorella was still feeling the effects of the equine mishap by ESPN analyst Brian Boucher know how he felt about his hockey club. "We suck, he said. We haven't forechecked, we haven't done anything as of right now."
The fiery, 64-year-old head coach is known for his pointed commentary and passionate style. Earlier this season, the coach defended Toronto Maple Leafs' Head Coach Sheldon Keefe by telling the media, "I hope he jams it to you all." The Flyers started on a high note, surprising much of the league as the expectations for the club were low to begin the season. After going 25-46-11 last season, Tortorella was brought in to change the franchise's culture. The team responded by starting the year 4-2-0 but has gone just 3-5-3 after a 4-1 loss in Boston on Thursday night. During their five-game losing streak, the Flyers have been Outscored 28-10. Philadelphia scored just 42 goals on the season, the third-worst in the league. Philly will travel to Montreal on Saturday night.
After a loss on Sunday in Toronto, Tortorella was more positive by saying he saw some really good things with the group. But just two days later, it was a different story and a different coach. Never one to mince words, Tortorella has reverted to tough love and honesty. Now the team will show how much they have listened to their coach's honest evaluation of their play.
The Flyers face a tough stretch of games heading into December and will need to give a far better effort against the Flames, Islanders (twice), Lightning, Devils, and Avalanche. Will the Flyers respond to Tortorella's tough love, and could there be more down the road? Philadelphia responded after the "we suck" comment to come back from tel different deficits, but the results remained the same.
Overall, John Tortorella just coached his 1,400th NHL game Thursday, but the Massachusetts native might be finding the modern-day NHL player to be a more challenging player to coach. Torts already has been on record saying that today's players have the "attention span of an amoeba." Hopefully, this year's Flyers' team is paying close attention to their coach now and can turn around a season that is headed south fast.
The Bruins Preseason has begun! Matthew Poitras, Johnny Beecher, and Mason Lohrei have stood out. Matt Grzelcyk expendable? Can the Bruins be more physical? And much more!DraftKings Sportsbook – Boston's hometown Sportsbook is LIVE right here in Massachusetts! Bet local on all your favorite sports from the comfort of your own home with DraftKings. To celebrate, ALL new customers will receive up to TWO HUNDRED DOLLARS in BONUS bets when you sign up for DraftKings Sportsbook using code ITR! You can now bet local on money lines, spreads, props, and more with one of America's top-rated Sportsbooks – DraftKings Sportsbook!  Download the DraftKings Sportsbook app and sign up with code ITR to get up to TWO HUNDRED DOLLARS in BONUS bets to use now that mobile sports betting is live in Massachusetts. That's code ITR only at DraftKings Sportsbook. If you or a loved one is experiencing problems with gambling, call 800 327-5050 or visit helplineMA.org to speak with a trained specialist, free and confidentially, twenty four seven. 21+. Physically present in MA. Eligibility restrictions apply. Subject to regulatory licensing requirements. Eligibility and deposit restrictions apply. Opt in required. Bonus issued as free bets. Terms at draftkings.com/MA.