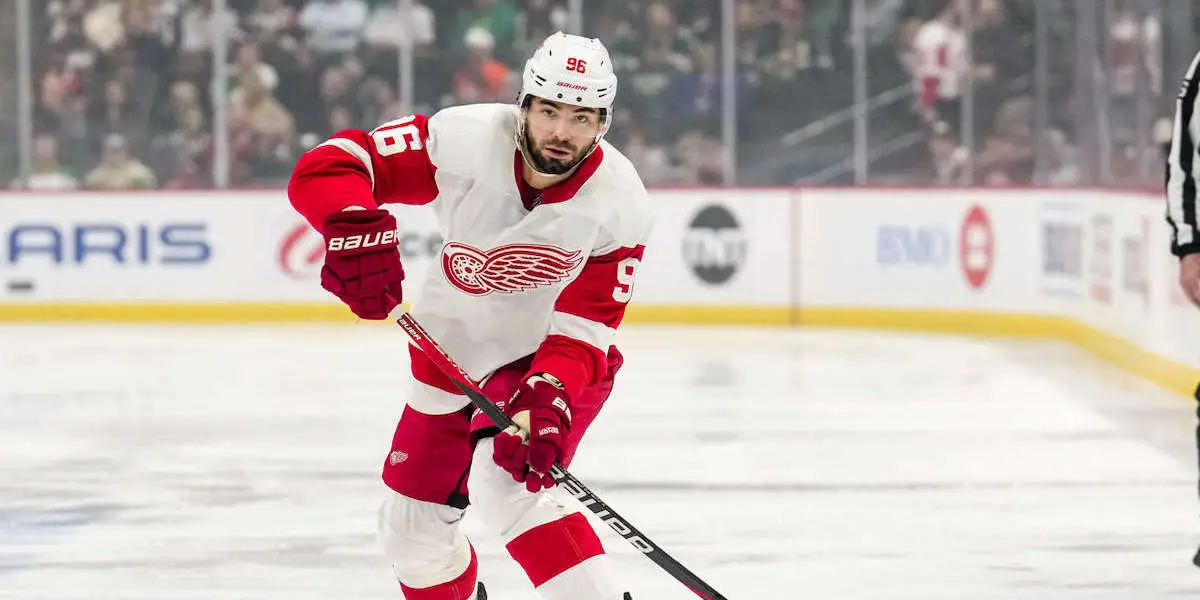 After the 2022 NHL Trade Deadline, the feeling surrounding the Detroit Red Wings' moves was positive. They acquired mid-to-late-round picks for depth players Vladislav Namestinkov and Troy Stecher and garnered their largest return for veteran defenseman Nick Leddy. 
Leddy was traded to the St. Louis Blues at 50 percent retained ($2.75 million) along with Luke Witkowski as they looked to bolster their top-four ahead of a potential Stanley Cup run in exchange for a 2023 second-round pick, Oskar Sundqvist, and Jake Walman. The second-round pick in what is shaping up to be a deep 2023 NHL Entry Draft seemed to be the key piece of the trade. Oskar Sundqvist's contract equaled Leddy's at 50 percent retained, helping St. Louis' salary cap, and it appeared that Jake Walman was more of a thrown-in with the Blues' crowded blueline.
Less than a year after the trade, Jake Walman is shaping up to be the most valuable piece in the deal.
While Walman was an unknown to most NHL fans, with only 57 games under his belt at 26 years old, his underlying numbers were promising. From Natural Stat Trick, Walman led all St. Louis Blues' defensemen during the 2021-22 season in expected goals for percentage at even strength with 54.7%.
Walman would play 19 games with the Red Wings to finish out last season, playing in a third-pairing role and notching four assists.
Walman's role this season
After missing the first 15 games this season due to off-season surgery, Walman has quickly developed into one of Detroit's most reliable defensemen.
Walman started the season on the third pair with Jordan Oesterle, and the two were able to control play in their limited ice time. From Walman's season debut on November 15th to the start of December, the pairing led all Red Wings defensemen in expected goals for percentage as both were over 59%.
After the start of December, Walman's role steadily began to increase as he worked his way onto the second pair with Filip Hronek. His average ice time shot up from 15:22 to 18:55. Although the pairing didn't thrive at even strength, Walman continued to earn the coaching staff, leading to increased special teams deployment.
What seemed to be another jump point in Walman'sbreakout season was his overtime heroics in Detroit's 5-4 comeback win over Pittsburgh, celebrating his game-winning tally with the "Griddy" dance.
In the past seven games, Derek Lalonde has rewarded Walman by moving him up to the top pair with Moritz Seider, which so far has looked to be a strong decision.
For most of the season, Seider had been paired with veteran Ben Chiarot, who is an improvement from Seider's previous partners last season; the two lacked chemistry, leading to missed assignments and goals against. The Red Wings' new top pair looks dynamic almost every shift they are out there.
Both Walman and Seider are mobile defensemen with strong offensive instincts, but both are able to read off one another when it comes to zone exits and making a pinch in the offensive zone. This clip from Jack Han on Twitter shows displays their instant chemistry.
In the ten games since being paired together, Jake Walman has scored three goals and two assists, and Moritz Seider has one goal and seven assists. From Money Puck, the Walman-Seider pair ranks first in expected goals percentage among Detroit defensive pairs that have played over 100 minutes with 60%.
Safe to say the move has benefitted Detroit's top pair.
Walman's future
While heading into the 2022-23 season, it seemed Walman was shaping up to be a depth option on the blue line. After the 2022 NHL trade deadline, Steve Yzerman mentioned he scouted Walman dating back to his days as the general manager of the Tampa Bay Lightning and when Walman was at Providence College. It seems he may have seen more than just a depth defender.
Now, Steve Yzerman has the decision to make, either extend Walman or look to capitalize on his breakout season via trade. Given Detroit's current defensive makeup, there isn't another player on Detroit that can do the things Walman can do.
The way Walman is able to make a move at the offensive blueline around a defender and then drive to the middle for a shot is high-end. While Walman will likely never produce at the pace of a Cale Makar, he has scored two goals in the past two weeks of that nature.
Walman will turn 27 in February and is set to become an unrestricted free agent at the end of this season with less than 150 games of NHL experience, which could lead to an interesting negotiation. Walman has played in a top-four role for the majority of his season but doesn't have a lengthy track record of playing at this level.
A name that comes to mind for a comparable is Jonas Sigenthaler in New Jersey.
While a year younger, Sigenthaler signed a five-year contract worth an average annual value of $3.4 million this past summer after developing into a top-four, shut-down defenseman that complemented their number-one defender in Dougie Hamilton.
With the way Walman has complemented Seider's game thus far, it could very well be a worthwhile bet on a longer-term deal that locks him up through his prime at a similar number to Sigenthaler.
At the very least, Jake Walman's breakout has been an encouraging story to follow all season, and he has been one of the few bright spots over the past month of Red Wings games.
In this episode, we recap the Detroit Red Wings' 2023 trade deadline moves of Tyler Bertuzzi, Jakub Vrana, and Oskar Sundqvist. We also dive into Steve Yzerman's media availability and what's next in Hockeytown. We wrap by talking about the Red Wings' past three games and the play of the "2018 line" and more!Please rate and review our show on your favorite listening platform. Check out our partner's website at www.insidetherink.com for all your latest hockey news.