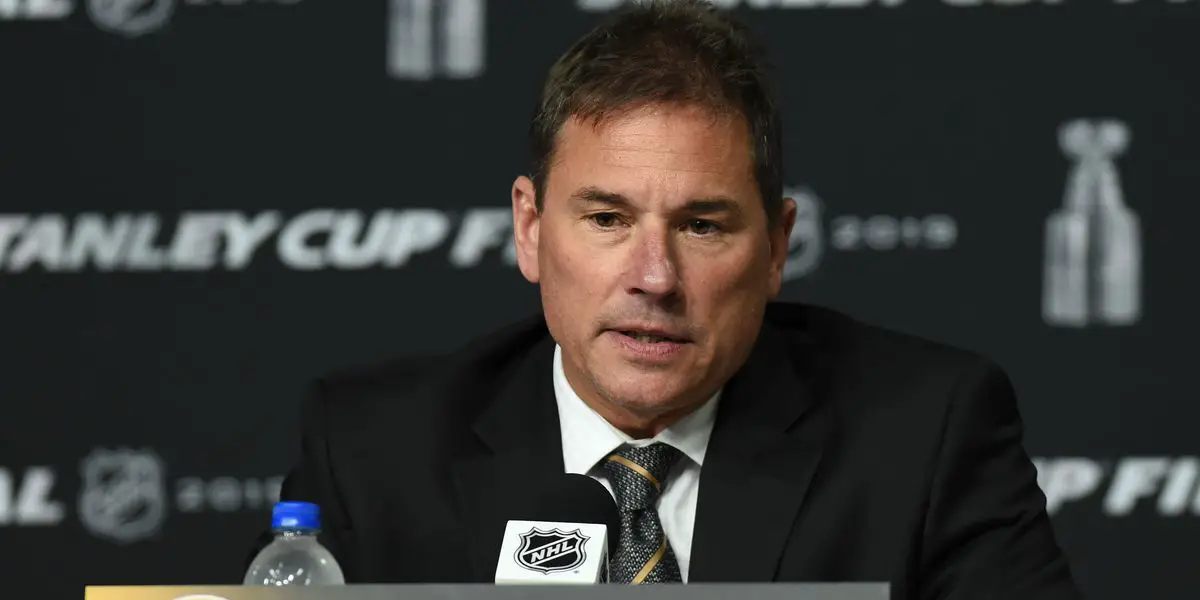 Bruce Cassidy was hired as head coach of the Boston Bruins with 27 games remaining in the 2016-17 season. Cassidy took over for Claude Julien, the winningest coach in Bruins history. Before the season, Cassidy was added to Julien's staff and had one NHL coaching stint with the Washington Capitals in 2002-03.
Cassidy has been very successful in his tenure in Boston. His record is 222-99-45 in the regular season but 33-33 in the postseason. However, the Bruins have advanced past the first round in four straight postseasons. The former first-round pick of the Chicago Blackhawks incorporated a different style than Julien, emphasizing more north and south play spearheaded by quicker puck movement from defensemen.
Cassidy's philosophy has led to the Bruins being a perennial Stanley Cup contender. The media has also liked his candid, tell-it-like-it-is approach. Bruce has been known to be honest with the media and his players. Lately, Cassidy's tone and demeanor have been filled with more frustration and malcontent. To this point, his coaching style has worked. Cassidy has also had the support of his captains Zdeno Chara and now Patrice Bergeron. Under Cassidy, the Bruins have been a resilient bunch over the years. But now maybe their biggest test yet.
Season 3 Premiere! Bruins Prospect Challenge recap. Training Camp begins. The Bruins have a new captain. Jake DeBrusk contract negotiations beginning soon. The Bruins Historic 100 and new sweaters!  The Centennial season is here! DraftKings Sportsbook – Boston's hometown Sportsbook is LIVE right here in Massachusetts! Bet local on all your favorite sports from the comfort of your own home with DraftKings. To celebrate, ALL new customers will receive up to TWO HUNDRED DOLLARS in BONUS bets when you sign up for DraftKings Sportsbook using code ITR! You can now bet local on money lines, spreads, props, and more with one of America's top-rated Sportsbooks – DraftKings Sportsbook!  Download the DraftKings Sportsbook app and sign up with code ITR to get up to TWO HUNDRED DOLLARS in BONUS bets to use now that mobile sports betting is live in Massachusetts. That's code ITR only at DraftKings Sportsbook. If you or a loved one is experiencing problems with gambling, call 800 327-5050 or visit helplineMA.org to speak with a trained specialist, free and confidentially, twenty four seven. 21+. Physically present in MA. Eligibility restrictions apply. Subject to regulatory licensing requirements. Eligibility and deposit restrictions apply. Opt in required. Bonus issued as free bets. Terms at draftkings.com/MA.
Thursday's 4-1 loss to the New York Islanders could be categorized as a bad loss without your best player, Brad Marchand. He continues to serve his six-game suspension for an altercation with Pittsburgh Penguins goalie Tristan Jarry. The Bruins led early on a Taylor Hall goal and played a good first period. But then a disturbing trend of bad second periods continued. From there, the Bruins lost a game to a struggling team as they tried to solidify a playoff spot.
As the trade deadline approaches, general manager Don Sweeney has been the focus of Bruins fans. This is the roster Sweeney put together. Do the Bruins add a piece or two to make a run and appease the frustrated, impatient fan base? Or is the problem bigger than that? Should the coach share some of the blame, and is the message that was so effective the five seasons before this season falling on deaf ears? Is this team further from the Cup contender they have been?
The shelf life for NHL coaches is not very long. Bruce Cassidy is in his sixth season at the helm of the Bruins. Is there a need for two shakeups on this team? The roster could use some adjusting. But is the coaching getting stale? Is it time for the Bruins to move on from Cassidy and bring a new voice into the mix? Cassidy has done a good job as coach of the Boston Bruins. The team's performance may not be his fault. But sometimes, coaches get fired through no fault of their own. Judging from the inconsistent performance of the 2021-22 Boston Bruins, it may be time for more than just a roster change.