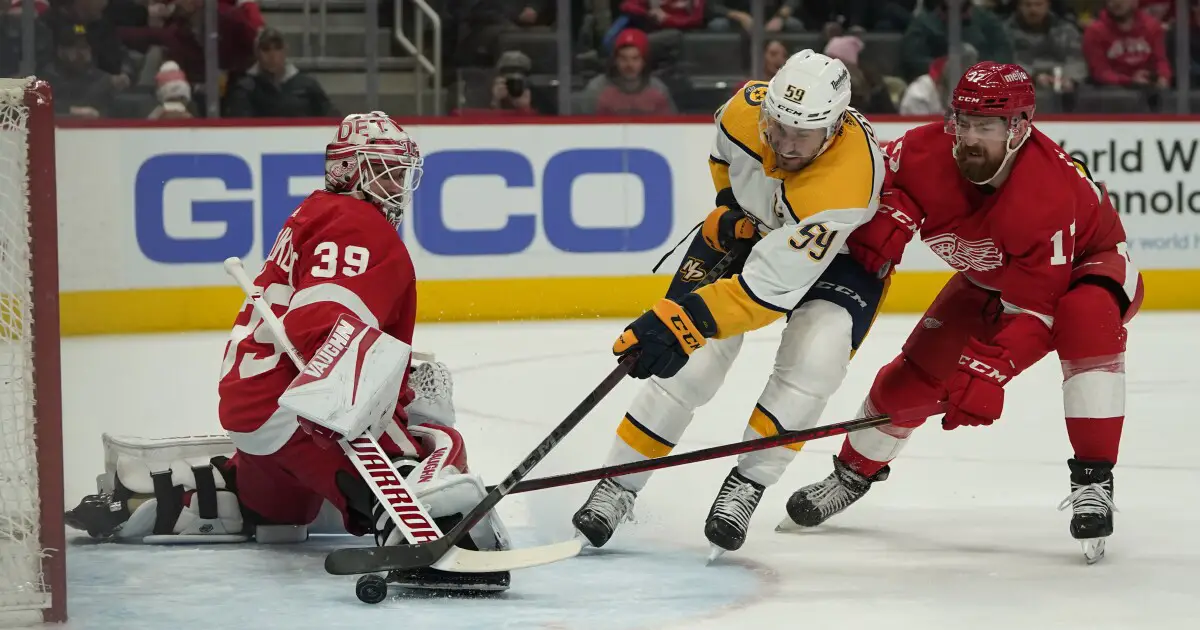 Since making his debut October 4th during the 2018-19 season, Filip Hronek has, for the most part, been asked to be the Red Wings' #1 defenseman in every situation up until this season. With his quick development and lack of talent on the roster, Hronek was playing in a role he wasn't quite ready for. There are still questions about Hronek's game in his fourth season.
In his rookie season, Hronek was everything the Red Wings could have hoped for in a 21-year old defenseman, scoring five goals and 18 assists in 46 games, only behind Niklas Kronwall and Mike Green on defense. While averaging over 19 minutes of ice time a game, Hronek could thrive in a second-pairing role.
When Hronek looked poised to take the next step in his development the following season, the Red Wings took many steps back as the 19-20 Red Wings were one of the worst teams of the salary cap era, with only 17 wins in 71 games.
Hronek was catapulted into Detroit's number one defenseman in all situations due to the lack of talent, playing almost 24 minutes a night. Hronek was able to carry the load offensively with 31 points in 65 games, which was fifth on the team.
Last Season
Last season, some concerns about Hronek's game from the fanbase emerged. After a terrible 19-20 season, the Red Wings started filling holes in the lineup with versatile players on one or two-year deals to help make the team more competitive. Players like Troy Stecher, Marc Staal, and Jon Merrill were supposed to alleviate some of the pressure off of Filip Hronek. Even with an improved lineup, Hronek struggled on both sides of the ice.
Hronek had the worst offensive pace of his career with 26 points in 56 games, with only two goals, both being empty-netters. Out of his 24 assists, only 7 of them were primary. One of Hronek's biggest strengths in his first two seasons was his shot, specifically placement. Frequently, Hronek would be at the blue line in the offensive zone at five on five and would wait for a second too long, shooting a puck into an opposing forward. 
On the power play, Hronek was tasked with running the Red Wings top unit for most of the 20-21 season and would often rush low-quality shots from the point with no traffic in front of the net that would be an easy clear for the opposition. One explanation of this could be that the Red Wings last season had the 30th ranked powerplay with a percentage of 11.41%. It can be argued that Hronek was more so a "product of the environment," but Hronek was one of the most used players on the powerplay last year. From Quant Hockey, only Dylan Larkin and Bobby Ryan averaged more powerplay time per game than Hronek at 2:32 minutes.
Hronek's defensive game was fans' biggest concern with the then 23-year-old Czech defenseman. After showing top-pair potential his first two seasons, Hronek struggled to keep pucks away from the Red Wings net. This would usually stem from Hronek taking an extra second before attempting a breakout pass out of the zone, and the pass would miss a Red Wings forward, turning over the puck to the opposing team with forwards having to come back into the zone.
It became clear that Hronek was being asked to do way too much as he was playing well over 23 minutes a night and finished the season with a plus/minus rating of -18. From Evolving Hockey, Hronek's Goals Above Replacement defense at even strength was -1.8, while only Christian Djoos was worse at a -2.1. 
The 2021-22 Season
This season has been a bit of a mixed bag for Filip Hronek. Offensively, Hronek has been producing at right around a half-a-point per game, with 24 points in 47 games, which is around his career average. But Hronek has still struggled on the defensive side this season. After only four games into the season, Jeff Blashill felt that Hronek's game wasn't up to par and scratched him for the next two games. From a Goals Above Replacement standpoint, Hronek has been better than last season at a -1, but still is a negative value to the team. Hronek also sits 5th last on the Red Wings in plus/minus with a rating of -17.
Hronek returned to the lineup on October 27th in Washington playing with NHL veteran Nick Leddy and looked like Hronek of old. Hronek would set up the Red Wings' first goal from Adam Erne, which would start the comeback effort to win in overtime 3-2.
Hronek played a total of 24:25 and finished with an assist and a plus/minus rating of +2. With his new partner, he was poised with the puck and played simply in the defensive zone, and was active off the blue line in the offensive zone.
The pairing of Leddy-Hronek didn't end up being a great fix in the long-term, as, after a few weeks, the pairing was getting exposed in the defensive zone. From Natural Stat Trick, the pairing had a Goals For % of 37.5%, which was the worst for Red Wings' pairings playing over 150 minutes. It seemed as Nick Leddy's game declined, along with Hronek's game, which prompted Jeff Blashill to pair him with veteran Marc Staal. So far, the pairing has seemed to be a better option for Jeff Blashill as they have a Goals For % of 47%, but not ideal. The pair lacks footspeed, and often times one of Hronek or Staal get caught too deep in the offensive zone, leading to an odd-man rush for the opposition.
On Thursday night, Filip Hronek returned to the Red Wings lineup after being placed on protocol, paired with Marc Staal, and had 23:26 and was a -1. He made a really great defensive stop on a Rangers' 3-on-1 by breaking up the cross-ice pass.
Trade?
Every NHL season, the month leading up to the trade deadline can be unpredictable, especially for the Red Wings over the past few years. Just last season, we saw Anthony Mantha, a player once viewed as a piece to build around, traded to Washington in the final minutes of the deadline.
Under Yzerman's draft philosophy the past three seasons, the Red Wings have focused on defensemen with high upside, and some are getting close to being NHL ready. Suppose players like Simon Edvinsson, Albert Johansson, and William Wallinder hit their potential. In that case, they will be able to be impact players in all situations, including the powerplay, which has been Hronek's strength in his career.
This season, Moritz Seider has taken over the role of the 1st unit point man, while Hronek has been on the second unit exclusively. With more talent on both defense and offense, there could be a situation in the near future where Hronek doesn't have a spot on the powerplay. With his contact, position, and age, there could be some real trade value for Detroit come the trade deadline on March 21st. Here are some moves I'd like the Red Wings to explore.
Trade 1
To Detroit: Brock Boeser, William Lockwood, and a 2022 3rd round pick
To Vancouver: Filip Hronek
Brock Boeser has been in trade rumors for a few years now but has started to pick up steam as Vancouver has said in the media that they are looking to shed salary. This summer, Boeser is a restricted free agent with a qualifying offer of $7.5 million on a one-year deal. With Vancouver already over the NHL salary cap and not having any big contracts coming off the books, Boeser looks to be the odd man out. The defense has been an issue for Vancouver, and with needing some certainty contract-wise, Hronek makes a lot of sense as he still has two years remaining at $4.4 million a year.
Boeser struggled to start the season but has found his game under new head coach, Bruce Boudreau, and has 15 goals and 28 points in 44 games. Last season, if it were a full 82-game season, Boeser was on pace to score over 30 goals, which is a rarity in Detroit.
Trade 2
To Detroit: Travis Konecny and a 2022 3rd round pick
To Philadelphia: Filip Hronek
This trade hypothetical was first proposed on Twitter by Prashanth Iyer and made a lot of sense for both teams.
The Flyers have been in turmoil recently with missing the playoffs the past two seasons and lots of high-salary players underperforming; management is desperate. That is music to Steve Yzerman's ears, and the Red Wings should be looking to take advantage of a team that is trying to put a band-aid on a bullet wound, attempting to avoid a complete rebuild.
The Flyers could be the perfect fit for Hronek as they need a defenseman and currently have the NHL's 30th ranked powerplay at 14.4%. Konecny has been with the Flyers for the past five years and has been a consistent top-six forward. Konecny has 29 points in 47 games this season, which is on pace for 50 points, which is around his career average. With the Flyers' management saying that just about anything is on the table, Konecny would be a great player to acquire.
I do think that Hronek can still be a part of the Red Wings' future. He just needs to figure out what his role will be. It is a similar situation to Anthony Mantha's last season where both players signed new contracts that are of value and haven't quite progressed the way Detroit expected. With Detroit's defensive pipeline starting to fill up, it may make the most sense to move Hronek for a player that fills a bigger need. I am curious about Hronek's future and how Red Wings' management views him in their long-term plans, as he signed a short-term contract this past summer.
In this episode, we recap the Traverse City Prospect Tournament and which players stood out. We spend the rest of the episode previewing the Red Wings' training camp and potential storylines to follow.