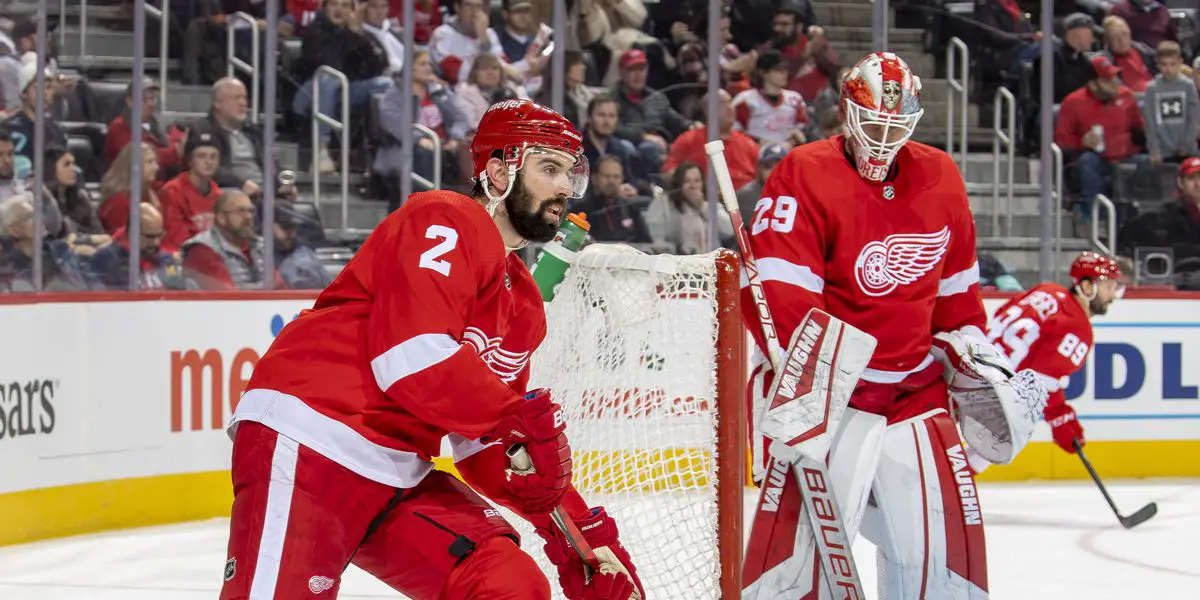 The Red Wings have been a much-improved team compared to the previous five seasons as they currently sit fifth in the Atlantic Division with a 23-23-6 record and are still in the Eastern Conference Wildcard hunt at the end of February. It would be justifiable if Red Wings General Manager, Steve Yzerman, decided not to move anyone as the team seems to be tight-knit and still competing for one of the final playoff positions.
As good as this season has been for players like Dylan Larkin, Tyler Bertuzzi, Lucas Raymond, and Moritz Seider, there are still holes in the Red Wings lineup that would make it hard to make a lengthy playoff run. There's a long road ahead even to make the playoffs as the Red Wings are currently 12 points back of the Boston Bruins, who have 64 points and have played one less game.
The Red Wings have the second-toughest remaining schedule in the NHL, only behind Buffalo, as they have to play teams like Tampa Bay and Florida three times each. The likely scenario is that Yzerman does make a few trades by March 21st. The question is to what extent. With the NHL trade deadline less than a month away, the Red Wings have some tough decisions to make soon. Here are some players that could be moved by March 21st.
Look To Move
Yzerman still has a way to trade players off the roster for assets while remaining competitive. Most of the players on the Red Wings who are on expiring contracts aren't needle-movers in the lineup and can be moved without disturbing the rhythm of the team.
Nick Leddy
Leddy hasn't lived up to the second-round pick value that Detroit traded to the New York Islanders for his services. Whether it is offensive production or on the defensive side of the puck, Leddy hasn't looked comfortable for the most part this season. He was at his best when paired with Moritz Seider, as the pairing thrived in transition and was able to play efficiently in the defensive zone.
There will be suitors with Leddy's Stanley Cup pedigree; the question is how many. While his value may not be the second-round pick that he was worth in the summer, the Red Wings would be able to retain half of his $5.5 million cap hit for the rest of the season, which would increase his value to cap-strapped teams.
Potential Fits: New York Rangers, Boston Bruins
Thomas Greiss
The goaltending market around the trade deadline is always unpredictable. The Red Wings last season had Jonathan Bernier, who was frequently the team's best player, who could've been traded if there was the proper interest. 
Thomas Greiss was one of the best goalies in the entire league at the end of last season. In his previous 12 starts, he had a goals-against-average of 1.39 and a save percentage of .953. Suppose his previous three games are any indication. In that case, Greiss may be coming into another hot streak, with wins over the Rangers and the Flyers, and a loss Wednesday versus Colorado, stopping 95 out of 103 shots and a .922 save percentage. 
It's hard to gauge what value Greiss could fetch in a trade as there are the likes of Marc Andre-Fleury, Joonas Korpisalo, and Alex Georgiev, who are likely to get more attention. But if another team gets desperate with either an injury or poor play from their goalie and Greiss is on a hot streak, there could be a fit. Detroit would also still be able to have a reliable backup option as Calvin Pickard has played in two games this season and has looked comfortable.
Last year's deadline, Calgary traded David Rittich to Toronto in exchange for a 2022 3rd round pick. If that's what's on the table for the Red Wings in exchange for Greiss, they should pull the trigger. 
Potential Fits: Vegas Golden Knights, Edmonton Oilers
Carter Rowney
Rowney returned to the lineup on Wednesday versus Colorado after suffering an undisclosed injury on January 4th versus San Jose.
This season, Rowney has been a solid fourth-line option as he can play both center and on the wing. Rowney has also been one of Detroit's better penalty-kill options on forward and even set up a short-handed goal to Tyler Bertuzzi this year.
Rowney likely won't garner much back in return, but with Detroit's bottom-six depth, it makes sense to move a player like Rowney. He even won a Stanley Cup with Pittsburgh in 2017, where he played in 20 games and had three assists.
Potential Fits: Nashville Predators, Colorado Avalanche
Cap Space
Regardless of what Detroit decides to do at the deadline, being a middleman for a three-team trade should be an easy way to get a draft pick.
Last year's trade deadline, Tampa Bay wanted to acquire David Savard from Columbus but didn't have enough cap space to acquire him. Savard was traded to Detroit from Columbus in a paper move while retaining 50% of his $4.25 million cap hit. Detroit then retained an additional 50%, a total of a little over $1 million, then traded him to Tampa Bay. Detroit was able to get a 2021 4th round pick from Tampa Bay to help in the deal. 
That 4th round pick was later traded to Vegas at the 2021 NHL Draft for a later 4th round pick and an additional 5th. Those picks now have names in Red Savage and Liam Dower-Nilsson, who are both having great seasons in the NCAA and Sweden J20 league, respectively.
NHL teams are only allowed to retain salary on three players at a time, and Detroit has already retained salary on Richard Panik's contract. They will likely need to retain salary on Nick Leddy's contract as he makes $5.5 million this season, and most playoff teams won't be able to afford the entirety of his cap hit. That leaves one spot left, and with big-name players on the trade block, it shouldn't be hard to find a fit. 
Big Deals That May Need a Third Team: Claude Giroux, Joe Pavelski, John Klingberg
For the Right Price
A few players on the roster are on expiring contracts, but they could be fits on the Red Wings next season and beyond. While those players hold value to the team, that shouldn't deter a trade if an offer exceeds expectations.
Vladislav Namestnikov
After a rough 20-21 campaign, Vladislav Namestnikov has been exactly what the Red Wings hoped he could be this season. Namestnikov is on pace for his best offensive season since 2017-18, as he has 23 points in 50 games so far. 
Namestnikov is the perfect utility player as he has played on every line this season, both special teams, and hasn't looked out of place. Namestnikov is on an expiring contract this year and could have plenty of suitors. He was traded twice in the 19-20 season, once from New York to Ottawa, the second time Ottawa to Colorado, both for 2021 4th round picks. 
If that's what is being offered to Detroit at the deadline, I think there is more value in keeping him. Namestnikov grew up a Red Wings fan, as his uncle, Vyacheslav Kozlov, was a part of the famed Russian Five. This season, Namestnikov has even started grabbing the winged wheel on his jersey as part of his goal celebrations.
With the youth movement coming through Detroit over the next few years, Namestnikov is the perfect role player to keep around. But if there's a deal bringing in the value of a second-round pick plus, that's something Detroit should consider.
Potential Fits: Colorado Avalanche, New York Rangers, Edmonton Oilers
Troy Stecher
Stecher hasn't been able to get into a steady rhythm so far this season. After a solid 20-21 campaign playing Detroit's most reliable defensive pairing with Marc Staal, Stecher has only played in nine games this season. Stecher suffered a wrist injury and hasn't been able to get into a steady rhythm so far this season. After a solid 20-21 campaign playing Detroit's most reliable defensive pairing with Marc Staal, Stecher has only played in nine games this season. Stecher suffered a wrist injury that required surgery and was placed on injured reserve after playing Boston on November 4th.
Stecher made his return to the lineup on February 12th and has played in three of the past four Red Wings games. Stecher has been in a sheltered role on the third pair this season, averaging only a little over 14 minutes a game. He has been a reliable option this season that has been in the press box over the likes of Danny DeKeyser and Jordan Oesterle.
Stecher will only be turning 28 in April, so he can still be a positive contributor in a depth role for a few more seasons. But with his deployment so far this season, it wouldn't be surprising he would want to explore other options this summer. If Detroit doesn't feel they can resign Stecher, they should look to move him.
Potential Fits: Toronto Maple Leafs, Carolina Hurricanes, Florida Panthers
Marc Staal
The caveat here is that Marc Staal does have a no-movement clause on his current deal and ultimately has the final say in any decision.
Staal has been a valuable piece on Detroit's blue line this season. He's been able to mentor the youth on the right side this season while also being a positive contributor. Staal's game has changed a little this season as he is more active in the offensive zone, which creates offense but also gives up chances defensively.
Staal has played in a total of 107 career playoff games, all with the New York Rangers and most notably a crucial part of the 2014 Stanley Cup Final run. Any team would value Staal's experience in the playoffs, but if there are only trade offers for a late-round draft pick, Detroit probably doesn't bite. Staal is an assistant captain and asked for a no-movement clause this summer for a reason, and he wants to be in Detroit. His value to the team, especially the young players, is worth more than a late-round draft pick.
Potential Fits: Boston Bruins, Florida Panthers
Dark Horses
There's also the possibility that Yzerman views a player from the "core" as a means to upgrade the team for the future. In the final hour trade of the 2021 NHL trade deadline, Yzerman moved Anthony Mantha to the Washington Capitals for Jakub Vrana, a 2021 first-round pick, a 2022 second-round pick, and Richard Panik. 
Anthony Mantha had just signed a four-year contract extension that prior summer and was viewed as a core piece. But, Yzerman saw a situation in Washington with a highly-skilled scorer in Jakub Vrana, who was buried behind the likes of Alex Ovechkin and Nicklas Backstrom, with also having the possibility of having a higher ceiling than Mantha. It is still too early to say for sure, but Vrana looks to be a home run. 
Filip Hronek
I just wrote a lengthy piece last week about Hronek's career so far and inconsistency in his play. Hronek will be an exciting player to watch approaching the deadline as he is a player that is on a reasonable cap hit for another two years after this season. There is always a high demand in the trade market for a young right-handed defenseman.
Looking back at the past three drafts, Yzerman and the Red Wings targeted a precise type of defenseman. Hronek doesn't fit that profile as most of them have size reliability in both ends and has shown a high upside in more than just one aspect of the game. With his contract and age, Detroit would have the ability to move Hronek and bring back assets to keep the team moving in the right direction.
Potential Fits: Vancouver Canucks, Philadelphia Flyers, Edmonton Oilers
Filip Zadina
Last month, Sportsnet's Elliotte Friedman released his weekly "32 Thoughts" article and suggested the possibility of Zadina getting a fresh start. Friedman is "in the know" and would have heard that floated around somewhere.
Zadina has recently improved on the Red Wings' top line playing with Lucas Raymond and Dylan Larkin. He has been more confident with the puck, as when Zadina was struggling, he was rushing plays that wouldn't be available.
Zadina still has the potential to be a top-six player in the NHL, and he just needs to figure out how to maintain confidence through slumps. Factoring in Zadina's season as a whole, Detroit would be moving a depleted asset. A potential move with a struggling former top-ten pick is always hard to predict. Unless there is a package on the table for another young impact player, Detroit should hold on to Zadina and continue to develop his game.
Potential Fits: TBD
In this episode, we recap the World Championships, highlighting Kubalik, Seider, Mazur. Next, we take a long look at the 2023 first round and which players will be available at 9th and 17th.