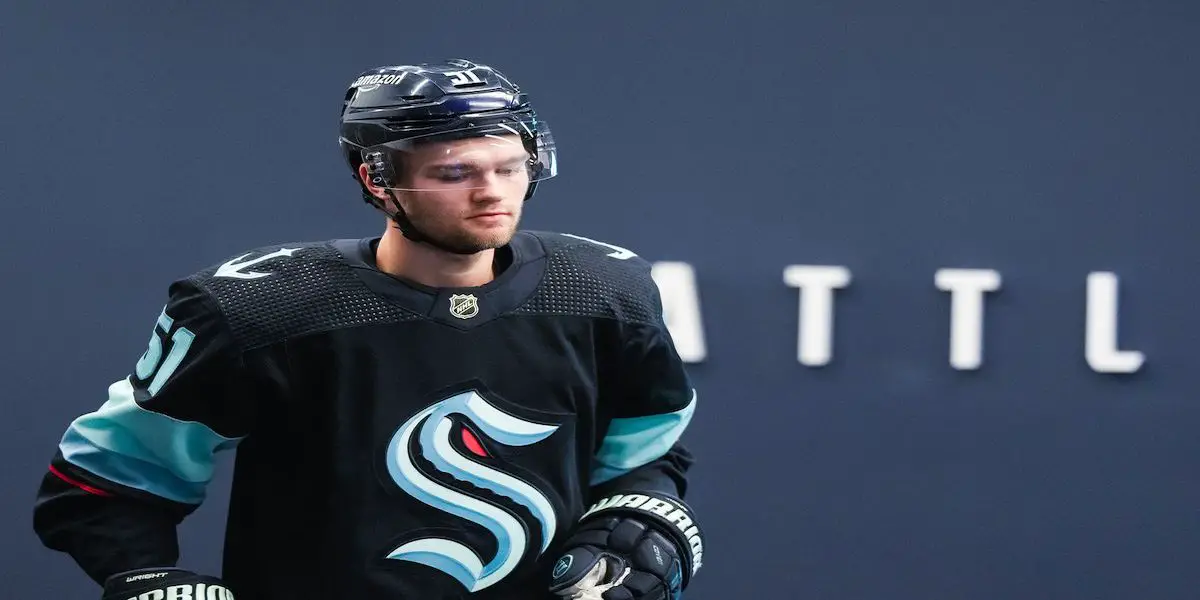 The NHL trade deadline is six weeks away, and the now first-place Pacific Division Seattle Kraken looks like a legitimate Stanley Cup contender. It might be time to go all in year two of the franchises' existence.
Seattle is proving their off-season acquisitions to the forward group, specifically on the wings, to help bolster their team depth was money well spent. While players like Andre Burakovsky and Oliver Bjorkstrand have fit in well, strengthening up the middle of the ice at the center should be in the cards for GM Ron Francis before the NHL trade deadline on March 3, 2023.
With all eyes glued to the Kraken rival to the north, Vancouver Canucks, these days after coming out and making it clear changes are coming with the players who make up the core of their team.
Vancouver has a highly sought-after 27-year-old pending unrestricted free-agent center almost every contending team should want, Bo Horvat.
While acquiring Horvat comes with some risk because of his contract status after this season, becoming a UFA, negotiating a long-term deal to finalize a trade isn't out of the question.
Seattle has the prospects and draft capital to make a move for a player of Horvat's caliber, with their 2023 first-round pick, three 2023 second-round choices (Seattle, Toronto, Winnipeg), and at least one selection in rounds 4-7; they are well positioned to make a big move.
Horvat isn't the only player who could benefit from a change of scenery in Vancouver and help the Kraken long-term and short-term. Thatcher Demko, when healthy, could be the answer in net for Seattle, seeing as Philipp Grubauer hasn't worked out as planned in the Emerald City.
What could a trade for Seattle look like to take the next step?
To Seattle
G – Thatcher Demko
F – Bo Horvat
D – Luke Schenn
To Vancouver
G – Philipp Grubauer
F – Morgan Geekie
F – Shane Wright
F – Joonas Donskoi
D – Cale Fleury
2023 1st round pick (Seattle)
Two 2023 2nd round picks (Seattle & Winnipeg)
2024 1st round pick (Seattle)
Yes, this is a lot to take in. A trade has to start somewhere, but for Seattle, now might be the time to make a statement on the trade front.
Donskoi and Demko are currently injured, and once healthy would complicate both teams' cap situations, but teams in the NHL seem to find a way around this problem more times than not.
Philipp Grubauer has an NTC this season which would make him untradeable unless Kraken management approached him about a change of scenery. It isn't out of the question; it complicates things more. Other than Grubauers NTC, there isn't much of a hurdle to making a trade if the magnitude happens.
Demko, Schenn, and Horvat come in at $11,350 million AAV for the 2022/23 season combined. While Grubauer, Geekie, Donskoi, and Fleury are a combined $11,950 million in 2022/23.
According to capfriendly.com, Seattle currently has a cap hit of $81 814 166 million with a projected $3 569 725 million in deadline cap space. Vancouver is at $87 022 500 million while having $4 721 456 million on LTIR to get under the $83.5 million salary cap with a projected $1 477 500 in deadline cap space.
Vancouver's plans of retooling, not rebuilding, will have many moving parts to factor into any trade scenario they plan to make by March 3. The salary cap will become their most significant hurdle to overcome.
Seattle only makes this trade if they get a long-term contract agreement with Horvat. No way they trade their first-round pick in 2022, Shane Wright, for a player unwilling to commit to the team long-term.
This would become a no-brainer if Horvat were to sign a long-term contract. With Luke Schenn involved, it solidifies their defense for a potentially long playoff run. Demko is four years younger than Philipp Grubauer, who has done nothing in two seasons with Seattle to make management trust he could be a go-to goaltender come playoff time. Martin Jones has proven he can provide solid goaltending, but it isn't the long-term answer.
Vancouver, on the other hand, well, they don't seem to have a plan. Getting draft capital and a young player in Shane Wright might be a starting point even if they have to take on contracts like Donkskois' and Grubauers.'
https://feeds.transistor.fm/cue-the-duck-boats-pod