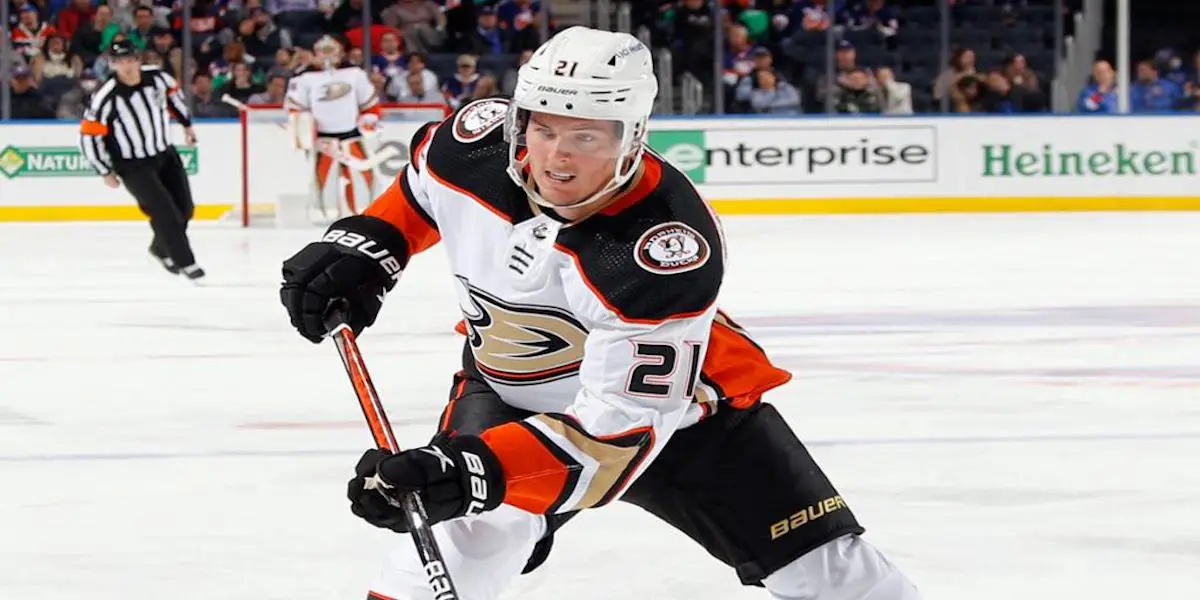 The name Isac Lundestrom has become very polarizing of late. Whether it be among national media, regional media, or Anaheim Ducks fans, a wide range of opinions about Lundestrom are shared. He has been referred to as anything and everything from "Bergeron-lite" to an "offensive void" with only fourth-line center potential. Coaches love the player, and analytic models hate him. The Ducks currently have seven centers (or players that can play center) on their NHL roster, one NHL-ready center in the AHL (Benoit-Olivier Groulx), one in their prospect pool eager for a roster spot in 2023-24 (Nathan Gaucher), and they may be looking to add another at the 2023 NHL Draft with a top-10 pick. That kind of organizational depth down the middle of the ice has left some questioning where Lundestrom stands within the future of the Anaheim Ducks. 
The 23-year-old Swedish centerman was drafted with the 23rd pick in the first round of the 2018 NHL Draft. When he was selected, he was seen as a high-floor/low-ceiling 2-way center who excelled with defensive awareness and responsibility. This kind of approach to the game (as well as his excellent skating and ability to play against grown men at a young age) endeared him to coaches early in his career. It's also likely the very thing that pigeonholed him into a strict "shutdown center" role. 
Isac is 175 games into his NHL career. He has produced 23 goals and 27 assists in that time. Before suffering a broken finger on December 1st, Lundestrom only scored one goal and added five assists in 24 games. It seemed like he was on the verge of turning a corner from an offensive perspective after last season when he scored 16 goals (three shorthanded), but like most Anaheim Ducks players, his output declined so far in 2022-23. 
The best way I can describe Isac Lundestrom as an NHL player is "risk-averse." Without the puck, he is fundamentally sound. He never loses his assignment in the defensive zone, is never out of position, and doesn't gamble with a pinch if he thinks it might take him out of a play. He excels at pouncing on loose pucks and transitioning from the defensive zone through the neutral zone and into the offensive zone with speed. He's a powerful skater and is strong on his edges, making him effective at protecting the puck. His risk-averse nature also translates to the offensive zone, as he doesn't attempt low-percentage passes or try to beat defenders one-on-one. Isac will never be mistaken for a volume shooter, as he often elects to drive the puck to the low slot with power moves. The majority of his goals have come from around the front of the net. 
Those critical of Lundestrom see him as someone who doesn't bring anything to the table offensively. Poor underlying numbers (34.9% expected goals at five-on-five via moneypuck.com) and vanilla attempts at manufacturing offense have left some fans very frustrated and willing to banish him to play center on the fourth line. Because of his unwillingness to take chances with the puck in the offensive zone, sequences often end with him holding onto the puck for extended periods waiting for an option to present itself. If it doesn't, he often eventually loses a battle, and the puck goes the other way without generating a chance. 
It's important to note that Lundestrom JUST turned 23 years old. He's been playing against grown men for seven years, but he's still a young hockey player. He has shown flashes of offensive ability and, if used properly, could realize his potential as an above-average 2-way center. 
Diagnosis
Roster configuration and utilization have always been a weakness of Anaheim Ducks' head coach, Dallas Eakins. Because of his defensively-responsible nature, it has been easy for Eakins to match Lundestrom's line against opposing top offensive lines. It's hard to generate offense when facing the Connor McDavid's, Nathan MacKinnon's, and Auston Matthews' of the world on a nightly basis. Dallas Eakins hard-matches Isac Lundestrom's line against these elite opponents for home games, and on the road, he has Lundestrom's line take every defensive zone face-off he can. It's hard to be an effective transition and/or offensive zone player when, if you lose the draw, at least half your shift is spent trying to win back possession and break out of the defensive zone. 
Another obstacle standing in the way of more offensive production is Isac's linemates (one lineman in particular). In the 2021-22 season, Isac Lundestrom's most common line was Derek Grant-Lundestrom-Jakob Silfverberg, and they played 206 minutes together. His second most common line was Sam Steel-Lundestrom-Silfverberg, and they played 107 minutes together. That trend continued in the 2022-23 season, and before Lundestrom's injury, Jakob Silfverberg was again stabled to his right wing. 
Jakob Silfverberg was always a defensively responsible forward. In his younger days, he could regularly chip in on offense, making him one of the most under-appreciated  2-way threats in the league. He was a third of one of the more dominant shutdown lines the NHL has seen in the past decade (Cogliano-Kesler-Silfverberg). His body has failed him in the last few years, and he underwent major hip surgery that cut his 2020-21 campaign short. Since then, his offensive game has dried, and he's become a one-dimensional (strictly defensive) player. 
When Lundestrom and Silfverberg, two forwards who are far more defensively conscious (often with a third on their line), are playing together, they can be risk-averse to a fault. While both are excellent defenders, only so much bending can be done before an inevitable break occurs and a goal is scored. Neither player is particularly strong on the forecheck, so when they make a safe play (chip out or dump in), opponents (especially the elite opponents they have to face every game) are often able to regroup and pursue the attack again with ease. 
The players he plays with, coupled with a sub-optimal system deployed by the coaching staff, have hindered Isac Lundestrom's ability to enter the zip code of above-average/elite shutdown centers. The Ducks run a system that prioritizes forechecking and manufacturing turnovers. When placed on a line with other players that don't excel in that aspect of the game AND have to play against elite competition, Lundestrom's positive impact on a game is limited.
Cure
When one thinks of the best defensive centers in the NHL, the names that pop into one's head are likely players like Patrice Bergeron, Phillip Danault, Nico Hischier, Roope Hintz, Mikael Backlund, etc. The thing all those players have in common is that their linemates are either relentless forecheckers (Viktor Arvidsson, Blake Coleman, etc.) or supreme offensive talents (David Pastrnak, Jesper Bratt, etc.) or both (Jason Robertson, Brad Marchand, etc.). Even though those players are matched up against opposing top lines, like Lundestrom, they don't have to defend as often or endlessly as he does because the puck doesn't spend as much time in the defensive zone. 
With the Ducks having a severe lack of elite offensive talent, I wouldn't suggest he be playing with Trevor Zegras or Troy Terry. I would, instead, suggest that they go the route the Los Angeles Kings went with Phillip Danault. Danault typically plays on a line with Trevor Moore and Viktor Arvidsson, high-motor players with finishing ability who are effective in transition and on the forecheck. As a unit, they create turnovers, jump on loose pucks, and sell out to attack in transition. 
Placing Isac Lundestrom on a line with some combination of Max Comtois, Max Jones, Frank Vatrano, and Pavol Regenda (called up from the AHL in this scenario) while simultaneously removing Jakob Silfverberg from his wing would be placing him in a position to succeed. Isac needs to play with players who complement his skill set, not players who share it. It would be a step toward unlocking his full potential as a true modern-day shutdown center in the NHL. A true modern-day shutdown center is disruptive over the entire 200ft ice surface and regularly chips in offensively. 
Summary
Lundestrom is on the current six-game road trip with the Ducks and will likely make his return to the lineup soon. If he finds himself on a line with Jakob Silfverberg, expect a return to frustration as his line gets caved in while spending what seems like 90% of their ice time in the defensive zone. If, by some miracle, the coaching staff decides to create a third line of (for example) Max Comtois-Isac Lundestrom-Frank Vatrano, that line, even if utilized in the same manner as Lundestrom's previous lines, might cause chaos on the forecheck, make life hard on opponents, and even produce offensively. I doubt this scenario will see the light of day, but it would sure be fun. 
Hopefully, one day a coach will try to get the most out of Isac Lundestrom. He seems like a great kid and is clearly an extremely hard worker dedicated to his craft. He deserves an opportunity on a line where all three players can complement each other's styles. If that fails, then it fails, but he would have been given the best possible chance to succeed. No matter what, I will always hold out hope that Isac Lundestrom's name will one day be mentioned in the same breath as guys like Roope Hintz or Nico HIschier when discussions about "top defensive centers" occur. 
On this episode of LAP, the guys go over the Ducks recent stretch of play, John Gibson's monster week and some small moves made by Pat Verbeek. The guys also cover the wild day that was Tuesday and some of the other trades that have happened since last episode. They also answer some listener questions and have a trade break while they're still recording!Follow Late Arrivals Twitter: @latearrivalspodInstagram: @latearrivalspodFollow the hostsChris: @CJKChelConnor: @91_PlutyJake: @_JRobles71Louis: @Louiex37*We do not own any of the music used in this episode*