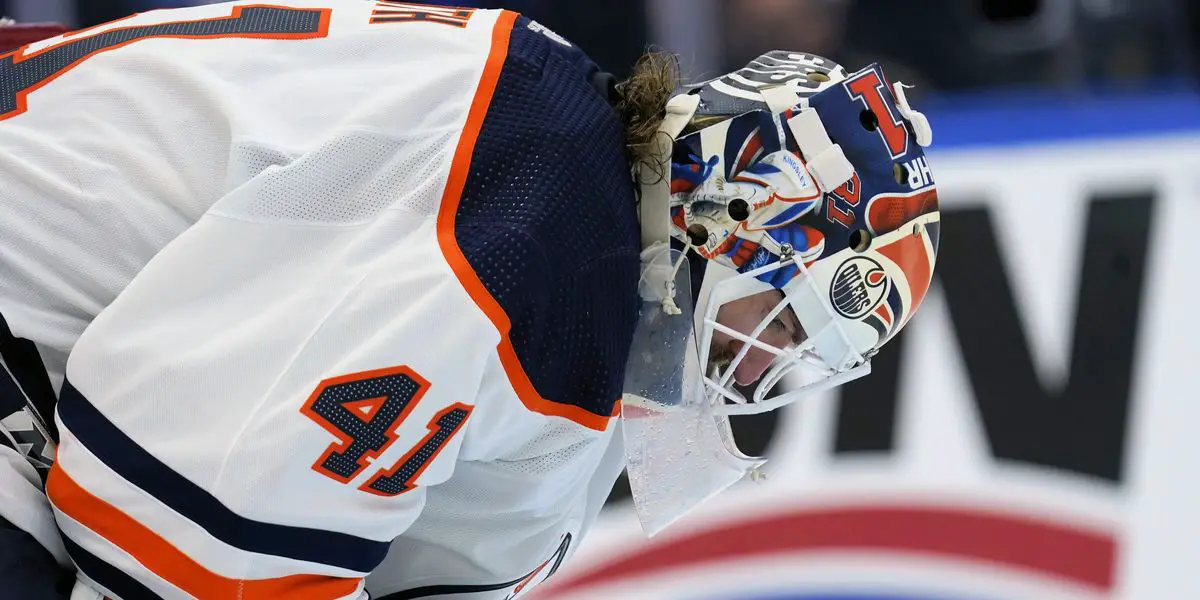 For several years, goaltending has been a hot topic of conversation for the Edmonton Oilers. Mikko Koskinen has been inconsistent for his entire Oilers tenure, and Mike Smith's age and susceptibility to injuries have raised some questions. Smith had a terrific 2021 season and seemed to be silencing the doubters. Still, in 2022, with Koskinen's inconsistencies continuing and Smith having by far his worst season in Edmonton at the age of 39, things have boiled over for the Oilers between the pipes.
Since the All-Star break, Mike Smith has made seven starts and has posted a .882 SV% to go with a 3-4 record. This latest stretch featured starts against the Minnesota Wild and the Tampa Bay lightning, where Smith allowed eight goals on 20 shots across the two games despite there being just 1.63 expected goals for the opposition. While he did bring these numbers up slightly through the rest of the game against Tampa Bay, the point still stands: Mike Smith is not giving the Oilers NHL-caliber goaltending, and he hasn't all season.
Mike Smith sustained a lower-body injury on the Oilers' third game of the season on October 19th against the Anaheim Ducks. He suffered set back after a setback, and after a brief return in January, he was back on the shelf with a thumb injury. Once Smith finally got healthy, he started most of the games just like he did last season. But at his age, and with so many injury problems, he simply hasn't been able to recapture anything close to last season's performance. In his previous ten starts, Smith has allowed two goals on his first six shots faced a total of seven times! Smith's SV%, GAA, and GSAx are all worse this season than the heavily criticized Mikko Koskinen.
Speaking of Koskinen, his play has been well short of starting goaltender quality, but I do believe he has been performing like a serviceable backup. If Koskinen was making around $1-2m AAV and he wasn't forced to play such a high volume of games, I'm not sure he would be criticized as much as he has. Peter Chiarelli handicapped the team before leaving by dishing out starting goalie money to a backup goalie. Koskinen's contract ends after this season, so that will be one problem solved, but the Oilers will still be paying Smith $2.5m AAV for one more year, and it looks like father time has caught up with him. It has become abundantly clear that although this tandem will almost certainly be split up next season, the time to change things up is now.
The fact that the Oilers still remain in the hunt for a top 3 spot in the Pacific Division speaks volumes about how excellent their forward group is. Since adding Evander Kane and Jay Woodcroft, the Oilers have been hard to play against every night. However, they aren't that hard to score on. This team has produced some solid underlying numbers under Woodcroft, even in the defensive zone, and it seems as though they are capable of doing great things when they get sufficient goaltending. Ken Holland should be desperately trying to develop a solution because if they make the necessary goalie upgrade, they could still very well go on a deep playoff run. Let's take a look at some of Holland's options.
It's no secret that Ken Holland has been actively looking for trade partners for a goalie all season long. The Blue Jackets were reportedly asking for a second and third-round pick in exchange for Joonas Korpisalo. That price was well out of Edmonton's range, considering Korpisalo has similar numbers to Koskinen over the past few years. It was also reported that the Oilers tried to offer up a late-round pick to pry Martin Jones out of Philadelphia, but that wasn't enough to satisfy the Flyers. Ken Holland has said in the past that he would be willing to deal a first-round pick if he thought the team could win a Stanley Cup. With the Oilers currently in a bubble position, Holland might be nervous about the idea of giving up a first-round pick that could be a lottery pick should the Oilers miss the postseason. Acquiring a more interesting goaltender like Marc-Andre Fleury, Ville Husso, or Alexander Georgiev will likely require trading that first-round pick. I think the option for outside help still remains, but Ken Holland might wait right up until the deadline to make a decision so he can be sure the Oilers are a playoff team. Otherwise, he will need to get creative and find a way to deal for a cheaper goalie that could still have some upside.
This is a complicated situation for the Oilers, but they do have other options within the organization. Stuart Skinner has started 12 games for Edmonton this year and has posted a .913 SV% and 2.62 GAA. Most importantly, his GSAx of 0.074 is actually above league average. The fact that Smith and Koskinen have some of the worst numbers in the NHL this season and Skinner has performed above average should make this decision a no-brainer, in my estimation. Sure, Skinner has less experience, but at the end of the day, he is a significant piece for the future of this organization, and he's out-goaltended Smith and Koskinen all year long. If I were in Holland's position, I would give Skinner the reigns and see what he's made of down the stretch. If he doesn't inspire enough confidence before the deadline, they could still make a move for help elsewhere. The bottom line is Smith has been well below par and by far the worst-performing goalie on the team this year. The Oilers would be better off moving on from Smith by sending him to Bakersfield for a Skinner-Koskinen tandem for the rest of the season. This move carries no risk and potentially great reward.
Ken Holland made a bet on a 39-year-old Mike Smith this off-season by giving him a multi-year deal. It has become clear that this was a mistake, but the Oilers can't just continue to try the same thing and hope it gets better. The team is playing well, and they can't afford to lose precious points in the middle of a tight playoff race due to poor goaltending. A move needs to be made.