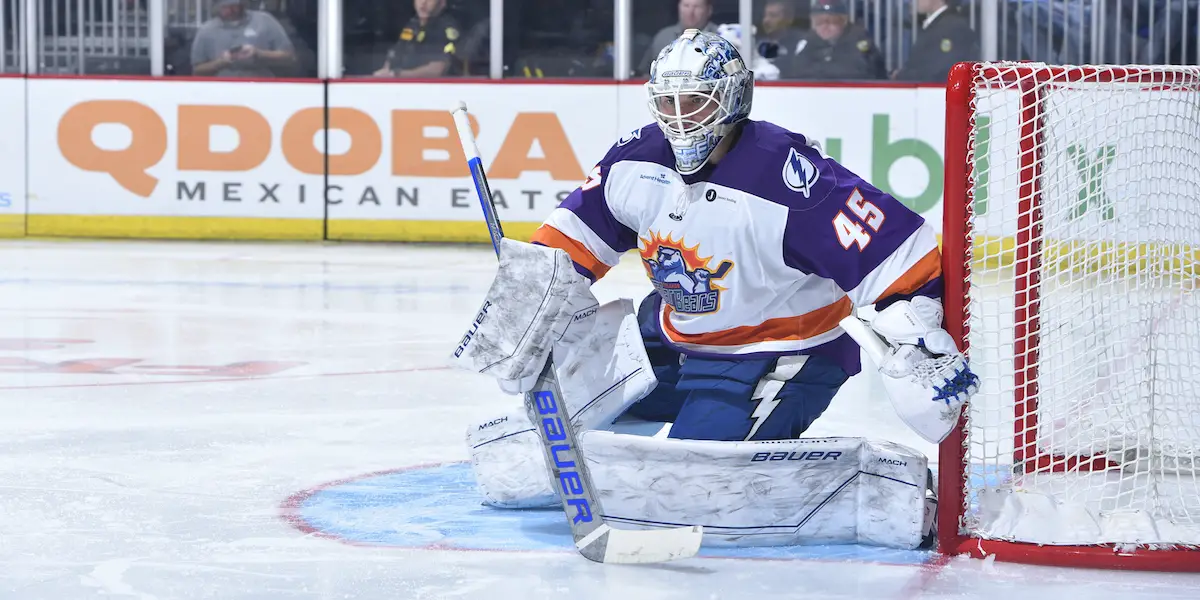 ORLANDO, FL- Goaltender Jack LaFontaine returned to the Solar Bears prior to their game against the Gladiators this past Wednesday after being on the Syracuse Crunch Roster for a couple of days. LaFontaine was called up to the Crunch on Saturday Afternoon, almost immediately after winning the Bears matchup vs. the Trois-Rivieres Lions, stopping 24/26 shots in a 4-2 win.
In the AHL on Jan 7, LaFountaine was involved in an altercation at the conclusion of the game vs. Rochester. He has ultimately suspended six games in the AHL under rule 70.10 for receiving a game misconduct for leaving the bench during an altercation. With the call-up, LaFontaine was able to serve two more games of his suspension in the AHL. LaFontaine will still have three games to serve when he gets called back up.
This season with the Crunch, he has played in four games averaging a 2.43 GAA, and a .919 save percentage. Despite some good games this season with the Bears, he is averaging 2.89 GAA, and a 9.14 save percentage in 16 games played. The rest of his pro experience started in the 21-22 season when he played two games for the Carolina Hurricanes, 13 for the Chicago Wolves, and two with the Norfolk admirals.
LaFontaine played a total of five seasons of NCAA hockey; his best season came with the University of Minnesota wearing the "A" when he played 29 games, having an outstanding 1.79 GAA and a .934 save percentage in the 20-21 season.
The Solar Bears continue their homestand tonight at 7 pm EST against the Greenville Swamp Rabbits at the Amway Center in Orlando.