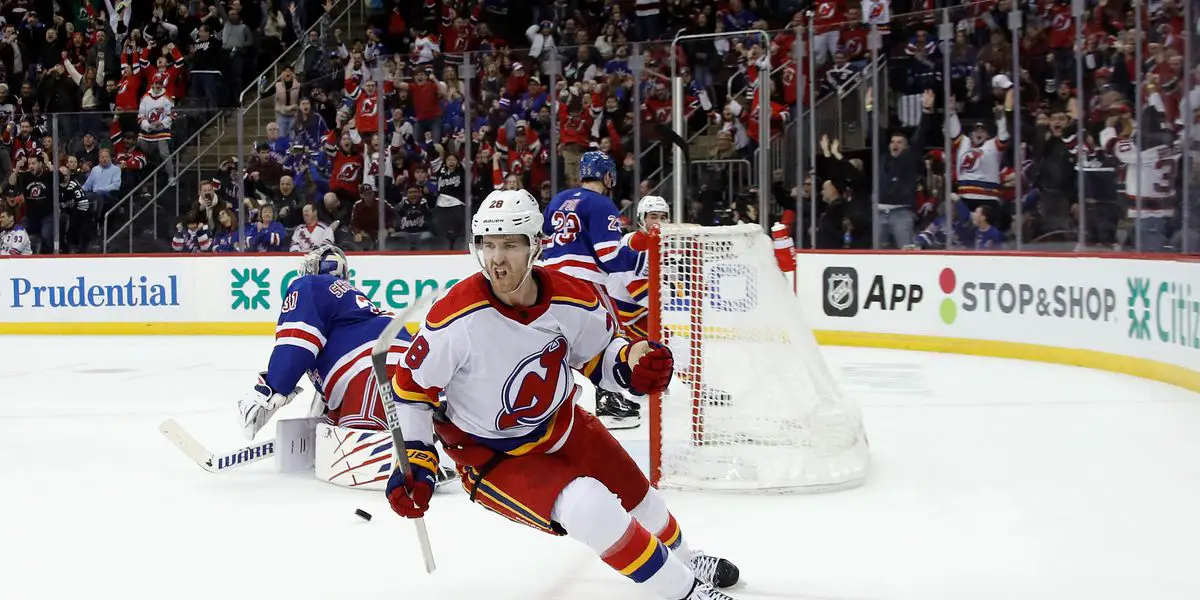 The NY Rangers lost to the New Jersey Devils 4-3 in overtime in a game that again saw the Blueshirts display the same sloppy play and lack of structure that plagued them early in the season. If you combine that with unleashing a torrid Jack Hughes, you get the outcome of yesterday afternoon. Let's break it down.
THAT'S GOOD!
BOTTOM SIX
As stated before, even when the Rangers are humming, their production stems primarily from their top players. While you want to see that, for the team to reach the next level, there needs to be depth scoring.
Thankfully that occurred in this game due to dynamic goals by two bottom-six players that have been pleasant surprises this season.
First, Jimmy Vesey was sprung by a nifty pass by Lafreniere into the offensive zone. Then, however, it was all Vesey as he made a quick deke move and fired a beautiful high snipe past Vanacek. Vesey continued his strong play, and if he can chip in a goal here or there, he will be a considerable asset for the Rangers on that third line.
Not to be outdone, Julien Gauthier continued his rebirth with a stellar goal in the second period, giving the Rangers a 2-0 lead. He has always been adept at driving the net using his speed and size but usually found himself lacking in finishing. However, this year has seen a reversal of sorts, as he made a beautiful zig-zag move with a defender all over him and tucked it in past Vanacek.
If not for the Rangers blowing a two-goal lead, these players would have been one of the main subplots of the game besides…
IGOR
The final numbers won't reflect it, but Igor was a beast for most of this game. It was a contest where the Rangers' two-goal lead was a little misleading. The Rangers' structure and defense regressed throughout the game, leaving Igor needing to make some critical saves. What was most encouraging was seeing a vintage Shesterkin from the standpoint that he was making complex saves while looking calm and composed. That's when he is at his best.
Ultimately, the team let him down, considering the tying goals were a power play snipe by Bratt and a bad bounce right to Hughes that he wouldn't miss. However, without Igor's early prowess, the game would have been a Devils' blowout win instead of one of the comeback variety.
THAT'S BAD!
STRUCTURE
The win against the Hurricanes was an apt mirror for what this game became. (Unintentional Rhyme Alert!). In that contest, the Rangers followed up a putrid first period against a fast-attacking team by tightening their defense and structure to overtake Carolina. Yesterday was the complete opposite.
Perhaps the 2-0 lead made the Rangers feel they could start to open it up, but that played right into the Devils' hands. They let a scalding hot Jack Hughes run wild, which spread to their team. Much like too many games early in the season, the Devils lived in our zone for a good portion of the sixty minutes. While the Rangers also had a multitude of chances, they never found the finishing dagger. That's unacceptable if you're going to turn the game into the track meet it became.
WHAT THE HECK WAS THAT?
Usually, I wouldn't single out one negative play in this section, but it needs to be pointed out when it's so egregious. What in the world was Barclay Goodrow thinking?
I had to watch it three times to ensure I saw what I saw. Goodrow had the puck on the offensive side of the center red line and inexplicably felt that was a good time to pass back to our defense. The problem was a streaking Jack Hughes read it easily, took it in stride, and scored on a breakaway to cut the lead to 2-1.
I say this with a lot of snark (and I'm a Goodrow fan), but it might be the most perfect pass he will have all year. I realize that passing back to the defense is a reset many teams deploy and can be a smart move, but he was closer to their zone than ours. So either skate it in or dump it. Either way, it woke up the Devils and gave Hughes life, which would come into play later.
BREAKAWAYS
I don't have exact numbers, so this might be perception, but have we been inexplicably TERRIBLE on breakaways this year? I feel like we've missed our last ten in a row, and I don't feel we've been effective all year.
I still love Mika's overall game, but I contend we have not seen his best scoring acumen yet. Yes, he has a lot of goals, but his shot is still a little off. Even his last two goals were pucks that were just lucky.
Moreover, he had a chance to win it in OT yesterday with a beautiful skating clinic but then missed the net on the breakaway. The Rangers, in general, have missed the net with alarming frequency this year; however, many of those have come via slapshot.
With the skill of Panarin and Mika, we should be netting at least a few of these breakaways. You can't waste these opportunities, especially in these close games.
CAN I GO NOW?
Memo to both teams in this series. Do NOT get out to a 2-0 lead. In all three games this season between us, the team that went up 2-0 ended up losing the game. We are really trying to cement the notion that it's the worst lead in hockey.
The Lafreniere debate will continue, I'm afraid. It's a shame, too, because he had the assist on the first goal, and I thought the Laf/Chytil/Vesey line was our best combo early. However, he didn't do much after that and had a dreadful OT, including the turnover that led to the winning goal. It's hard to use the poor usage excuse for him when there was an opportunity to flash some skill in open space, and he instead fumbled it. Stay tuned.
Two tough games are coming up at home, with Minnesota on Tuesday and Dallas on Thursday. The Rangers still got a point yesterday but left one they should have had. Here's an opportunity against two formidable opponents to get back momentum.
In this weeks episode we have on Nick Morgan from Locked on Predators pod to discuss coaches Hynes and Laviolette.Thanks for listening! Please rate and review our show on your favorite listening platform. Check out our partner's website at www.insidetherink.com for all your latest hockey news.