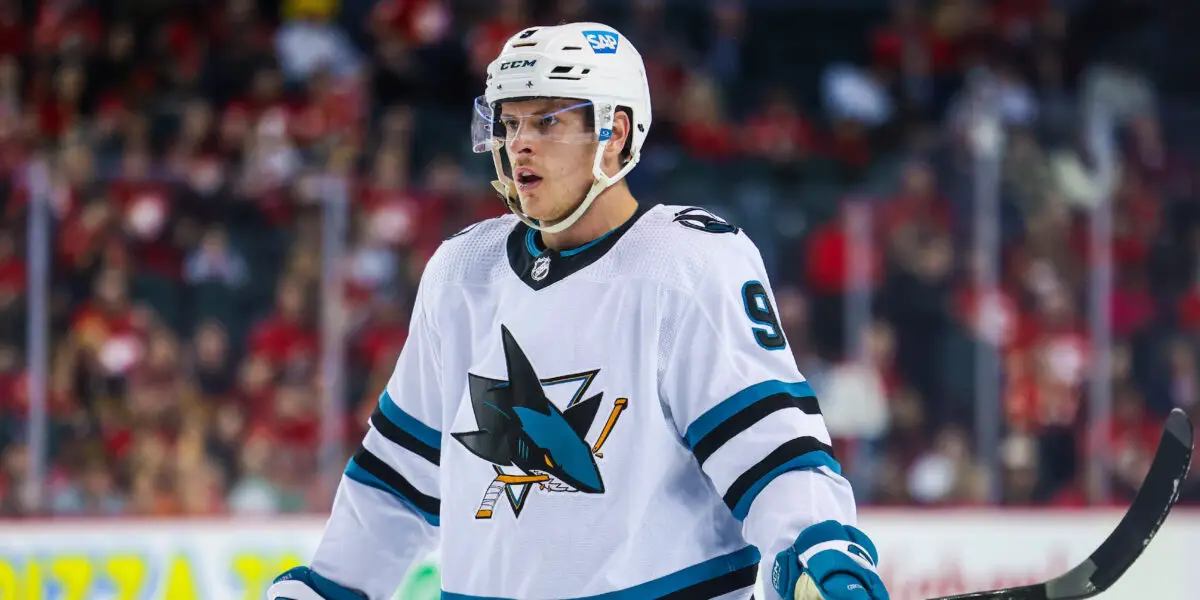 Jacob MacDonald is the last man standing after a trade that sent Matt Nieto and Ryan Merkley to the Colorado Avalanche in exchange for MacDonald and Martin Kaut. The other three players are either not in the NHL anymore or on a different team. Ryan Merkley plays in the KHL, and Martin Kaut is in Czechia. Matt Nieto was signed by the Pittsburgh Penguins this offseason to a two-year deal. MacDonald is still in San Jose. Last year after the trade, MacDonald had a goal and five assists for the San Jose Sharks in 25 games. Down the stretch, with injuries hammering the Sharks' forward group, the Portland, Oregon native was playing on the fourth line for the Sharks.
MacDonald played pretty well for a floundering Sharks team down the stretch. He saw his average ice time go from 8:40 a night with the Avalanche up to 16:30 a night with the Sharks. He even get some looks quarterbacking the Sharks' second unit power play, playing with the titans of offense like Andreas Johnsson, Evgeni Svechnikov, Kevin Labanc, and Matt Benning. MacDonald's flexibility was a major asset to the Sharks as the season wound down.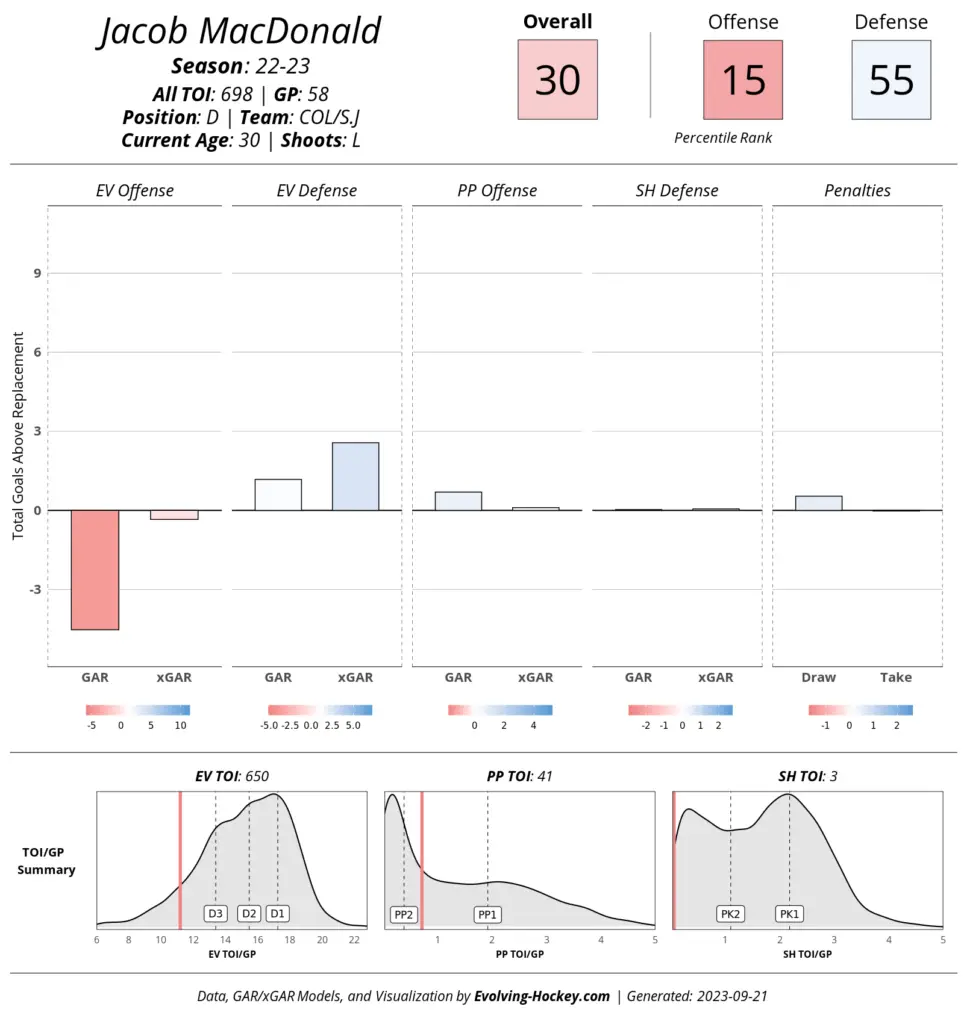 Where does MacDonald fit?
Entering into training camp, MacDonald is fighting for his NHL life. With the additions of Jan Rutta and Kyle Burroughs this offseason, MacDonald is one of the Sharks bubble players on the blue line. In limited ice time, he has produced positive analytics and has just been unable to find a finishing touch. His offensive analytics did plummet when he was playing on an inferior Sharks team, but there could be something with better supporting cast on the Sharks forward group.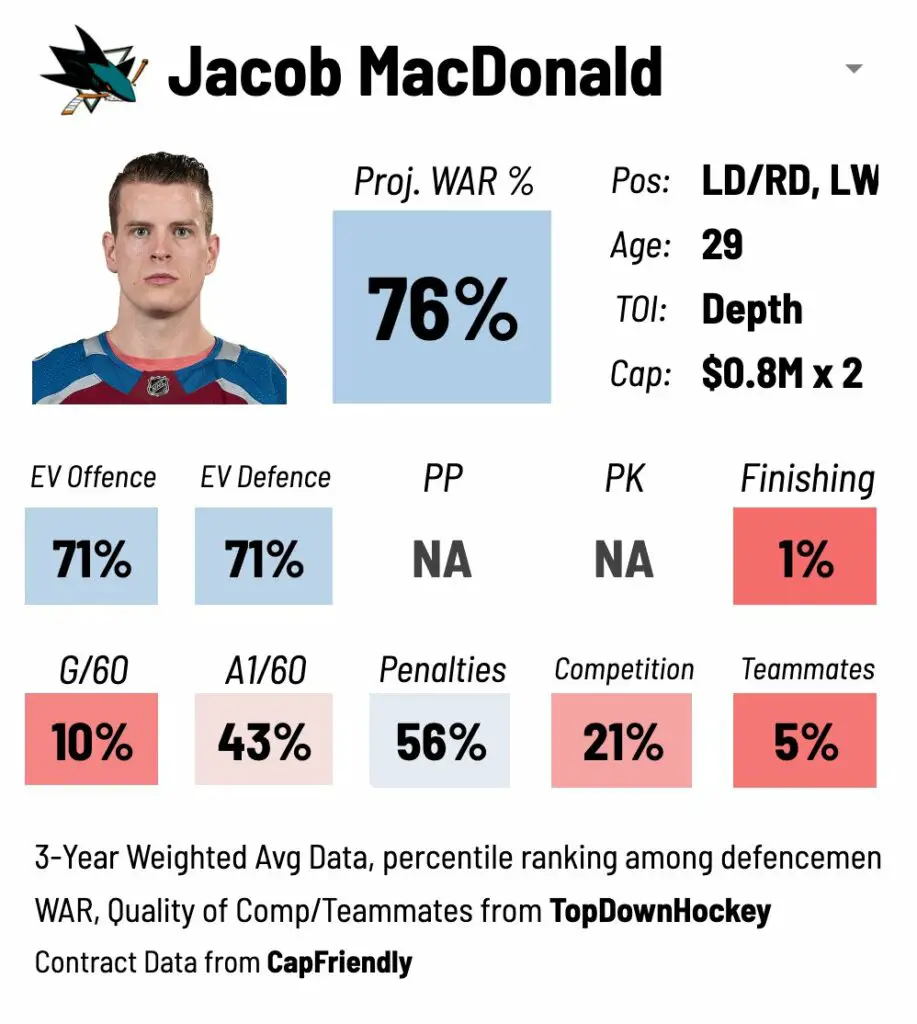 MacDonald, who turned 30 in February, could be a candidate to try and pass through waivers to play with the San Jose Barracuda this season as well. The Barracuda will also have an impacted blue line with Shakir Mukhamadullin, Henry Thrun, Nick Cicek, and Valtteri Pulli all vying for playing time. MacDonald's best role is a seventh defenseman who can play in a pinch if someone gets hurt.
What's next for MacDonald?
Jacob MacDonald has one year left on his deal worth $762,500. At his age, MacDonald will not be part of the Sharks' long-term future and could be seen as a progress stopper for some of the Sharks developing defensemen. With his cheap contract and value to play both forward and defense, MacDonald could easily be the target of a team looking to add some insurance. Most likely, MacDonald will be part of a larger trade where he will be added to help make the contracts match.
Bold Prediction: Jacob MacDonald plays less than 20 NHL games this season for the Sharks
Other Season Previews:
Alexander Barabanov Season Preview
Thomas Bordeleau Season Preview
Anthony Duclair Season Preview
Mikael Granlund Season Preview
Fabian Zetterlund Season Preview