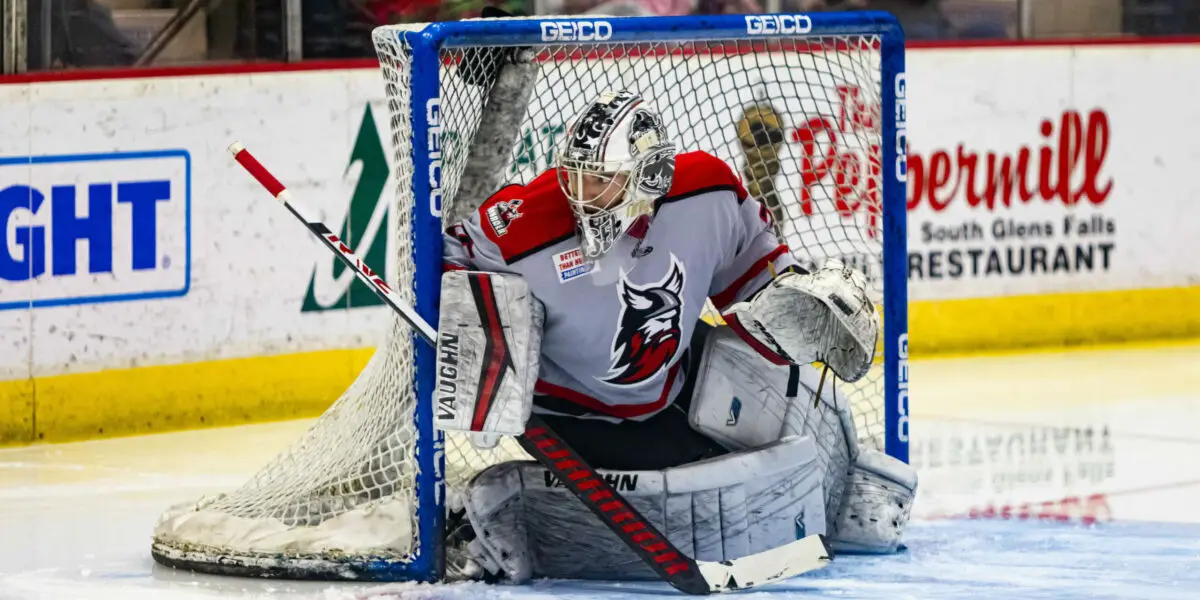 When you search the name Jake Theut on Elite Prospects or HockeyDB or just in your google search engine, you may find the likes of DeLaSalle High from over twelve years ago or the 17 games in the NCAA in Northeastern University from 2013-2017 or maybe a transfer year playing with the likes of Jacksonville Icemen forward Matt Salhany. Still, you definitely won't find anything on the 28-year-old, hailing from Washington, MI, if he even knew who his head coach, Pete MacArthur was until this summer when Theut joined 3ICE.
"I had no idea who Pete MacArthur was, but, yeah, I met him on 3ICE, and he started talking to me about the entire process on Adirondack".
Theut signed an ECHL Standard Player Contract (SPC) on August 4th, earlier this summer. Just because he's never heard of what many Glens Falls faithful know the name Pete MacArthur, The 6'3 190 pounder is no stranger to the city of Glens Falls.
"It's a funny connection. One of my billets, when I played in New Hampshire for the Junior Monarchs, he billeted another kid after me from Glens Falls".
"The great selling point is the passion and what former players have told me about Glens Falls, in the ECHL, the greatest thing is that passion that the players bring night in and night out, you know a lot of those guys here have the aspersions of going to the next level, and you put it all on the ice, quite frankly, you don't know if this is your last time playing or you can get traded, called up, and every guy is putting in every ounce they have, to each game, each night sometimes, you've got those three in three's, in three nights and guys are still diving to block shots, big hits, scoring big goals, fighting and I'd say the ECHL is taxing, but I'd say the passion, along with the work ethic, that all the players bring are unmatched."
Theut has never been afraid to hit the ice and travel for a brand-new adventure. Theut and four other Thunder players got a look at AHL camp before returning to Glens Falls for training camp day one on Monday. Theut got in action on Saturday against the Providence Bruins before joining the Thunder to begin the season in the ECHL.
Theut lost his mom in April of this year but touched on some thoughts about having a veteran-type leadership heading into his 4th full professional season.
"My dad worked at UPS growing up, so he was always gone at work, working that blue-collar lifestyle, you could say, working ten, twelve-hour shifts a day; my mom was the backbone of the family. She'd take me all over the town, make sure, try to get there early, had all my food ready to go for certain games and things like that. She allowed me to chase my dream, just like any great mom would do.
This was Theut's second go-round with the Thunderbirds in AHL camp but his third with the Triple-A league. He knows that if he plays well, along with the things his mom and family have instilled in him, along with anything last year with the goalie carousel, he'll be back.
"I actually came to Springfield right out of college when they were affiliated with the Florida Panthers, then Bakersfield last year. The goalie situation is very fluid. I would definitely like to make an NHL club, but I've been talking to them (Springfield) since 3Ice kinda ended, so I guess we will see what happens, but I've gotta some pretty good feedback".
Theut knows his role on the Thunder, which head coach Pete MacArthur has been praising since his first introduction as Adirondack Thunder head coach way back in June.
"Being a goalie, you kinda, have a role on a team doesn't matter if you'll a rookie or a guy six or seven years pro, the guys see how hard you're working, your compete level, day in and day out, and I take a lot of pride in that, sometimes too much, but I've learned how to manage that through experience, I take a lot of pride being an everyday guy.
Theut's message to those guys who are entering the first year pro or earning and fighting for spots in training camp to start the year in Adirondack is, "it's all about being a good pro."
"I'm not too much of a vocal guy. In regards to that, I lead through action, so hopefully, the younger guys and the other guys see that and take up on things that I've learned, good and bad, throughout my career so far."
The boys are back after a long break but have plenty to talk about as the playoffs are in full swing. We go series by series, looking at how teams have fared so far and who will come out on top. Thanks for listening! Please rate and review our show on your favorite listening platform. Check out our partner's website at www.insidetherink.com for all your latest hockey news.