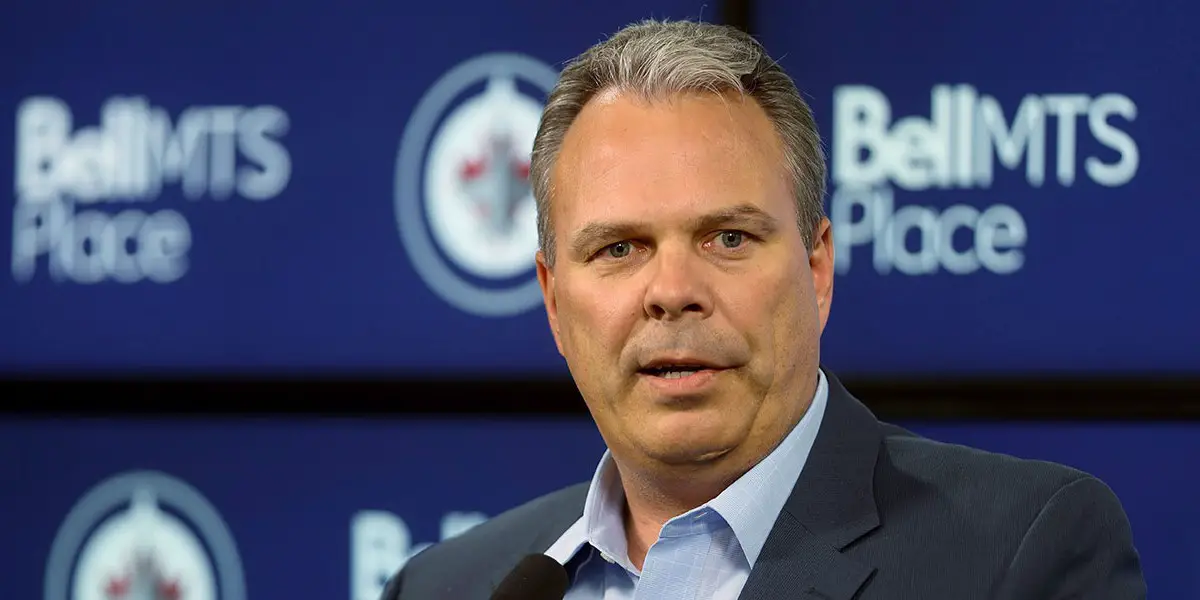 Is this the best we ever get to be? A farm system for the "have" teams in the NHL? Could you prove me wrong? History and a boatload of statistics will say I am right. The Winnipeg Jets – "Just Good Enough." Go back to the 80s and 90s. A winning season is followed by a losing season. Fire the coach and make some trades. Repeat. Get lucky in the draft, then trade those players as they become frustrated with losing and watch them succeed elsewhere. Dale Hawerchuk, Dave Babych, and Teemu Selanne are some of the stars that we lost, but there are many bit actors as well. Has it changed much? Nope.  Just the names: Patrik Laine, Jacob Trouba and Pierre-Luc Dubois.
Maybe we could call it 'Draft and Develop for Other Teams'
When the Jets returned to Winnipeg in 2011, Mark Chipman and Kevin Cheveldayoff talked ad nauseum about the Draft and Develop model. Have patience, they said. There will be some lean years but then, look out. In 2015, The Hockey News told us that the Jets would win the Stanley Cup in 2019. We went to the conference finals in 2018, so it looked like a slam dunk for the next season. Wrong. We lost in the first round (to eventual Cup winners St. Louis). Ouch. No one can argue that Kevin Cheveldayoff has not drafted well. Winnipeg was sixth-best in a study of man games played by drafted players between 2012 and 2020. Not too shabby. It helps, too, when you get to draft high, year after year. But regardless, there have been many home runs hit. The problem appears to be retention. Maybe we could call it Draft and Develop for Other Teams.
But Cheveldayoff has let players walk out the door. Social media pundits claim he hasn't drafted well. Too many Americans, they say. That's why they won't stay in Winnipeg. Hmmm. I can't say I agree. As my good friend Ron says, you draft the best player available. Whether they are Canadian, American Columbian, or Armenian, you take the best guy. Often, Chevy is handcuffed and forced to move players. When they or their agents go public, it makes the job much more challenging, and trust me; his job is hard—tough decisions to make regularly.
And Winnipeg is too cold and doesn't have enough nice shopping malls and doesn't have direct flights to anywhere nice, and the Wi-Fi sucks. While somewhat tongue in cheek, we, as Winnipeggers, have to face the ugly truth that not everyone wants to live here. Disagree with me? Here is a test. List the five biggest name-changing free agents the Jets have ever signed in the summer. 
I am still waiting. There aren't five, are there? There are none. And that is not because Chevy doesn't try to lure them. It's just that the grass is always greener somewhere else. And often, it is green year-round. So while almost every other GM in the league has made significant moves to improve their teams, we have signed Sam Gagner and David Rittich in the summer of 2022. Hardly awe-inspiring. Is Kevin Cheveldayoff on the hot seat? Oh yeah.
I will say this. In the summer of 2017, many Winnipeg fans were sharpening their pitchforks and lighting their torches as, again, the Jets GM had done very little to bolster a team that did not make the playoffs that spring while the rest of the Central division was re-tooling. A majority, and by that, I mean most, professional sports writers and panelists did not pick the Jets even to make the playoffs. And what did the Jets do? They made it to the conference final, and if not for the stellar play of Marc-Andre Fleury, they would have been playing for the Stanley Cup in the spring of 2018. 
We all fall prey to thinking teams will automatically improve because they overhauled in the summer. Significant change rarely equals big improvement in the standings. Any successful team has done it through the draft and added pieces to complement it. We still have that core, and I believe we have a roster that can compete. I still support the GM and his three-year extension, but his leash is short. He is on coach number four, and most GMs only survive two. And if we don't do well out of the gate? Chevy will be looking for work, and our best and brightest will likely find success in different coloured jerseys.
Episode 54 is here and the boys break down the Bruins adding Tyler Bertuzzi, Taylor Hall and Nick Foligno Injury updates, and Pastrnaks contract extension. Followed up with a tour around the NHL and breaking down the MOUNTAIN of trades that happened since last episode.DraftKings Sportsbook – Boston's hometown Sportsbook will be LIVE – soon – right here in Massachusetts! Bet local on all your favorite sports from the comfort of your own home with DraftKings. To celebrate, ALL new customers will receive up to TWO HUNDRED DOLLARS in BONUS bets when you sign up for DraftKings Sportsbook using code insidetherink! Soon you'll be able to bet local on money lines, spreads, props, and more with one of America's top-rated Sportsbooks – DraftKings Sportsbook!  Download the DraftKings Sportsbook app and sign up with code ITR to get up to TWO HUNDRED DOLLARS in BONUS bets to use once mobile sports betting hits Massachusetts. That's code insidetherink only at DraftKings Sportsbook.  If you or a loved one is experiencing problems with gambling, call (800) 327-5050 or visit (https://helplinema.org/) to speak with a trained specialist free and confidentially twenty four seven. 21+. Physically present in MA. Eligibility restrictions apply. Subject to regulatory licensing requirements. Eligibility and deposit restrictions apply. Opt in required. Bonus issued as free bets. Terms at draftkings.com/ma.