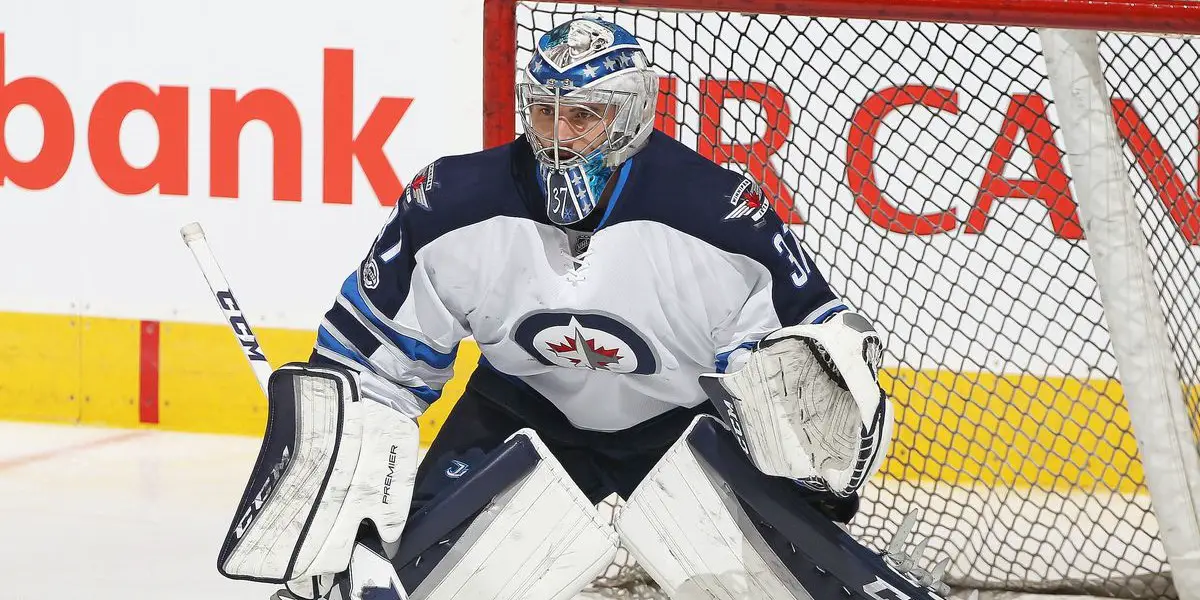 Remember when you held on to your iPhone 4 too long and then wanted a 7 Plus? And because you waited so long, your old iPhone was not worth anything? Right? Is that where we are with former Vezina winner Connor Hellebuyck? Whenever Jet GM Kevin Cheveldayoff used to get a call about Hellebuyck, it was a chuckle and quick click goodbye. I heard a rumor recently that Cheveldayoff isn't so quick to hang up. In fact, he is actively listening to what is offered for perhaps the greatest goaltender ever in Jet 1.0 or 2.0 history.
Does this make any kind of rational sense? Only once in his seven seasons has Hellebuyck registered below the league average in save percentage (2016-17 at .907). On marginal Jet teams of the last few years, he has carried them. He won the Vezina in 2019-20. His play has covered up a lot of questionable team defense lapses. When he has been less than his stellar best, the team has struggled. Hello, 2021-22. I am looking at you. He didn't steal many games this year. He looked shaky at times. Disinterested. I can usually tell within the first eight minutes of a game if Connor Hellebuyck is dialed in or not. When he is on, he doesn't move much. Angles are perfect, and movement is frugal and efficient. When he struggles, he fights the puck. We see uncharacteristic rebounds. He plays the puck behind the net, often resulting in an opponent raising his hands in goal-scoring jubilation.
I get it. Playing behind this team over the last season would also have me struggling to find motivation. Hellebuyck has not asked for a trade. And neither did Mark Scheifele, for that matter. But both made comments after the end of the regular season that amounted to, "Ya, I'll stick around, but I need to know this team is still going to compete." They don't want to play here through a rebuild. I have news for you. Winnipeg is not rebuilding. Too many pieces here are at or going into their prime to just blow things up. Some teams call it a tweak, and some call it an adjustment on the fly.
Hellebuyck is 29 years old. Look at Mike Smith at 40. There are definitely some good serviceable years left. Hellebuyck makes just over six million a year and will be a UFA at the end of the 2023-24 season. The return on Hellebuyck would be huge. A player that can step right in, a prospect, and likely a pick. Can teams compete with just adequate goaltending? Sure. If they play team defense. I will guarantee that will be the direction of the club with whatever new coach arrives before September. The Colorado Avalanche are in the Stanley Cup final with a 32-year-old backup who has 57 regular-season games of experience.
There is a fear of hanging on to elite players too long. We don't need to look far to see teams that have rewarded stars with lengthy, exorbitant, back nine contracts that are handcuffed until it plays out. My point here is that there are only a few Jet players that Cheveldayoff should not be entertaining offers on. It doesn't cost any money to listen.
You don't want to be caught with a flip phone in your pocket when all your friends have an iPhone 13. So embarrassing.
The boys are back after a long break but have plenty to talk about as the playoffs are in full swing. We go series by series, looking at how teams have fared so far and who will come out on top. Thanks for listening! Please rate and review our show on your favorite listening platform. Check out our partner's website at www.insidetherink.com for all your latest hockey news.