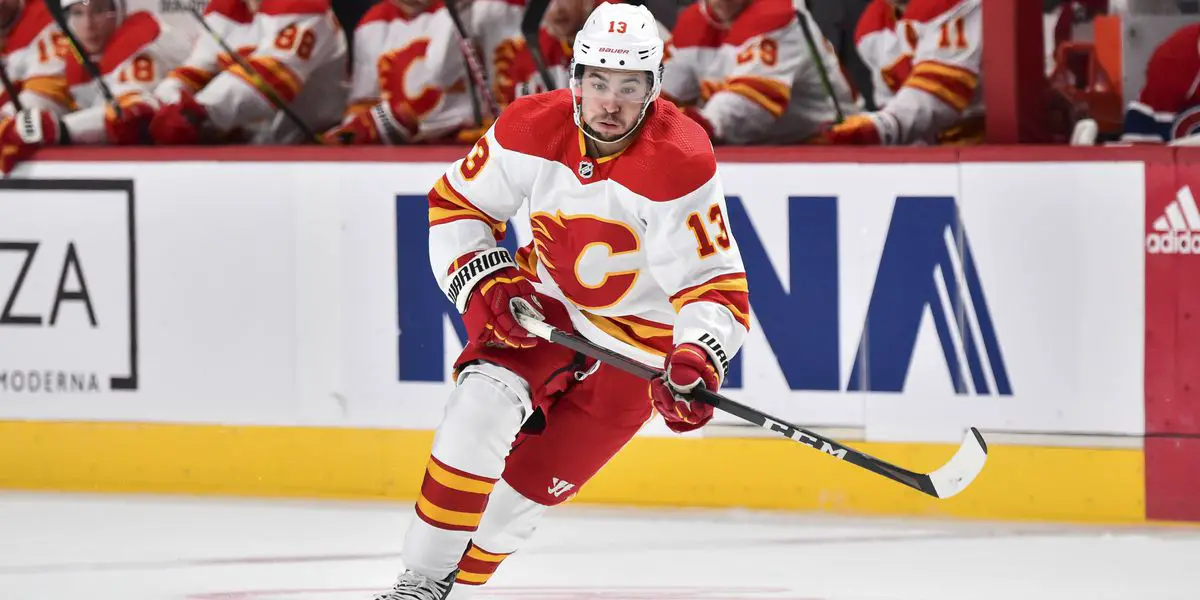 With free agency season upon us in a few weeks, teams are looking to lock up their current UFA's before it's too late. Free Agency will open on July 13th and it should be a crazy one this off-season as some teams are flush with cap space and others are so strapped they will be non factors. One of the biggest names on this year's market will be forward Johnny Gaudreau who is coming off his best season yet with 115 points. The market will be red hot for the Calgary Flames top player who at 28 years old is looking to cash in on one final big contract.
Negotiation's With Calgary Stalling
While many expected the Flames and Gaudreau to have reached a contract already, it is concerning that they haven't and leads many to wonder what is going on. Daily Faceoff's Frank Seravalli has suggested Calgary is using a "pedal down" approach in negotiations with Gaudreau. And Sportsnet's Elliotte Friedman reported three weeks ago that the Flames weren't going to waste any time in starting conversations. The longer this goes on, the more apparent it becomes that Gaudreau will indeed test free agency and see what his options are on the open market.
The Flames' disappointing ending to their season could play a factor in Gaudreau's situation as the team underperformed in the playoffs as they were eliminated in round two against the Edmonton Oilers. There is also the future of linemate Matthew Tkachuk who is entering this off-season as an RFA and needs to get paid handsomely as well when the time comes leaving his future in Calgary murky as well. All these factors will play into Gaudreau's situation as he decides on what move is the best for his future. Johnny confirmed ahead of round two that talks happened prior to last season before being tabled. Ultimately a deal didn't get done, and, well, here we are 115 points later and still everyone wondering the same question.
Where Could he Go?
If Gaudreau is ready to move on from Calgary, there has been plenty of rumors circulating that he could choose a team closer to home, as the Salem, NJ native would have his pick between the Philadelphia Flyers and New Jersey Devils. Friedman has suggested the Flyers are a team interested in clearing cap space to help facilitate general manager Chuck Fletcher and his "blank check" to help turn the team around. But with the recent hiring of new head coach John Tortorella, could that have changed Gaudreau's mind.
New Jersey, on the other hand, is a young up-and-coming team chock-full of young high-end talent led by Jack Hughes and Nico Hischier, who are both locked up long-term. The thought of playing alongside Hughes on the top line will definitely entice Gaudreau. The Devils owning the second overall pick this year and having over $25 million in cap space to work out other parts of the roster while still paying Gaudreau the big bucks is a selling point of what this team could become.
There are still a lot of details that haven't been released as the Flames and Gaudreau's camp have done a great job of keeping their negotiations under wrap as no offer has been leaked. So it is unknown if it is the length which should be at eight years, or the AAV that is holding up the deal, or the fact Gaudreau is truly ready to move on from the only franchise he's ever known. All these questions will be answered come July 13th unless Calgary can find a way to get a deal done before that. But once Gaudreau hits the open market, the odds he returns to Canada just become that much slimmer.
Episode 51: Interview w/Jack Ahcan Episode 51 is back in action talking about the New York Paingers ITR bet, Can Buffalo Sabres make the playoffs? Is Vancouver in the wrong on the Boudreau treatment? Is Tocchet the right guy? Is Daryl Sutter the last Dinosaur in the NHL?YouTube: https://www.youtube.com/@insidetherinkTwitter: https://twitter.com/CueTheDuckBoatzFacebook: https://www.facebook.com/Cuetheduckboats/Thanks for listening! Please rate and review our show on your favorite listening platform. Check out our partner's website at www.insidetherink.com for all your latest hockey news. Also, catch all of the games in this year's NHL season by signing up for ESPN+ at Insidetherink.com/ESPN