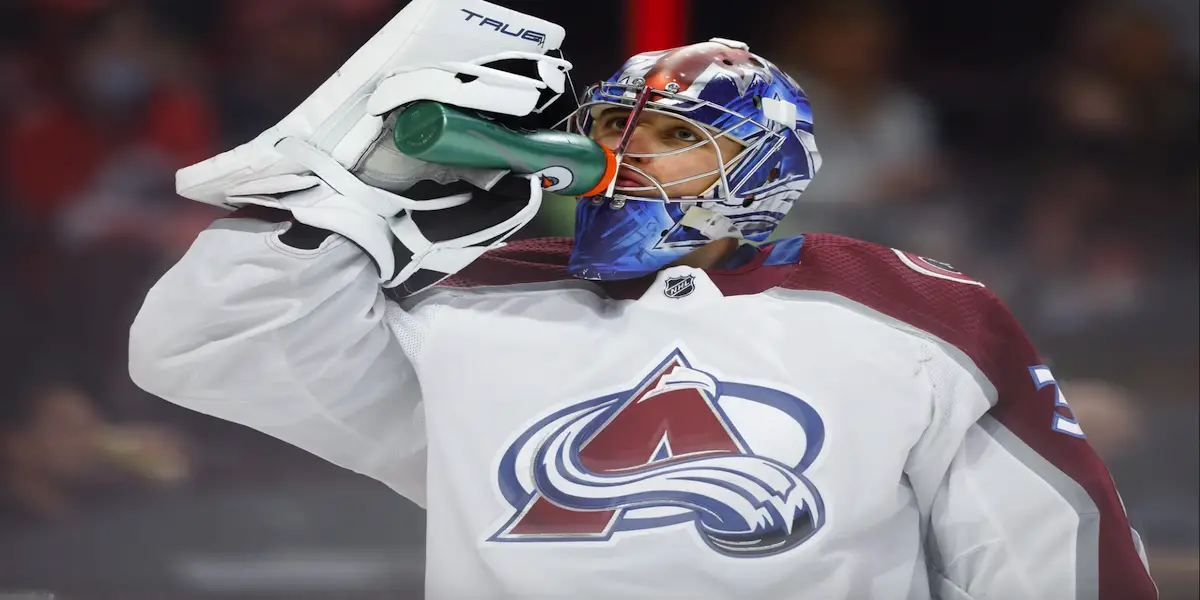 Hockey players change teams all the time; it's the nature of the league. But there are some players fans wish could stay in one place. Goaltender Jonas Johansson is one of them. In July, he returned to the Avalanche for a one-year deal after being claimed by Florida on waivers last season. As the Avalanche cut down their training camp roster, Johansson was placed on waivers. He was on an NHL contract, but Colorado wanted to send him down to the AHL. The way to do this is to put him on waivers and have him clear. Then he could be the backup to Justus Annunen on the Eagles and still be an option for the Avalanche's third goalie. Solid plan, except that the Arizona Coyotes claimed him on September 30th.
The twenty-seven-year-old from Gälve, Sweden, has spent most of his time playing in the AHL/ECHL. It's where he's solid. Before his AHL/ECHL debut, he played with Brynäs IF and the Swedish National team from 2010 to 2017. His US start was with the Rochester Americans and the Cincinnati Cyclones in 2017/18. Johansson had 27 games with Cincinnati, where he posted a 14-11-1 record and a .909 save percentage. He started seven games in Rochester for a 3-3-2 record, and a .892 save percentage. He made his NHL debut with the Buffalo Sabres on February 4th, 2020, when he came in relief of Carter Hutton against the Colorado Avalanche. The Avalanche won 6-1. Johansson had one goal against, and a .928 save percentage. His first NHL win was a few weeks later against the Winnipeg Jets. It was a 2-1 win where Johansson saved 25 out of 26 shots for a .926 save percentage. 
On March 20th, 2021, Johansson joined the team that beat him in his debut. He was traded to Colorado for a sixth-round draft pick. Sabres beat writer, John Vogl, tweeted after the trade that Johansson was the worst goalie he had seen in 19 years covering the Sabres. 
Vogl wasn't exactly correct. Johansson finished that season with a 5-1-1 record, and a .913 save percentage. Johansson was the starter for the Avs season finale win against the Kings, where they secured the 2020/21 President's trophy. He stopped 21 of 22 shots (.955) for a 5-1 win, a president's trophy caliber performance. 
He decided to stay with Colorado as a pending free agent on a one-year, two-way contract. He played nine games in 2021/22, going 3-2-1 with a .885 save percentage. On December 12th, 2021, the Avalanche defeated the Florida Panthers 3-2. Darcy Kuemper was the goalie, and the loss stung the Panthers. December 13th, 2020, Johansson was on waivers so the Avalanche could send him back down to the AHL. Florida claimed him that day.
Johansson wasn't used much in Florida. He only played two games with them (0-2-0, .766) and one game with the Charlotte Checkers (0-0-0, .889). He did not receive a qualifying offer from the Panthers and opted to return to Colorado for the 2022/23 season. Both he and his wife were excited to be back, posting photos of the mountains and downtown Denver with captions about how this would be their everyday life again. 
As it goes for Johansson, he was put on waivers to be sent down to the Eagles during the preseason. Arizona took advantage. 
Johansson might be living out of a suitcase when he gets to Phoenix. He hasn't had more than nine appearances for one team in a single season since his NHL debut, and there's no guarantee he will make the roster in Arizona. It's not even clear what they would do with him. He could be the second goalie if Ivan Prosvetov stays in the AHL, but there's still no guarantee. Colorado has an actual use for him with the Eagles since Hunter Miska has gone to play in Germany, and Francouz is locked in as the Avalanche 2nd goalie. 
Arizona can get another goalie off waivers and put Johansson back on waivers. Then, the Avalanche could see him back and send him directly to the minor Eagles as long as no other teams suddenly gain interest in him. Let's hope it's for a while, wherever he ends up. The guy deserves to unpack and settle in. 
The boys are back after a long break but have plenty to talk about as the playoffs are in full swing. We go series by series, looking at how teams have fared so far and who will come out on top. Thanks for listening! Please rate and review our show on your favorite listening platform. Check out our partner's website at www.insidetherink.com for all your latest hockey news.