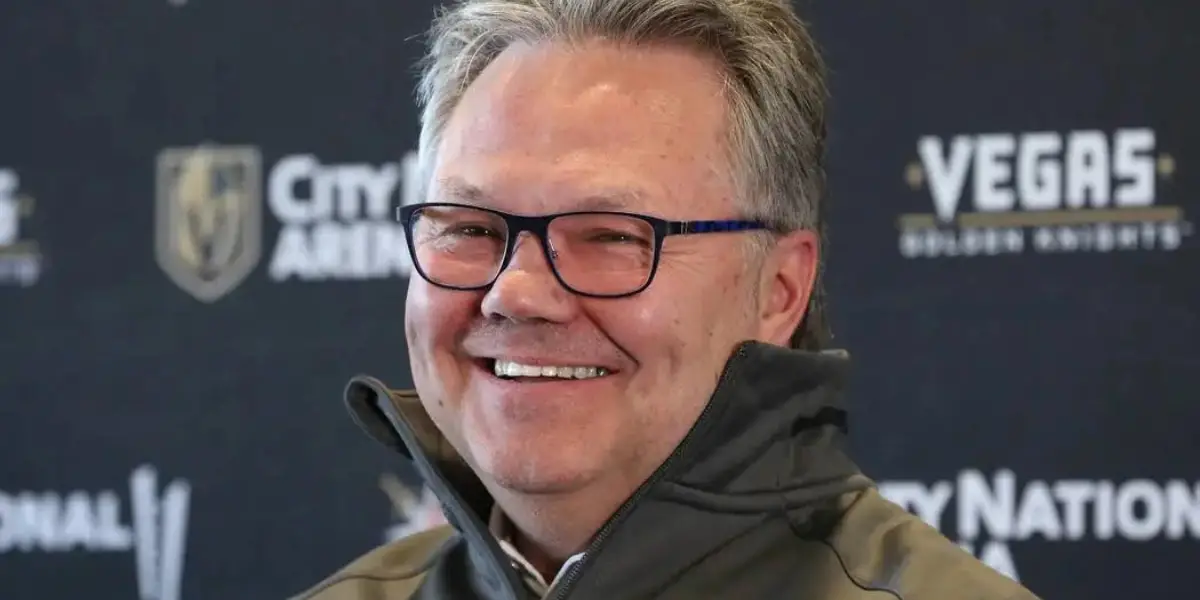 Here is the quickest way to explain the evolution of General Manager Kelly McCrimmon's plan (#McCrimmoPlan). The Vegas Golden Knights had three very good line threes in Season One. In Season Six, the VGK has a great line one with two great line twos. Many wondered why VGK retooled their season two roster. McCrimmon explained multiple times that the season one output was unsustainable. Basically, many players had career years, and that output level could not be counted on. If I must say, that is an above-the-rim decision to make and an even ballsier statement to make. How easy would it have been for McCrimmon and George McPhee to stay on the path with the season two team? Who would have questioned VGK Management? I can assure you that no one in Vegas would have been hurt at all if the season two team fell flat and missed the playoffs.
McCrimmon went on to make a series of moves, some controversial, to get VGK within two wins of the Stanley Cup. It is also worth noting that the VGK made it to the Conference Finals in seasons three and four. The rafters inside of T-Mobile Arena are getting a lot of black and gold hanging from them. Nate Schmidt was the first beloved VGK to get traded, a move that bothered Owner Bill Foley. The VGK made a huge splash by signing Alex Pietrangelo to a seven-year contract in October 2020, meaning Schmidt had to be traded. The trade for Robin Lehner was a bit of a head-scratcher at the time. Who would have known at the time the events that would ensue as a result of this trade? The acquisition of Lehner paved the way for Marc-Andre Fleury to be traded in July 2021 to the Chicago Blackhawks for a prospect that would never hit the ice at any level for the VGK. The Fleury trade enraged many VGK faithful and gave the VGK management a perception of being disloyal. Max Pacioretty was another high-level trade acquisition. VGK gave up Tomas Tatar, Nick Suzuki, and a second-round pick in the 2019 draft (Samuel Fegemo) for Pacioretty in September 2018. July 2022, Pacioretty would be shipped off to the Carolina Hurricanes for "future considerations." If you are keeping track, Fleury and Pacioretty were traded for practically nothing. The "splashiest" trade-in VGK history was the acquisition of Mark Stone at the 2019 trade deadline. This ended up being an eleventh-hour trade deadline deal that would give VGK its first and only captain in team history. Wait, the Jack Eichel deal wasn't splashy? It was, but it was something in the works for half a year, it seemed. Eichel for Alex Tuch and Peyton Krebs rocked the hockey world. Again, another beloved player in Tuch shipped for someone with questionable character. Fast-forward to the present, no one in Vegas questions the character of Eichel.
"Future considerations" would become a running joke amongst VGK-related social platforms after the Pacioretty trade. At the time, it was hard for fans to grasp what some of the recent VGK trades meant. Pacioretty in trade for nothing in return sounds bad, right? How about Pacioretty for Reilly Smith, Nic Roy, Nic Hague, and Keegan Kolesar? That sounds a bit better, right? The optics of trading Fleury for a prospect that VGK quickly dropped are hard to make sense of. At the time, VGK felt they could get equal to, or better, goaltending from the younger Lehner while saving millions in cap space. Every trade has a meaning and is part of a greater endgame. Watching star players and great character leave is tough.
Now, let's look at some under the radar type of deals that are paying great dividends for the VGK. Nic Roy for Erik Haula in June 2019. Haula was a very important part of the year one roster. At the time of the deal, Roy was bouncing between the AHL and NHL. Haula was a good scorer for the season one VGK team but was having injury issues. Fast forward to the present, Roy is the Swiss Army Knife of the VGK forwards. He's settled in nicely as the fourth-line center but can play up and down any of the lines as a center or winger. Roy also sees time on the kill and powerplay. In December 2019, Chander Stephenson was acquired for a 2021 fifth-round pick. Stephenson was buried as a fourth-line forward for the Washington Capitals who had never scored more than five goals in an NHL season. In Stephenson's first forty-one games as a VGK, he scored eight goals. Stephenson would go on to score fourteen, twenty-one, and sixteen goals in his next three NHL seasons with the VGK. Brett Howden was acquired for crumbs from the New York Rangers in July of 2021. Howden potted two goals in game two of the Stanley Cup Final recently and has been a solid contributor since his arrival. How about Ivan Barbashev for Zach Dean just before the NHL trade deadline this year? Through nineteen playoff games with VGK, Barbashev has six goals and eleven assists. VGK tinkered with line combinations all season long in hopes of finding a player to compliment Eichel on the wing. VGK found the answer in Barbashev. Adin Hill was a free-agent acquisition in this year's offseason, another head-scratcher at the time, as VGK had several goaltending options. Hill looked big and slow in the preseason leading to further questions.
The only question now is will Hill win Conn Smythe if VGK wins the Stanley Cup?
The #McCrimmoPlan has a few pillars to it. First pillar; the willingness to make tough decisions in an unapologetic form. McCrimmon has never apologized for trading the face of the franchise in Fleury a few years back, and he never should. Second pillar; never being satisfied. A good business leader never uses the excuse of "This worked in the past" when evaluating tough decisions. As stated above, McCrimmon (and McPhee) felt the season one VGK team got lucky, plain and simple. There are not many General Managers that have the stones to make a play after winning a Conference Championship as McCrimmon did. He knew the team was flawed, sorry, he knew his Conference-winning team was flawed. Third pillar; having the stones to make splashy moves like acquiring a Mark Stone. Call it liking the shiny new toys or whatever you want. I'm thankful VGK has a confident General Manager willing to put his name behind big superstars.
The only question left to be answered is how many Stanley Cups will the #McCrimmoPlan
produce?