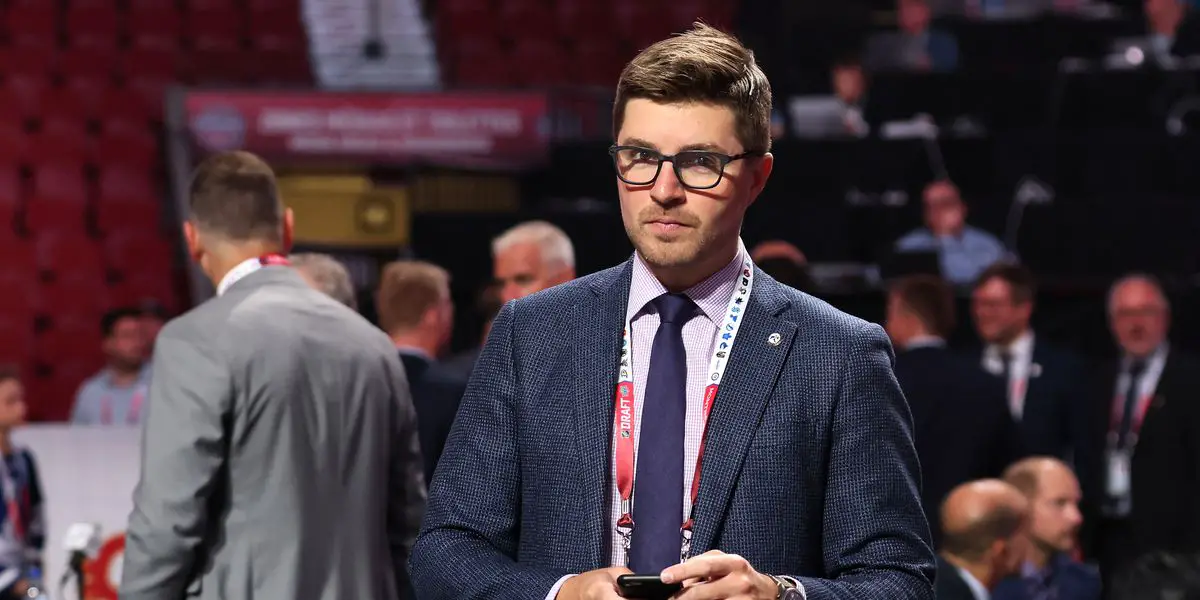 The end of an era.
Today the Toronto Maple Leafs decided to part ways with General Manager Kyle Dubas. After spending nine years with the organization, five of those years as GM, today his tenure has come to an end. 
Dubas was a polarizing figure in Leafs Nation, to say the least. Many never liked Dubas the second he joined the organization as the GM of the Marlies. Then as he worked his way up the rankings, from assistant GM and then ultimately becoming the GM, that hatred grew stronger and stronger for portions of Leafs Nation. People said everything from "he's a nerd, he doesn't know anything about hockey" to "Get rid of this calculator boy, I don't want him running my team" and everything in between. 
Related Story: 10 Potential Head Coaching Options if Maple Leafs Move on From Sheldon Keefe
Well, after five years as GM, the Toronto Maple Leafs AVERAGED 106 points per year. Their previous single-season record was 105 points, a team in which Dubas was the assistant GM. There's no denying it, Dubas was elite at building teams that would have great success in the regular season, which is fantastic, but it's not the ultimate end goal. Yes, Dubas led teams that did make it to the playoffs in each of his five years as GM. Unfortunately, other than this year, they were eliminated in the first round every year. This year they did make it past the first round, but they were bounced quickly by the Panthers in just five games; simply not good enough. 
There's no doubt whenever Dubas is ready to return to the game, an organization is going to get a world-class human being. He handled everything and everyone with class, dignity, and respect. 
At the end of the day, Leafs President Brendan Shanahan told the media, "This was ultimately my decision." The biggest question right now is, was it the right decision?
As far as the Leafs plans moving forward? Who knows. Buckle up, Leafs Nation, because I think we are in for a VERY interesting off-season and beyond.
When Bab(e) Asks To See Your Phone
–
Leafs Late Night
WELCOME BACK TO LEAFS LATE NIGHT! Presented by Inside The RinkRoscoe / Galaxy Biehn- Rodgers/Ohtani- PT-Oh He Didn't Sign?- PWHL Draft- Surely, No One Could Have Predicted ThisNEW MERCH IS AVAILABLE!JOIN OUR DISCORD!Remember to follow us on Twitter @LeafsLateNight & IG @LeafsLateNightCheck out Mike, Josh, and Nathan's articles on the Leafs + many more! insidetherink.com