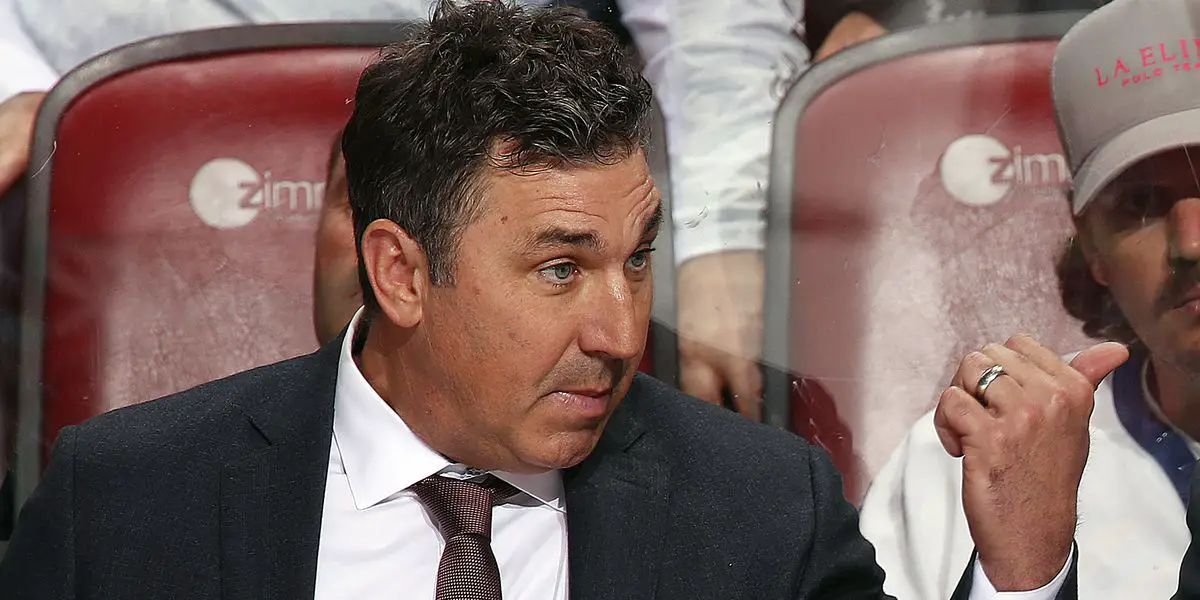 After a bitter end to a season filled with many ups and downs, it's clear the Maple Leafs offseason will lead to some impactful changes. Whether those changes come from the management group or the player personnel, it's definitely something that should change the franchise significantly moving forward. In a world where you want to keep the core of this Maple Leafs group together while still making major changes this offseason, a head coaching change could be the move that fits best.
Current Maple Leafs head coach Sheldon Keefe is a good coach who's done some great things with this franchise. However, Sheldon has yet to get this Maple Leafs group to make a deep postseason run. I can't lie, there are times Sheldon Keefe is the victim of some pretty unfair criticism. For a head coach who's had to deal with a fair amount of injuries during his tenure, Sheldon has managed to keep this group in good shape, overcoming adversity. The only issue is that most of Sheldon's success has been during the regular season at the National Hockey League level. Some may argue that Sheldon was out-coached in the postseason, leading to controversy over his position. I think Sheldon is a good coach, but sometimes change is needed, and if you want to keep the core, this may be the best solution. 
It's always a dark conversation talking about a potential firing, but this is a results driven business, and the Maple Leafs core is running out of time. Without much time left on the contracts of the Maple Leafs stars, a potential change at head coach may spark a boost, leading to maximal success in 2023-24. After extensive research on the coaching market, I've drafted a few names to watch for, some even a little outside the box. Talking about the same coaching names can get stale, so let's have some fun. 
ANDREW BRUNETTE / Current New Jersey Devils Associate Coach
Let's start off with Andrew Brunette, the associate coach of the New Jersey Devils. After taking over the Florida Panthers head coaching duties last season, Brunette led the team to win the President's Trophy with 122 points in the regular season. After former Panthers head coach Joel Quenneville was let go, Brunette took the Florida Panthers to a new level but couldn't make it past the Tampa Bay Lightning in the second round. After a harsh sweep to a rival, the Panthers organization decided to go in a different direction, hiring Paul Maurice. 
Once Andrew Brunette hit the coaching market, the New Jersey Devils quickly picked up his services. In what looked like a move that would see Brunette as the eventual successor of current Devils head coach Lindy Ruff, it all turned around with how great of a season New Jersey had. It's still unclear what the Devils decide to do with their coaching position, but it'll be something to monitor moving forward. If the Devils bring back Lindy Ruff, expect Andrew Brunette to be a serious candidate on the coaching market. 
MIKE VELLUCCI / Current Pittsburgh Penguins Assistant Coach
The next option is Pittsburgh Penguins assistant coach Mike Vellucci. After a disappointing season for the Pittsburgh Penguins, this hire may scare some, but that shouldn't be the case. After coming close to getting the Philadelphia Flyers head coaching job, it's clear the Penguins assistant is on the coaching radar. The 56-year-old is a bit more of a defensive mind, as he works with the Penguins penalty kill that's had success in the past.
After working under one of hockey's best head coaches in, Mike Sullivan, Vellucci's resume is also quite impressive. After being the Carolina Hurricanes assistant General Manager and Director of Hockey Operations, this could be a slam-dunk addition. After coaching the Charlotte Checkers in the American Hockey League, Vellucci had a 97-43-8-4 record. We all know the Maple Leafs have been committed to becoming a better group defensively over the last few years, and that would potentially blend well with a coach like Mike Vellucci.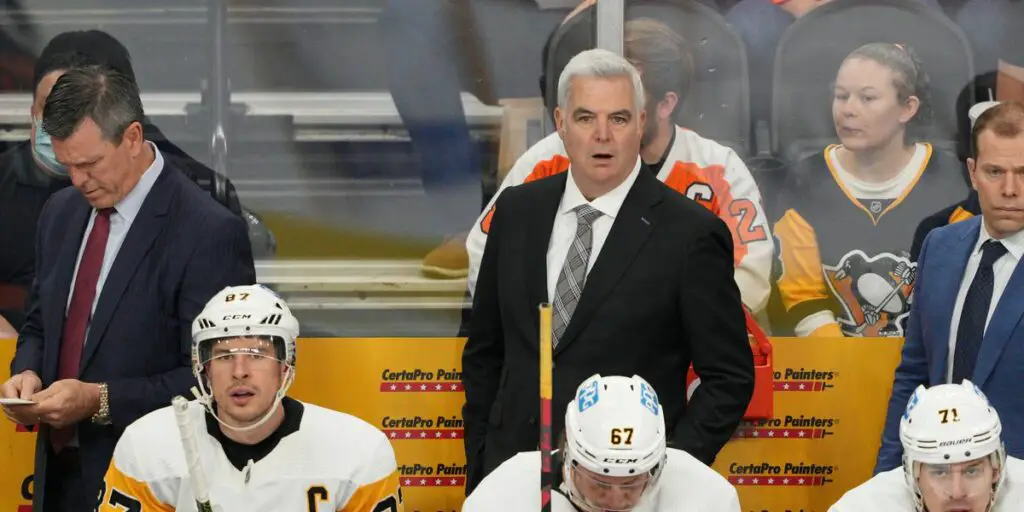 GERARD GALLANT / Former New York Rangers Head Coach
The most talked about potential coaching hire this offseason is former New York Rangers head coach Gerard Gallant. After a heroic season with the Vegas Golden Knights in their inaugural season, Gerard Gallant has been one of hockey's most respected coaches. After catching fire with the New York Rangers earlier on in his tenure, taking the team to the Eastern Conference Finals last season. The 59-year-old was recently let go in New York after an abrupt first-round exit to the New Jersey Devils.
Related Story: Rangers and Gallant Agree to Part Ways
The addition of Gerard Gallant would be interesting, and honestly, judging which coach would likely get the fastest results, it would probably be Gerard Gallant. The former Rangers head coach isn't a bad coach; he's found success early on in his opportunities but struggles with making adjustments. If Gerard Gallant were to be hired here in Toronto, it would likely be an exciting 2023-24 season.
BRUCE BOUDREAU / Former Vancouver Canucks Head Coach
Bruce Boudreau is an extremely familiar name for hockey fans. The former Vancouver Canucks head coach was let go midseason in 2022-23 after the Canucks slow start to the season. The offensive style Bruce played with saw success early on in his tenure, but management wanted to improve the team's overall defensive game.
Honestly, it was a tough situation for Bruce, especially with how Canucks management handled it. The 68-year-old deserves another gig and brings along tons of experience. After winning the Jack Adams award in 2007-08 with the Washington Capitals, Bruce also has the second-highest winning percentage with coaches who have managed at least 900 National Hockey League games. Boudreau is a player's coach who could fit well with the group we have here in Toronto.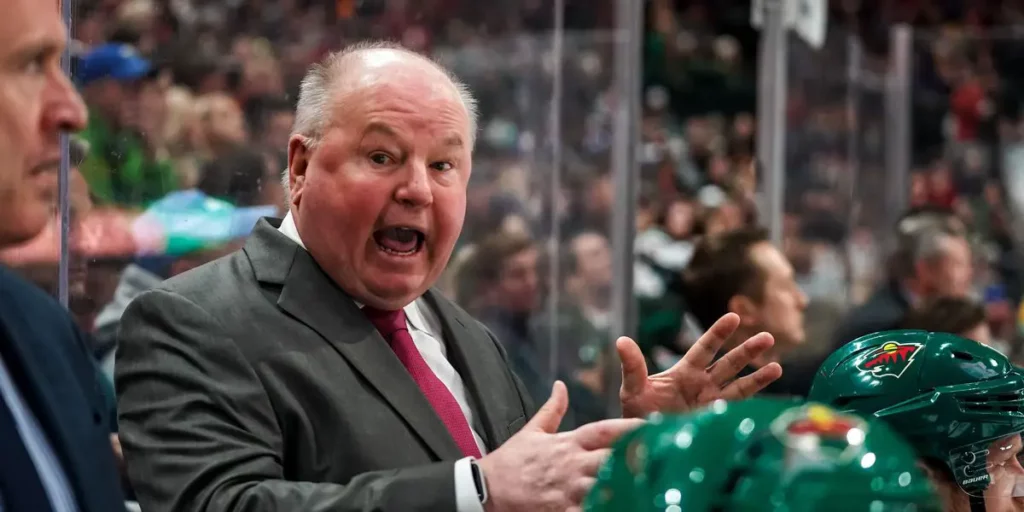 Photo Credit: Brace Hemmelgarn/USA TODAY Sports
PETER LAVIOLETTE / Former Washington Capitals Head Coach
After just recently parting ways with the Washington Capitals, Peter Laviolette is back on the coaching market. The long-time National Hockey League head coach had a disappointing season with the Capitals in 2022-23, but it wasn't entirely his fault. After a season filled with injuries for the Washington Capitals, leading them to miss the playoffs, change was needed. Unfortunately, one of those changes came in the head coaching position.
Peter Laviolette's impressive resume speaks for itself. After winning the Stanley Cup in 2005-06 with the Carolina Hurricanes, Laviolette also made it to the Stanley Cup Finals in 2009-10 with Philadelphia and 2016-17 with the Nashville Predators. It'd definitely be an interesting fit, but with Peter Laviolette's experience, it could be a move that pushes this team to the next level. 
MITCH LOVE / Current Calgary Wranglers Head Coach
The next coach on my list is Calgary Wranglers head coach Mitch Love. With the Flames parting ways with Darryl Sutter this offseason and now needing a new head coach, it seems like Mitch Love would be an early candidate. However, if the Maple Leafs make a head coaching change, this is one name I surely wouldn't mind getting an interview. The Wranglers had an impressive season in 2022-23, finishing at the top of the American Hockey League's Pacific Division. Calgary finished with 106 points in the regular season after winning 51 of 72 games. 
An interesting note is that Wranglers head coach Mitch Love was again named the American Hockey League's most outstanding coach this season. After being announced the most outstanding coach the year prior, Mitch Love has now been awarded the honors in back-to-back seasons. The 38-year-old surely will get a National Hockey League job soon and could turn out to be one of the next great coaches at this level. 
JAY LEACH / Current Seattle Kraken Assistant Coach
Another coach to keep an eye on is current Seattle Kraken assistant Jay Leach. After coming close to the Boston Bruins job last offseason, Jay has returned to the Seattle Kraken and has had an extremely successful season. After a short stint with Wilkes-Barre Scranton of the American Hockey League, Leach has also worked with the Bruins affiliate in Providence. 
With the Seattle Kraken still playing, it might be hard to talk to Jay Leach about new potential jobs, but this is still a name to monitor. The 43-year-old Kraken assistant is looking to be a part of that next wave of hockey head coaches, and I can't wait to see him get his opportunity. His resume might not have the accolades of some others, but his innovative coaching style fits the modern game extremely well. 
SPENCER CARBERRY / Current Maple Leafs Assistant Coach
Hire from within the organization? Current Leafs assistant coach Spencer Carberry has received a ton of praise from around the hockey world. After being listed as a potential option for head coaching vacancies in the past, it will not be long before the Maple Leafs assistant gets a position. A promotional hire might not be the direction most fans want to go, but it's clear Spencer Carberry has a bright future. Sometimes letting go too early can seriously backfire, as we've seen before.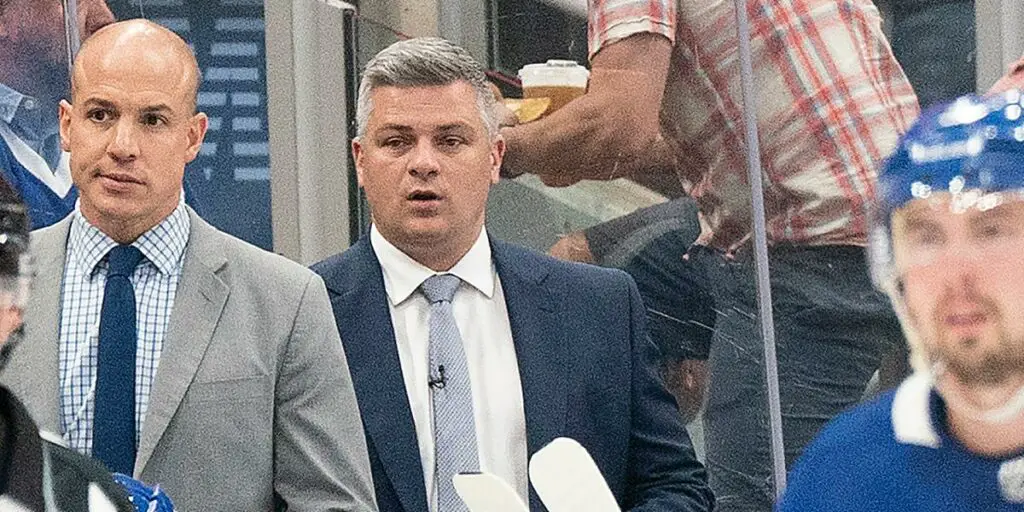 Photo Credit: NBC Sports Philadelphia
STEVE SPOTT / Current Dallas Stars Assistant Coach
One name in particular that I would love to see get some traction for a head coaching job would be Dallas Stars assistant coach Steve Spott. After coming over with Pete DeBoer from the Golden Knights, Steve's had a really strong season with the Dallas Stars. Mostly working with the Stars offense and that deadly power play, Steve Spott has definitely earned some recognition for potential head coaching vacancies. 
Steve was once an assistant coach in Toronto, but I wouldn't be against giving him another shot with this current group. After a breakout season for Stars forward Jason Robertson, Jamie Benn returning to some of his best hockey in a while and still getting massive contributions out of Joe Pavelski, Steve Spott should get some interest this summer. It might be difficult with the Stars still playing in the postseason, but Steve Spott is surely a coach whose style could mix well with the Maple Leafs stars. 
TRAVIS GREEN / Former Vancouver Canucks Head Coach
The former Vancouver Canucks head coach didn't have the best tenure with the Canucks, but a second opportunity could lead to success. Despite failing to achieve resounding success with the Canucks, Travis Green is known for his relationships with his players but isn't afraid of being honest. This could be the type of style this group here in Toronto needs. A hardworking and aggressive style could be refreshing for this new-look Maple Leafs roster. 
I don't think Travis would be my number one option, but I wouldn't mind Green at least getting an interview. Casting a wide net is how I believe you get the best hire, so why not get some insight from the former Canucks coach. I wouldn't be surprised if Travis Green gets picked up again sometime soon, especially with the limited coaching options available. 
At the end of the day, we still have no idea what the MLSE's plans are for the Maple Leafs this offseason, but we should expect answers fairly soon. A coaching change isn't too far-fetched of an idea, in my opinion, but it could also perhaps be the General Manager that gets moved or some player personnel. Regardless of what happens, Sheldon Keefe is a good coach and should find a new job rather quickly if he is moved. 
Thanks for reading! For more Leafs content, follow me on Twitter at ITR_Anselmo.
WELCOME BACK TO LEAFS LATE NIGHT! Presented by Inside The RinkRoscoe / Galaxy Biehn – Dubas Out?!?- Remember All The Good Times We Shared- I Don't Love Our Options- Matthews Next Deal?- Keefe's Fate- AI MascotsSPORTS! IS FUNMERCH IS AVAILABLE!JOIN OUR DISCORD!Remember to follow us on Twitter @LeafsLateNight & IG @LeafsLateNightCheck out Mike, Josh, and Nathan's articles on the Leafs + many more! insidetherink.com