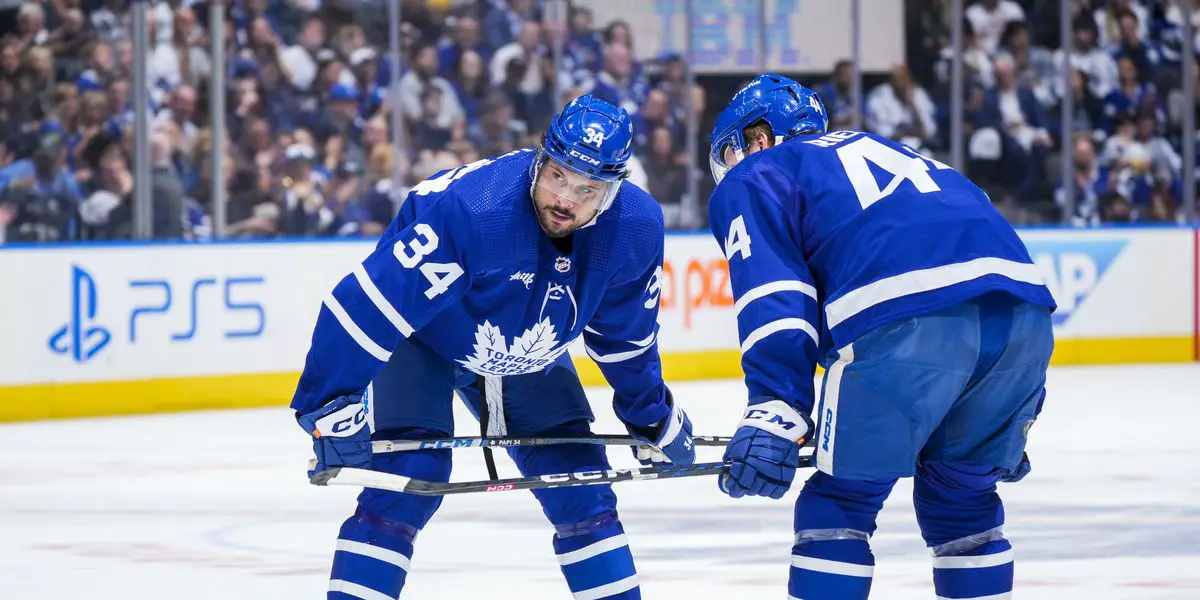 The Toronto Maple Leafs offseason will surely be busy, regardless of what changes happen within the front office. After a season that saw the Maple Leafs finishing with one-hundred and eleven points while finally advancing through the first round, it ended in one of the most frustrating ways possible, losing in five games to the wildcard seed Florida Panthers in Round 2. After a disappointing series from the blue and white, many around the hockey world are calling for major changes in Toronto. 
With all the current talk surrounding the Maple Leafs core, why not dive into something different. The Maple Leafs roster is set to have multiple spaces available for new players, making it one of the most fun potential offseasons in a while. After thoroughly reviewing the Maple Leafs roster and what happened in the 2022-23 season, I've compiled a short list of three team needs heading into the offseason. 
Related Story: 10 Potential Head Coaching Options if Maple Leafs Move on From Sheldon Keefe
1. THIRD LINE CENTER
Prior to last season's Trade Deadline, Maple Leafs General Manager Kyle Dubas made a significant trade with the St.Louis Blues. In a trade with many moving parts, the main centerpiece of the trade was ex-St. Louis captain Ryan O'Reilly heading to Toronto. The veteran two-way center was a dream addition for many, finally giving Toronto a reliable third-line center they've been lacking for a while. 
Once Ryan O'Reilly settled in, you saw how much good he brought to Toronto. With the 32-year-old now testing free agency, it feels like Ryan O'Reilly will be moving on, re-opening that slot for a new third-line center. If you're familiar with my work, you know I value a third-line center tremendously, especially in the postseason. Without having any commitment from Ryan O'Reilly and David Kampf, this puts a lot of pressure on Leafs young forward, Pontus Holmberg.
Assuming Pontus Holmberg will just slide into the third-line center role on what I expect to be a cup contender is quite the task, potentially doing more harm than good for Pontus and his development. If the Maple Leafs can add a more experienced third-line center, who's strong on both ends of the ice, I feel a lot more comfortable with what this group can achieve in 2023-24. 
2. TOP 6 LEFT WING 
With Michael Bunting and Alex Kerfoot set to hit free agency, the Maple Leafs left side on offense also has a lot of room to add. You can technically spin this into a top-nine left winger if you want. After Matthew Knies success in the postseason and Calle Järnkrok getting some time in the top-six as well, you can argue to keep that going, but I want more. I love what I saw from Matthew Knies in his limited time with the Maple Leafs, making this more about pushing Calle Järnkrok down the lineup.
I always personally believed that last year's group needed to strengthen the left-wing side. If the Maple Leafs can add a left-winger who plays with speed and is versatile, I think it could really benefit this group. For those concerned with John Tavares and his speed, having a fast and effective left-winger alongside him and Mitch Marner could work well. At times this year, we saw Alex Kerfoot forced into the top six, which wasn't always that effective, leading me to want a legit top-six winger. 
Obviously, the Maple Leafs could have some options from within, like Nick Robertson. After the 21-year-olds injury last season, we didn't quite get the full look to evaluate his role just yet. At this time, It would be a gamble to rely on Nick Robertson if management doesn't add a top-six left winger. As someone who still thinks highly of the former Peterborough Pete and believes he can still be a big-time contributor to the group, relying on Nick so heavily out of the gate isn't what I'd want to see. 
3. RIGHT SIDE DEFENSEMAN 
Now when talking about the Maple Leafs defense, it can be a tricky conversation. Although the names currently on the Maple Leafs roster aren't a bad group at all, I'm a believer that they still need a little more and, to be exact, a right-side defenseman. With Justin Holl and Luke Schenn needing contracts, the Maple Leafs right side is currently thin. 
Guys like T.J. Brodie and Jake McCabe can play on their off side, but is that really what you want? Connor Timmins is a player I'm extremely high on, but I would like more security at the position. It's more likely that Luke Schenn does return, but for now, adding a right side defenseman is important. Seeing how much good Luke Schenn brought to the Maple Leafs using his sandpaper style went a long way and especially in the playoffs. 
Whatever changes happen this summer with the front office, it's going to be hard for whoever is General Manager to evaluate this blueline. As I mentioned, it's a strong group of names with many upsides, but I wouldn't mind them bolstering that group. It's a tricky situation because you look at that second-round series against Florida, and some want a stronger puck-moving defenseman, while some want the team to add a little more size. I think both arguments are valid, leading me to want a new right side defenseman. 
The Toronto Maple Leafs have some freedom this offseason for the first time in a while. Given the future contracts of William Nylander and Auston Matthews, it'll be interesting to see how management spends this money, but I don't think that'll scare them from making some big moves. It's also important to mention that these additions don't have to strictly come from free agency. Toronto can very well scout the market and make a trade bringing back a need. Right now, looking at this roster, if you can add all the needs I listed above, I think this team can definitely push for a Stanley Cup in 2023-24. 
Thanks for reading! For more Leafs content, follow me on Twitter at ITR_Anselmo.
So Nice, It Ended Twice feat. Marty Zylstra
–
Leafs Late Night
WELCOME BACK TO LEAFS LATE NIGHT! Presented by Inside The RinkGalaxy Biehn / Marty Zylstra of Sports! Is FunCheck out Marty's Music- Lucky To Be Good, Good To Be Lucky- Mitch Marner Is Underrated- Joseph Woll Remembers.- Gregor's ArkNEW MERCH IS AVAILABLE!JOIN OUR DISCORD!Remember to follow us on Twitter @LeafsLateNight & IG @LeafsLateNightCheck out Mike, Josh, and Nathan's articles on the Leafs + many more! insidetherink.com