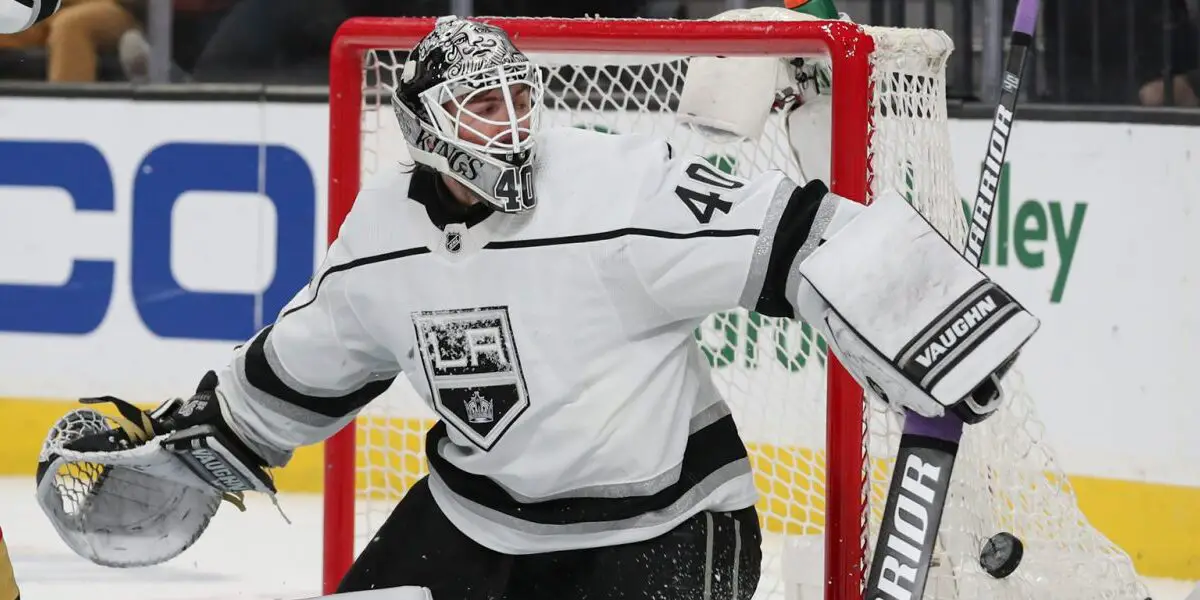 The Los Angeles Kings seemingly have every facet of their roster covered. Up front, they are able to run four good scoring lines with the ability to forecheck the puck consistently, leaving their offense with little to no gaps. This is bolstered by the fact that they have prospects like Sammy Fagemo or Alex Turcotte, who are hungry to get games. Even with injuries to Trevor Moore and Arthur Kaliyev, the roster still continues to succeed.
On defense, it's the same story. Drew Doughty, who has anchored the Kings on defense for 15 years now, continues to do so while still putting up great numbers. He's accompanied by Mikey Anderson, who has become a great defensive defenseman, and they have a series of solid offensive and defensive defensemen that leaves little room for complaint. Aside from the fact that they have 2 or 3 more right defensemen than they need, and they're about a defenseman short on the left side, this roster of skaters is strong enough to be in the upper echelon of NHL teams.
This is where they fall short, however. Their roster has taken them far enough that they will most likely secure a playoff spot, but there is one glaring hole that is hard to ignore: Goaltending.
Pheonix Copley can only take them so far
The Pheonix Copley story has been relatively impressive for a while now. The Alaskan netminder has posted a remarkable 15-3 record this season and, at 31 years of age, seems to find a groove for himself in the NHL as a serviceable backup goaltender. However, while his record may be impressive, his stats have been rather pedestrian.
In 18 games, despite posting a 15-3 record, he has a .901 save percentage and has put up 1.1 goals saved above expected. These are relatively average numbers, but it really doesn't matter to LA. All that the Kings really care about is that 15-3 record, which shows management and coaching that to turn this team into a contender, all that is really needed is an above-average goaltender.
Pheonix Copley has been that for the Kings. Time will tell if he can continue his hot streak, but as for right now, he's all the Kings need for them to remain at the top of the Pacific division.
It's time to move past Jonathan Quick
Where we see the rise of the Pheonix, we see a Quick fall into disgrace. Jonathan Quick, much like Drew Doughty, Anže Kopitar, and Dustin Brown, has been a staple of the Kings' success for years. Without him, there are no Stanley Cups in 2012 and 2014. He's been instrumental to LA for so long, so now that age is catching up with him, it is really tough to watch. This year, though, he just hasn't been good enough.
So far, Quick's record this season is 8-12-4. He's lost double the number of games that he's won, and he's done so with a .881 save percentage. To top it all off, he has saved a whopping -14.5 goals below expected. That is the fourth worst in the league, near names like Elvis Merzlikins, Kaapo Kahkonen, and Spencer Martin, all goaltenders for teams at the bottom of the league.
It has been tough to watch the downfall of Jonathan Quick, especially when his numbers last year were actually really good. It seemed as though he was finding a second wind and that he could keep it up, but that has just not been the case this year.
Even though his numbers have been abysmal, the Kings have still found ways to succeed. But this can't hold forever, especially in the playoffs. The Kings need a netminder they can rely on night in and night out, and Quick simply isn't it.
Is the answer Cal Petersen?
Perhaps the most interesting name in goal for the Kings, Cal Petersen has had somewhat of an interesting year. After being downright abysmal with the Kings, posting an awful .868 save percentage with -9.3 goals saved below expected, he has been okay for the Ontario Reign in the AHL. He's 9-6-1 and has a .911 save percentage, which, all things considered, is not bad.
Considering Petersen's lack of ability to maintain his success and consistency at the NHL level, he is not going to be a reliable option in net. After being touted as the 'goalie of the future' for the Kings, he is now 28 and has been steadily declining for about four seasons. This makes things incredibly tricky for LA, as he is getting paid like he is a reliable goaltender. When you consider his cap hit of $5 million for this season and next, as well as Quick's cap hit of $5.8 million, the Kings are spending a lot of money on goaltenders who have sub-900 save percentages.
Petersen could very well find his game and come back up to the NHL and find success once more, but that is hinging your later season and playoff success on a goalie who is about average at the AHL level. The Kings need an upgrade in net, whether they decide that'll be this season or during the offseason, and it'll be a problem they have to address – soon.
Other options
There are not a lot of goaltenders on the trade block this deadline; in fact, the only name on The Athletic's top 25 trade deadline board is Cam Talbot. Talbot has been 'eh' for the Ottawa Senators this season, but the Sens have also been 'eh'. He has a .905 save percentage with 0.8 goals saved above expected, so he wouldn't exactly move the needle for LA, but he would provide them with reliability and proven success.
Another name not on the board for this deadline is Arizona Coyotes netminder Karel Vejmelka. While the Coyotes have been utterly awful this season, Vejmelka has been the exact opposite. He has just a .907 save percentage but has saved a whopping 15.7 goals above expected this season. That is the type of goaltending the Kings need, and coupled with the fact that he's locked up until 2025, as well as being on the same team as Jakob Chychrun (who LA has also expressed interest in), makes him the perfect target at this year's trade deadline. The only concern is really sustainability, as some goalies tend to find success on bad teams, but the fact that his contract is only for two seasons gives LA some time to give him a test run.
Lastly, if the Kings decide to stand pat at the deadline, there are always options in the offseason. If the struggling Nashville Predators decide to go full rebuild, perhaps there is an avenue to trade for Juuse Saros. Or, if the Calgary Flames don't see a path for Dustin Wolf (who is leading the AHL in save percentage), then the Kings could work out a move to see the California native return home. The Kings have options around the league to plug their hole-in goal, and it will be taken care of one way or another.
Episode 54 is here and the boys break down the Bruins adding Tyler Bertuzzi, Taylor Hall and Nick Foligno Injury updates, and Pastrnaks contract extension. Followed up with a tour around the NHL and breaking down the MOUNTAIN of trades that happened since last episode.DraftKings Sportsbook – Boston's hometown Sportsbook will be LIVE – soon – right here in Massachusetts! Bet local on all your favorite sports from the comfort of your own home with DraftKings. To celebrate, ALL new customers will receive up to TWO HUNDRED DOLLARS in BONUS bets when you sign up for DraftKings Sportsbook using code insidetherink! Soon you'll be able to bet local on money lines, spreads, props, and more with one of America's top-rated Sportsbooks – DraftKings Sportsbook!  Download the DraftKings Sportsbook app and sign up with code ITR to get up to TWO HUNDRED DOLLARS in BONUS bets to use once mobile sports betting hits Massachusetts. That's code insidetherink only at DraftKings Sportsbook.  If you or a loved one is experiencing problems with gambling, call (800) 327-5050 or visit (https://helplinema.org/) to speak with a trained specialist free and confidentially twenty four seven. 21+. Physically present in MA. Eligibility restrictions apply. Subject to regulatory licensing requirements. Eligibility and deposit restrictions apply. Opt in required. Bonus issued as free bets. Terms at draftkings.com/ma.