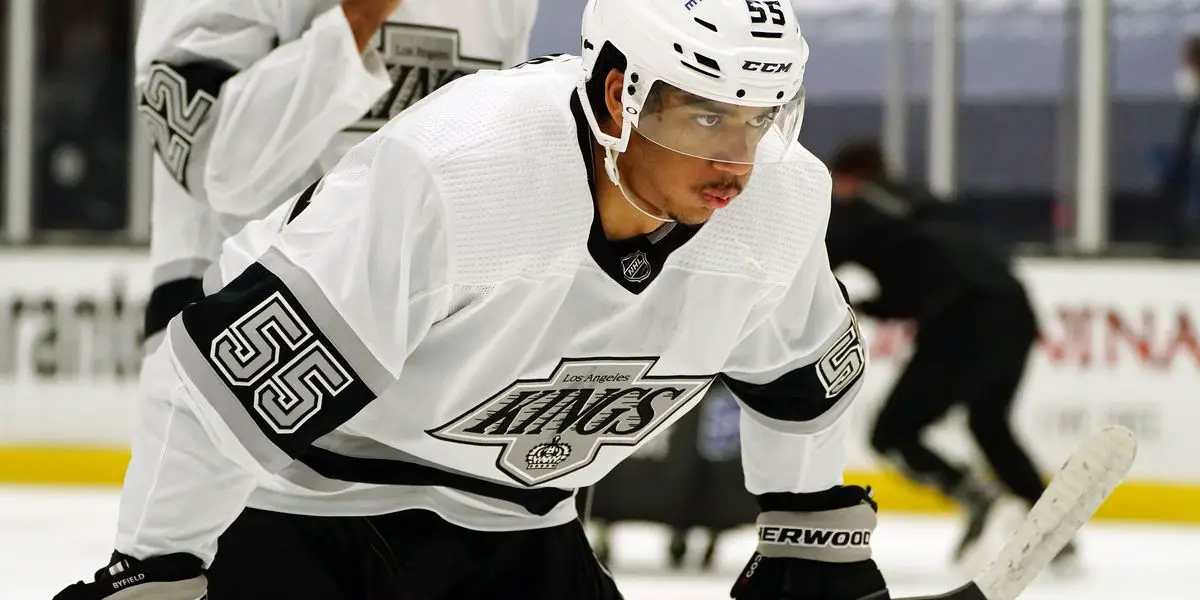 The LA Kings will expect more from Quinton Byfield in the 2022-23 season.
Byfield is considered by many to be the crown jewel of a stacked LA Kings prospect pool, and rightfully so. Drafted number two overall in the 2020 NHL Entry Draft just after turning eighteen, the now twenty-year-old had high expectations thrust on him almost immediately. After dominating the Ontario Hockey League in 2019-20 with thirty-two goals and fifty assists in only forty-five games, Byfield was projected to be a sure-fire number one center in the NHL at some point in his career. When the Kings drafted him, it was assumed the young center from Newmarket, Ontario, would eventually replace the current superstar center in Los Angeles, Anze Kopitar.
Report: Rangers Shopping Former 1st Round Pick
To their credit, LA management did not rush Byfield right to the National Hockey League, although it must have been tempting given his tremendous physical skills. Instead, the Kings opted to play Byfield in only six NHL games in 2020-21 and sent him to Ontario of the American Hockey League for the rest of the season – which they were able to do despite the fact he was only nineteen at the time because the OHL had canceled its season. Young Quinton had a slow start to his first season in professional hockey, but by the time the Reign entered the playoffs, it seemed he had acclimated quite nicely. In thirty-two games played, he accumulated twenty points and added twenty-four PIM – most of that coming in the latter half of the season.
Coming into training camp for the 2021-22 season, Quinton Byfield was expected to be a strong contender to make the LA Kings opening night roster. His play in the preseason had many believing he would make it, as he looked fantastic. The hockey gods can be fickle at times, however. A seemingly innocent collision with Christian Fischer of the Arizona Coyotes in a preseason game resulted in a broken left ankle for Byfield. He would not play again until January 20th, when he returned to the Los Angeles lineup and would stay there for the rest of the season.
In his forty games played for the Kings in 2021-22, Byfield posted five goals, five assists, twenty PIM, thirty-nine shots, was a -7, and averaged 12:09 in time on ice per game (statistics courtesy of Hockey Reference). He also played in only two of the King's seven playoff games that season and did not register a point in either of those games. These aren't glowing statistics by any stretch, but in all fairness to Byfield, 2021-22 was his first season in the NHL. He was only nineteen years of age and never had a consistent set of linemates so this season can be written off as an anomaly and not the norm.
A new season brings hope, and hopes are high for Quinton Byfield entering the 2022-23 season. He is fully healthy and is penciled in as the LA Kings third line center, which is the perfect spot in the lineup for him. Anze Kopitar is still locked in as the King's number one center, and Philip Danault has proven to be a more than the capable second-line center, so between those two, they will handle most if not all of the "tough" minutes top centers in the NHL must log. This alone will keep Byfield from having to handle the likes of Connor McDavid and Nathan MacKinnon regularly, thereby easing his development into a legitimate center in the league this season.
Another thing the Kings can do to put Byfield on the path to success this season is to put him with regular linemates. As previously stated, he was jumbled between linemates last season and never got a chance to develop chemistry with anyone. The preseason line projections this season have Byfield flanked by Alex Iafallo and Arthur Kaliyev. On paper, this is the perfect combination for him to have on his wings. Iafallo is a puck hound, possession monster type of player who will dig pucks out of corners and along the boards to help facilitate the offense. Like Byfield, Kaliyev is another member of the King's much-ballyhooed prospect pool who is a pure goal scorer – he had fourteen goals for Los Angeles playing on the fourth line with limited power play time. Kalyiev would be the perfect complement to Byfield's extraordinary playmaking ability.
This is far from a "make or break" season for Quinton Byfield. The fact that last season did not go as expected is not surprising given the reasons already stated, which is now in the past. Reports out of Los Angeles say that Byfield has been working on his faceoffs and defensive abilities in the offseason, which shows the youngster's commitment to improving his game. If LA Kings coach Todd McLellan can find the right linemates for him, Byfield is an ideal situation to show the ability and potential that got him drafted second overall.
The boys are back after a long break but have plenty to talk about as the playoffs are in full swing. We go series by series, looking at how teams have fared so far and who will come out on top. Thanks for listening! Please rate and review our show on your favorite listening platform. Check out our partner's website at www.insidetherink.com for all your latest hockey news.