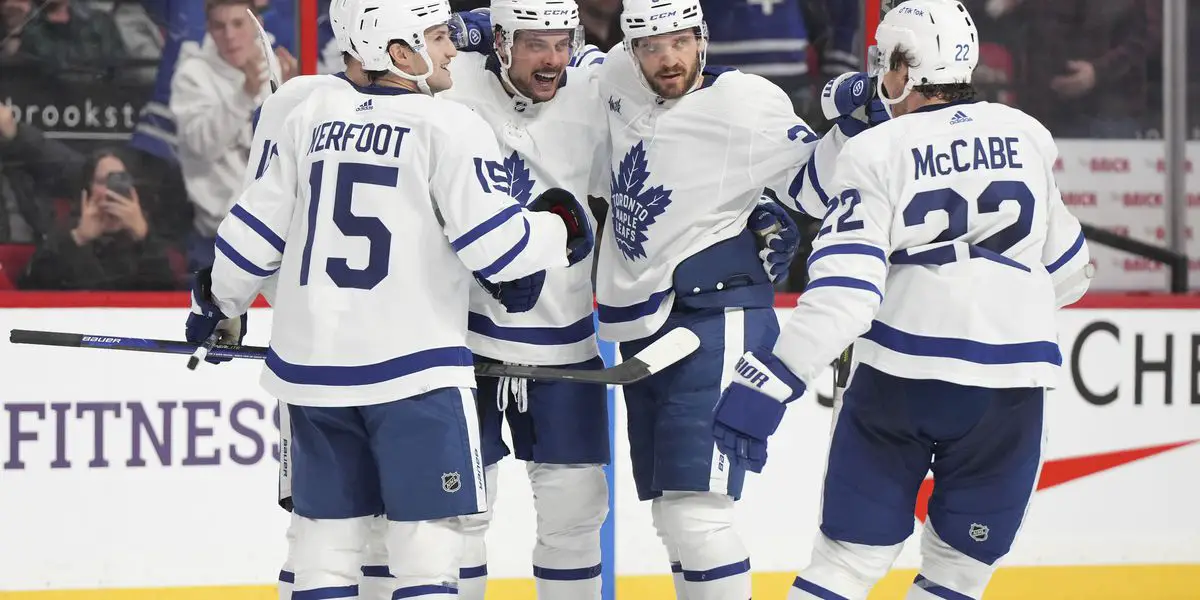 One of the best things about being part of Leafs Nation is meeting new people via social media channels who share the same interests. Fans who support the Maple Leafs spread across the world, literally. I have been lucky enough to have made plenty of friends this way. Together we have created an entire community and have come together in different ways from all parts of the world to support the team we adore. I have asked a few friends to answer a few questions about their experience as a fan who travels to support the Maple Leafs.
BRITISH LOVE FOR BUNTS
My dear friend Hollie, a passionate, loyal fan from the UK, whom I had the pleasure to meet this January, had this to say….
How did you become a member of Leafs Nation? How long have you been a fan?
 It's a bit of a silly story, really – Me and my brothers used to play Chell when we were kids, we just picked teams, and they stuck forever, I guess – he's, unfortunately, to this day, a Bruins fan.
I only really, seriously got into following the Buds back in 2021 and became more active on Twitter toward the end of that season.
What was the experience like compared to how you imagined it?
 I'll be honest – what I thought it'd be versus what it turned out to be were worlds apart. 
I have my beautiful friend Mike (@MikeABuchanan) to thank for buying me a ticket to the Boston game. He started the dream coming true for me. 
I would have been over the moon just to experience one game. Being in SBA with other Leaf fans and just being in the city itself.
However, as I'm sure everyone by now knows – getting to see my first game with Kurtis (and meeting you, of course!), winning tickets to the Ford Fan Deck, AND meeting some of the Buds at the Easter Seals Skate just really made my entire trip completely unforgettable. If I didn't have photo evidence, I truly wouldn't believe it happened!
What was your favorite part of your visit?
Obviously, getting to meet Bunting was the icing on the cake for me. You're the one who saw how emotional I got! The fact that he remembered what I'd said to him about my sign at the Boston game a few days later and threw me a puck showed me that these players DO care about their fans.
My nails making Leafs Twitter was also a pretty cool moment! 
Any advice for future traveling fans?
My biggest piece of advice that is going to be super serious and grown up for a second is – Save more money for your trip than you think you need! You're going to want to buy everything and anything, and stuff isn't cheap for real. 
That aside, though, go out and meet the people of Leafs Nation!! 
Anything else you would like to add?
I really would like to thank everyone again who made my trip so special for the gifts, the hugs, and all of the support and love that continues to this day. I've never met so many incredible people, and I have this sport and this team to thank for that.
Twitter: @hollietoronto
AUSSIE ADORES AM34
My friend Kylie, from Australia, whom I had the honor of meeting at the season opener in October, and who has just arrived to band together with the Nation for round one, had this to say.
How did you become a member of Leafs Nation? How long have you been a fan? 
I was in Canada in 2010 for a friend's wedding. Her family are all Leaf fans. They introduced me to the game and told me that the Leafs were the family team- I was considered family & therefore, I was now a Leafs fan.
The rest is history.
What did you think the experience would be like compared to how it actually was? 
I honestly had no idea how amazing the experience would be. The energy, the excitement, it was so different compared to what I'd been a part of in the past. 
I still have moments of "Wow. I was actually there."
What was your favorite part of your visit?
Oh, definitely being in the tunnel to see our boys run out onto the ice for warm-ups before our home ice season opener. I was so blown away by the moment I couldn't raise my arm to fist-bump any of them! 
Followed closely by meeting so many wonderful members of Leafs Nation, of course!
What advice would you give to fans who are planning a trip to support our boys? 
Oh gosh! Definitely try to get over to The Bottom Line for one of the watch parties. Seats in the 300s are where the atmosphere is. Don't be shy! You're in a stadium full of fellow Leafs fans, you'll have new friends before you know it.
Mostly though, enjoy the moment because the games go so much faster in real-time. 
Anything else you want to add?
Leafs Nation is unlike any other fan base. The love, friendship & support you guys give to us traveling fans is unbelievable.
The connections I've made, all of which started online, have transpired into real and long-lasting friendships. 
Seeing others meeting their favorite players & celebrating their moments through a screen sounds silly to some, but to us, it's all part of the adventure. I can only hope that one day I get to be the lucky one sharing my moment with you all. 
Kylie's favorite player is the one and only Auston Matthews. It would be icing on top of the cake of this trip for Kylie to end this trip, sending her team to the second round and well on their way to the Stanley Cup as well as having shared a special moment with a Maple Leaf she adores.
No matter where you come from, how you get here, or even if you can't make it to Toronto, we are all in this together. The Passion of Leafs Nation is everywhere. Memories are sure to be made.
WELCOME BACK TO LEAFS LATE NIGHT! Presented by Inside The RinkRoscoe / Galaxy Biehn – Dubas Out?!?- Remember All The Good Times We Shared- I Don't Love Our Options- Matthews Next Deal?- Keefe's Fate- AI MascotsSPORTS! IS FUNMERCH IS AVAILABLE!JOIN OUR DISCORD!Remember to follow us on Twitter @LeafsLateNight & IG @LeafsLateNightCheck out Mike, Josh, and Nathan's articles on the Leafs + many more! insidetherink.com