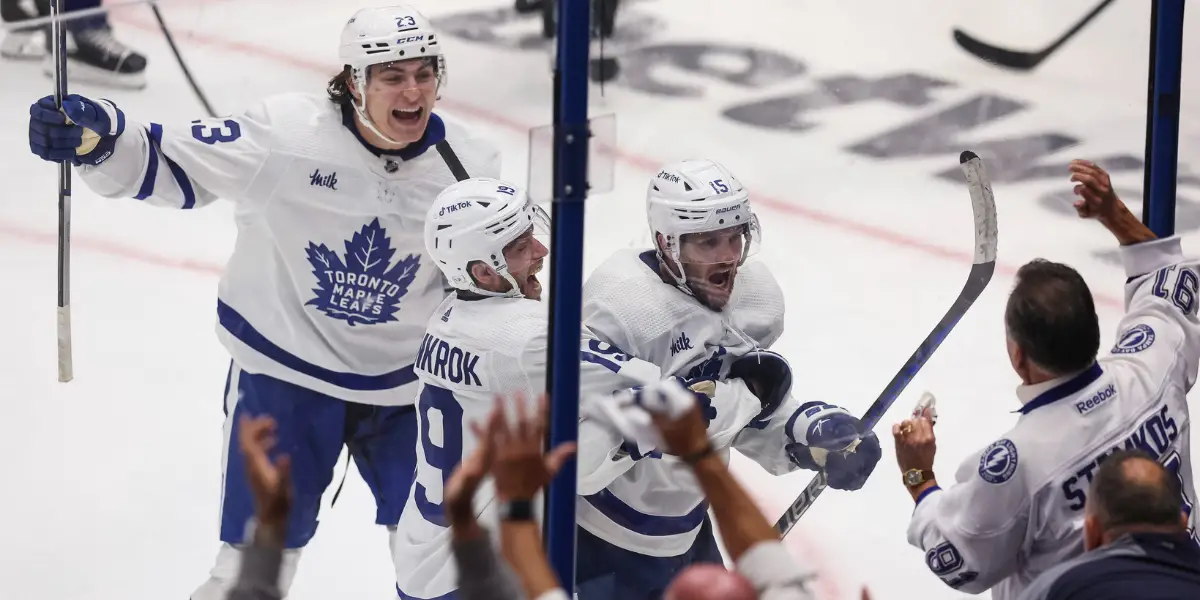 Tonight marks Game 5 and the first opportunity the Leafs have to close out this series and advance to the second round for the first time in 20 years. Tampa is bound to bounce back after giving up two third period leads in a row, so the Leafs will need to play a strong complete game more than ever. If the Leafs can pull it off tonight, they will be the first team of the 2023 NHL playoffs to advance to the second round. Ultimately, it doesn't matter who moves on first. It's more important who is last standing at the end of all of this. The Leafs need a complete game and look like they want it, not just in the third period. For the most part, Tampa has driven possession, but that needs to change. The forwards and defensemen need to connect more often, and the neutral zone play needs to improve to set up more time in the offensive zone. With Michael Bunting eligible to return from his suspension tonight, the team has opted to give him another game watching from the press box in what Keefe called a difficult decision. Even though the wins weren't pretty, this lineup won 3 games in a row, so the reasoning behind the decision makes sense.
Leafs Projected Lineup
Lightning Projected Lineup
Forwards
Stamkos – Point – Kucherov
Hagel – Cirelli – Killorn
Jeannot – Paul – Colton
Maroon – Bellemare – Perry
Defense
Hedman – Perbix
Sergachev – Raddysh
Cole – Bogosian
Goalies
Vasilevskiy
Elliott
Related Story: Will the Leafs curse end tonight? NHL Predictions/Gambling Analytics for April 27th
Related Story: Should Leafs Michael Bunting Return to Lineup in Game 5?
Three Things to Look Out For
Knies
Matthew Knies has certainly played himself into the lineup. With less than 10 games in the NHL, he looks like a promising player and has been one of the team's top forwards the past three games. Knies looks like something the Leafs have missed, and he finds himself starting tonight with Tavares and Marner. This line makes a lot of sense and could be quite deadly. One thing Knies has looked great at is winning puck battles along the boards and getting the puck toward the middle of the ice. Marner can do some crazy things with the puck and can set up either linemate with his playmaking, but Knies can also set up Tavares and Marner with his abilities with the puck along the boards. This will likely result in Tavares getting more shots and chances than usual, as he has two players to help set him up. I'm excited to see this line in action tonight. Hopefully, they live up to the expectation.
Lafferty
Lafferty has had a decent playoff series so far and has done most of what you would want a fourth-liner to do. With that said, Bunting is eligible to return from a suspension, and with the solid play of Knies, the most likely players to come out of the lineup for Bunting are Lafferty and Aston-Reese. Lafferty will try to make that a harder decision tonight by sticking to his game plan. Look for Lafferty to play a physical game while using his speed to create chances.
McCabe
McCabe was one of the Leafs' best defenders since the trade deadline, and it's crazy to think he's got term on his deal still. McCabe is in his first-ever career playoffs but hasn't really let that get to him. While his play and xG% has seemingly dropped, he has still done a decent job of keeping the puck out of the net. I would like to see him contribute a bit more offensively, specifically starting with better breakouts of the puck, but to be fair, he has had difficult minutes. Keep an eye on McCabe as he looks to have a better game on all sides of the puck.
Tonight's game starts at 7:00 PM EST on Sportsnet!
Thanks for reading! Feel free to follow me on Twitter @nathan_bondy.
WELCOME BACK TO LEAFS LATE NIGHT! Presented by Inside The RinkRoscoe / Galaxy Biehn – Dubas Out?!?- Remember All The Good Times We Shared- I Don't Love Our Options- Matthews Next Deal?- Keefe's Fate- AI MascotsSPORTS! IS FUNMERCH IS AVAILABLE!JOIN OUR DISCORD!Remember to follow us on Twitter @LeafsLateNight & IG @LeafsLateNightCheck out Mike, Josh, and Nathan's articles on the Leafs + many more! insidetherink.com