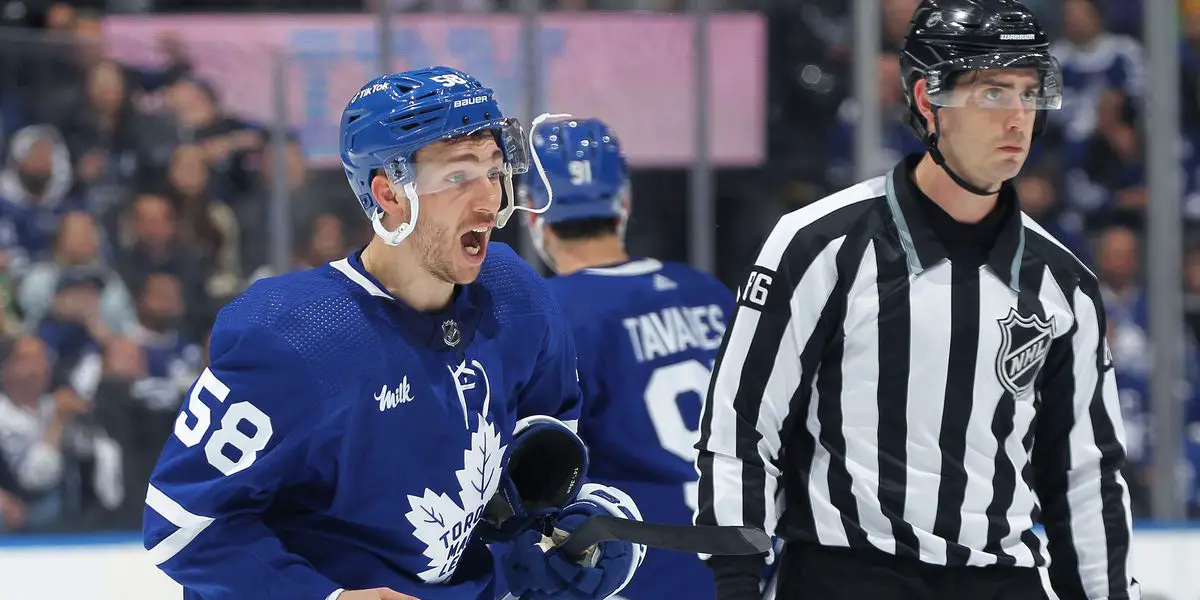 Maple Leafs forward Michael Bunting was handed a three game suspension after Game 1 due to a dangerous play on Lightning defenseman Erik Cernak. After a disappointing opening Game 1 for Toronto, things only got worse when the 27-year-old was suspended. However, since Bunting's absence, the team has won three straight, taking a commanding 3-1 series lead into Game 5 at home. In what looked like a big loss at the time has certainly sparked a debate with the 27-year-old set to return. 
When Michael Bunting first signed with Toronto, I was ecstatic. After getting a chance to catch a few games while Michael was with the Tucson Roadrunners of the AHL, I was immediately keeping tabs on him as a potential under-the-radar piece. Once Michael was called up to Arizona in 2020-21 for a short stint to end the year, the 27-year-old caught fire, scoring ten goals in the team's final twenty-one games. 
Once the 2020-21 season was over, the Scarborough, Ontario native returned home. That offseason, Michael signed a two-year deal with Toronto. After an impressive preseason in 2021-22 and working his way up to the Maple Leafs first-line, Bunting had a breakout season scoring sixty-three points in seventy-nine games. With the departure of ex-Maple Leaf Zach Hyman, Bunting filled the void perfectly last season and was a big contributor to the team's success. 
Now fast forward to the current season, things have not exactly played out as expected for the 27-year-old. During the offseason, talks of an extension were widely discussed, but nothing of actual worth came through. This season Michael Bunting had forty-nine points in eighty-two games, taking quite a step back from last season. However, Michael Bunting has still been an important piece of this roster, and what he's done shouldn't be forgotten.
Michael Bunting's play isn't the problem, making this a unique situation. Most want him held out of the lineup because of his relationship with the officials, resulting in more penalties. I can't recall a similar situation like this league-wide. The 27-year-old has truly embraced being a Toronto Maple Leaf in his short tenure and even plays with a bit of an edge. Sometimes he can cross the line, which could turn into a negative, but what Michael Bunting brings to the lineup is valuable.
You can say what you want about Michael Bunting, but there's a reason why he's not well-liked around the league. Why's that? The 27-year-old plays a chippy game with a perfect blend of skill, making him one of the Leafs biggest offensive weapons. Michael's strength down low and ability to find space makes him such a nice complementary piece for this Leafs core, but he also can get into opponents' heads and draw penalties. 
It might feel like Michael Bunting has taken more penalties this season than he's drawn, but that, in fact, is not true. This season the Scarborough, Ontario native has drawn eighty-seven penalty minutes per moneypuck.com compared to his eighty-three. It's not as quite of a jump as it was last season, but he's certainly still showing his ability to get under the opposition's skin. 
If that's not enough for you to bring Michael Bunting back into the lineup, maybe this will. The Toronto Maple Leafs haven't had the best two games on the road, yes they've been incredible come-from-behind victories, but the Leafs really haven't had that possession we've gotten so accustomed to. Again, for those who don't like Michael Bunting, his ability to take away pucks and win battles along the boards is a vital piece to this roster. In the 2022-23 season, Bunting has recorded forty-nine takeaways ranking as one of the highest on the Leafs roster. 
I certainly wouldn't take out Matthew Knies heading into Game 5, but I would look at a guy like Sam Lafferty and get creative in the bottom six. In a reduced role, Michael Bunting will have the opportunity to show that he's learned from his mistake and is ready to help this team advance. After everything Michael has done for this group the last two seasons, he deserves his shot at making things right. I understand the margin for error is so small with the depth here in Toronto, but Bunting is a highly skilled player and one that should help this team big time moving forward.
Thanks for reading! For more Leafs content, follow me on Twitter at ITR_Anselmo.
WELCOME BACK TO LEAFS LATE NIGHT! Presented by Inside The RinkRoscoe / Galaxy Biehn – Dubas Out?!?- Remember All The Good Times We Shared- I Don't Love Our Options- Matthews Next Deal?- Keefe's Fate- AI MascotsSPORTS! IS FUNMERCH IS AVAILABLE!JOIN OUR DISCORD!Remember to follow us on Twitter @LeafsLateNight & IG @LeafsLateNightCheck out Mike, Josh, and Nathan's articles on the Leafs + many more! insidetherink.com