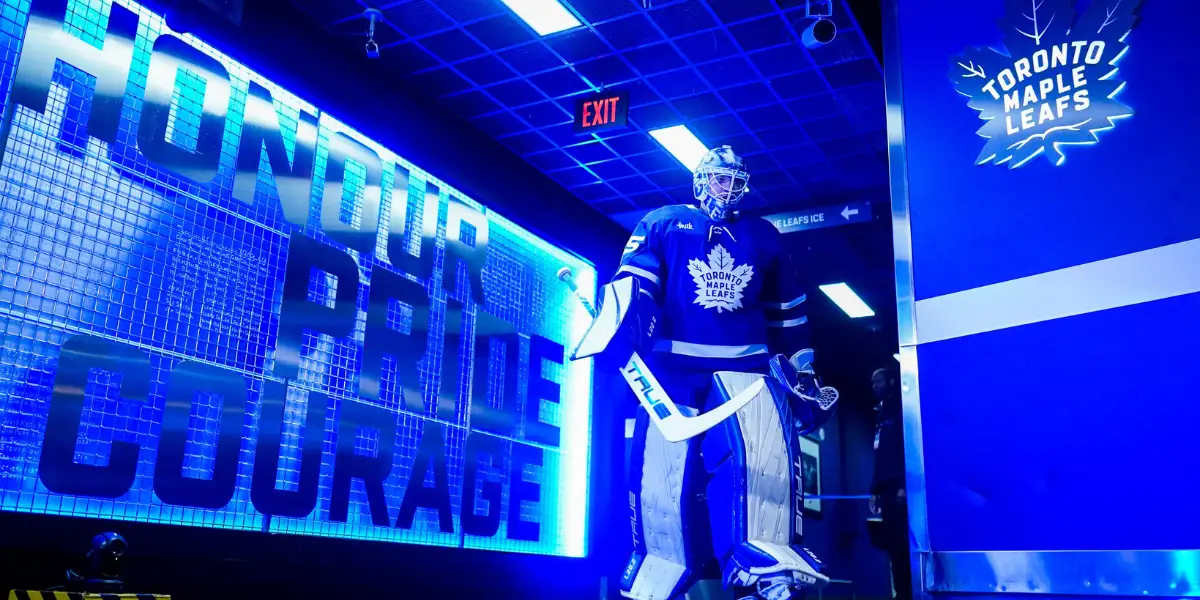 After a chance to close out the series on home ice, the Leafs came up short, losing to Vasilevskiy and the Lightning in Game 5. There were times in the game when the Leafs were dominant but didn't convert, and ultimately they made too many mistakes, and a championship-pedigree team like Tampa is bound to capitalize on those. The Leafs surely don't want to have to play a Game 7, so they will need a stronger effort tonight, especially stronger than their last two games in Tampa. They need to dominate, play all 60 minutes, and play a structurally sound game tonight.
Leafs Projected Lineup
While writing this, Keefe hasn't made his lines for tonight public. With them losing Game 5 though, I'm sure there will be lineup changes. I assume Bunting will draw back into the lineup, but we will have to see who comes out for him. I would also love to see Liljegren get a game here. The Giordano – Holl pairing has been struggling this series, so trying Giordano with Liljegren and having a fresh body come in could be a difference-maker.
Lightning Projected Lineup
Forwards
Stamkos – Point – Kucherov
Hagel – Cirelli – Killorn
Jeannot – Paul – Colton
Maroon – Bellemare – Perry
Defense
Hedman – Perbix
Sergachev – Raddysh
Cole – Bogosian
Goalies
Vasilevskiy
Elliott
Three Things to Look Out For
Marner
Marner has often found himself on the scoresheet this series and has been near the top of playoff scoring the whole series, but he needs to take it to the next level tonight. Marner is an elite playmaker, and he needs to accomplish that while limiting his giveaways from trying out fancy plays. There were a few times where he stumbled last game, but tonight he will need to limit those as Tampa will be quick to punish mistakes. Don't get me wrong, Marner is an elite player, but if the Leafs want to finally get past the first round, he will need to continue to be a contributor.
Secondary Scoring
Another aspect that has fallen short in previous potential series-clinching games is secondary scoring. The Leafs have upgraded their depth quite a bit this offseason, so the expectations should be higher for their depth. As could be seen in games last year and this year, Tampa receives secondary scoring at just the right time quite often, and for the Leafs to advance, not only will they need to stop Tampa's secondary scoring, but they will need to provide some of their own. Look for the depth players on this team to have an increased effort and grind out this Game 6.
Neutral Zone Play
In this series, the Leafs have looked disconnected many times. Part of that is due to not getting the puck cleanly out of their zone and into Tampa's zone. Their neutral zone play at even-strength and on the powerplay has been subpar to their standards so far this series and is an important factor in how the Leafs generate offense and prolong puck possession. On the powerplay, it seems like with their best powerplay puck carrier, Nylander, on the second unit, the first unit looks lost getting into the zone. If Tampa just stacks the Blueline, the Leafs don't have a great answer unless they end up deking through the Lightning players. The Leafs need to add more depth to their powerplay entries and maybe should even consider bringing Nylander back to their top unit earlier in their powerplays. Ultimately the neutral zone play will be an important factor tonight in the Leafs getting extended time of possession.
Tonight's game starts at 7:00 PM EST on Sportsnet!
Thanks for reading! Feel free to follow me on Twitter @nathan_bondy.
WELCOME BACK TO LEAFS LATE NIGHT! Presented by Inside The RinkRoscoe / Fanalyst / Galaxy Biehn – We've Missed Some Things!- Dubas… Buddy- First Impression of Brad Treliving- Arizoner Doaner- Re-Sign or Resign?MERCH IS AVAILABLE!JOIN OUR DISCORD!Remember to follow us on Twitter @LeafsLateNight & IG @LeafsLateNightCheck out Mike, Josh, and Nathan's articles on the Leafs + many more! insidetherink.com