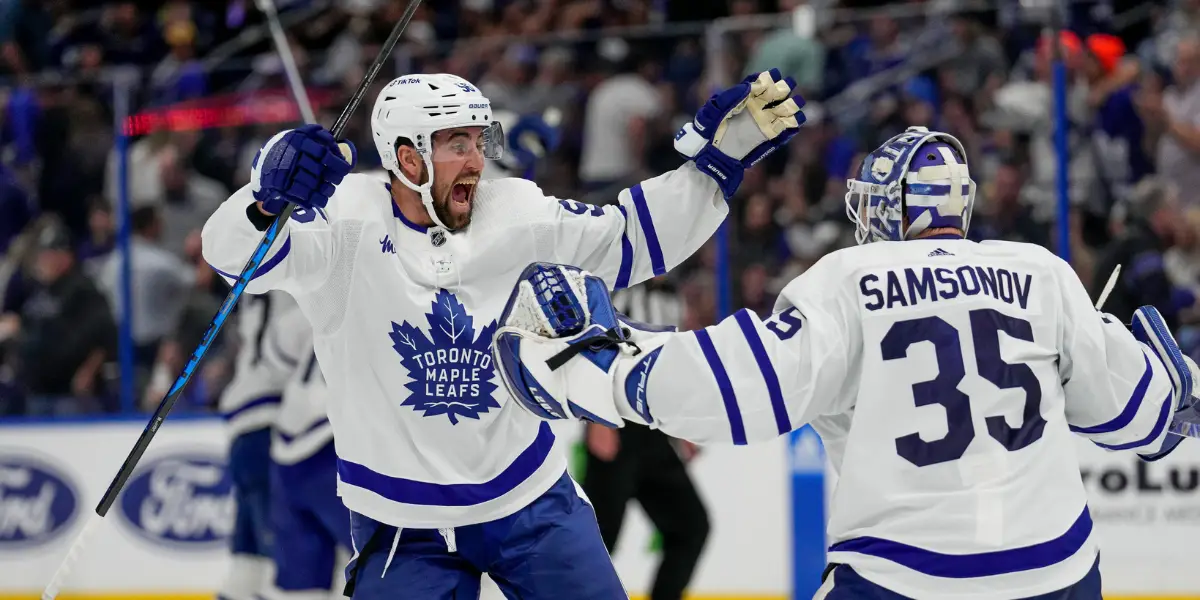 It still doesn't feel fully real typing this, but the Leafs will begin the second round tonight for the first time in 19 years. The Leafs found a way to get a Game 6 win against Tampa and don't have to wait long to get into action as they play tonight and round two against the Florida Panthers, who miraculously knocked the Bruins out of the playoffs. The Leafs need to be sure not to underestimate the Panthers, as playoffs are a different beast than the regular season, and the Panthers proved that by beating the seemingly unbeatable Bruins.
Leafs Projected Lineup
Panthers Projected Lineup
Forwards
Verhaeghe – Barkov – Duclair
Cousins – Bennett – Tkachuk
Luostarinen – Lundell – Reinhart
White – Staal – Dalpe
Defense
Forsling – Ekblad
Staal – Montour
Mahura – Gudas
Goalies
Lyon
Bobrovsky
Three Things to Look Out For
Liljegren
For the majority of their series against the Lightning, the Leafs struggled to get pucks up the ice and often were stopped in the neutral zone. This is one of the areas that Liljegren that excels at, and with Justin Holl being on for many goals against, it led to Liljegren getting a shot in the lineup. It's too early to tell the difference that will make long-term, but we will start finding out as Liljegren starts Game 1 of round 2 in the lineup in Holl's place. Keep an eye on Liljegren as he tries to excel at what he does best, getting the puck out of his own zone and through the neutral zone. Liljegren will look to play well and cement a spot in the lineup throughout the playoffs.
Samsonov
Samsonov has been a major factor for the Leafs not just this season but this post-season as well. He was the better goalie in a six game series against one of the best goalies in the world, ultimately leading them to the Game 6 win, ending their playoff drought. He's definitely a finalist for first-round MVP of the Leafs. Samsonov will look to continue his strong play in the second round as the Leafs look to go for a deep playoff run. Goaltending is an important part of a successful team, and to this point, Samsonov has truly proved the doubters wrong, and in important games too. He will look to continue proving doubters wrong here over the next round.
Bunting
I'm sure Bunting's first round isn't what he hoped it would be. After a careless play in Game 1, he found himself suspended for three games and sitting in the press box for the next game before getting back into the lineup for Game 6. Bunting can be a rat but has a fair bit of skill. He's at his best when he's getting under other people's skin without taking careless penalties. Bunting will be looking to get back to his normal self and will look to be a factor in the Leafs second round. He finds himself starting the series on a line with O'Reilly and Acciari and will hope to pitch in offensively as well as on the second powerplay unit.
Tonight's game starts at 7:00 PM EST on Sportsnet!
Thanks for reading! Feel free to follow me on Twitter @nathan_bondy.
WELCOME BACK TO LEAFS LATE NIGHT! Presented by Inside The RinkRoscoe / Galaxy Biehn – Dubas Out?!?- Remember All The Good Times We Shared- I Don't Love Our Options- Matthews Next Deal?- Keefe's Fate- AI MascotsSPORTS! IS FUNMERCH IS AVAILABLE!JOIN OUR DISCORD!Remember to follow us on Twitter @LeafsLateNight & IG @LeafsLateNightCheck out Mike, Josh, and Nathan's articles on the Leafs + many more! insidetherink.com