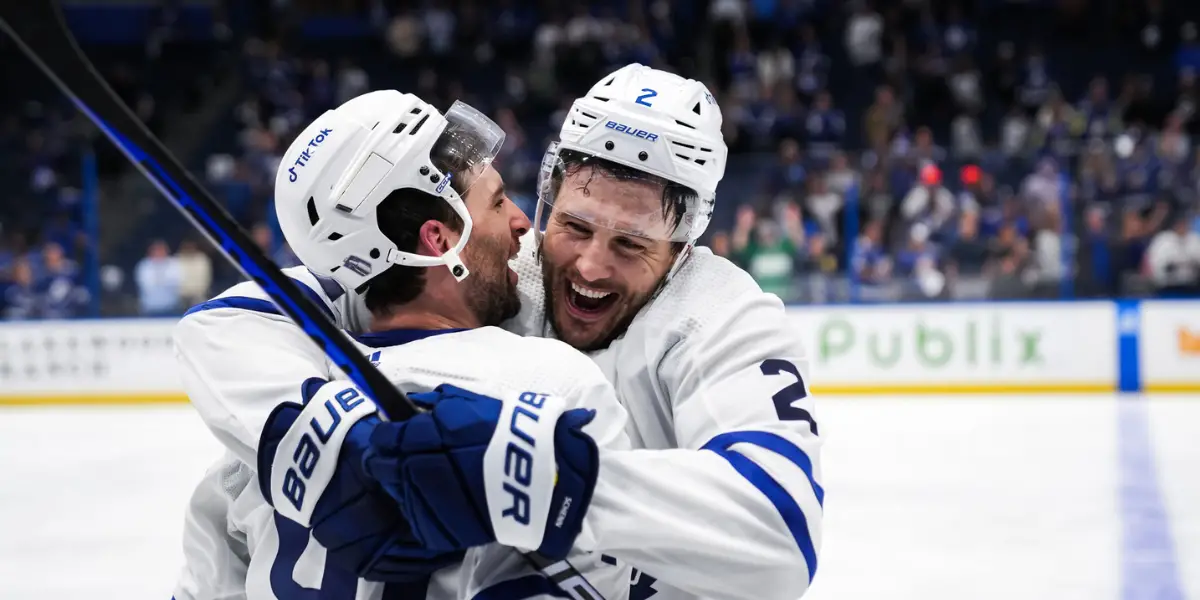 After a tight game, the Leafs were able to hold off the Panthers and deny the Panthers of a sweep, but even with that, they still are down 3-1 in their second-round series. The Leafs are back on home ice and will look to win their first game on home ice since April 20th, their second game of the first round. The Leafs were solid on home ice all season, but the results haven't been there in the playoffs. Tonight is an important game for the Leafs for obvious reasons, as a loss eliminates them from the playoffs, and a win helps to build some momentum.
Leafs Projected Lineup
Panthers Projected Lineup
Forwards
Verhaeghe – Barkov – Duclair
Cousins – Bennett – Tkachuk
Luostarinen – Lundell – Reinhart
White – Staal – Dalpe
Defense
Forsling – Ekblad
Staal – Montour
Mahura – Gudas
Goalies
Bobrovsky
Lyon
Three Things to Look Out For
Rielly
Rielly has really taken his game to the next level in the playoffs and was a major part in helping the Leafs advance to the second round. Rielly will look to be a difference-maker tonight and hopefully provide some key offense for this Leafs team. Rielly received lots of criticism for his lack of production during the regular season. Still, he has earned credit this off-season with some very timely goals and, ultimately, better possession and decisions with the puck. Rielly is a part of this core and will need to play a key part in tonight's game to live to see another day.
Tavares
Tavares is another player who really has seen his production slow down here in the second round. While his production may be down, his effort isn't. Tavares is a hard-working player and is a valuable part of this team's core. With that said, look for Tavares to turn it up a notch tonight and hopefully find himself on the scoresheet. Tavares will look to not give up on any puck battles and work to get pucks towards the more dangerous shooting areas, whether for himself or setting up a teammate.
Acciari
Acciari has been a workhorse since joining the Leafs and has been making a difference in the lineup. Acciari doesn't give up on a battle and isn't afraid to use his physicality to make a play, something that is very welcome in the playoffs. He has been a frequent linemate with O'Reilly and will be looking to help limit chances tonight as their line rolls out, and he finds himself killing penalties as well. Acciari has become a key part of this group and fits the need we had perfectly. Let's hope we see more of the reason why he's more than a throw-in in the O'Reilly trade tonight!
Tonight's game starts at 7:00 PM EST on Sportsnet!
Thanks for reading! Feel free to follow me on Twitter @nathan_bondy.
So Nice, It Ended Twice feat. Marty Zylstra
–
Leafs Late Night
WELCOME BACK TO LEAFS LATE NIGHT! Presented by Inside The RinkGalaxy Biehn / Marty Zylstra of Sports! Is FunCheck out Marty's Music- Lucky To Be Good, Good To Be Lucky- Mitch Marner Is Underrated- Joseph Woll Remembers.- Gregor's ArkNEW MERCH IS AVAILABLE!JOIN OUR DISCORD!Remember to follow us on Twitter @LeafsLateNight & IG @LeafsLateNightCheck out Mike, Josh, and Nathan's articles on the Leafs + many more! insidetherink.com