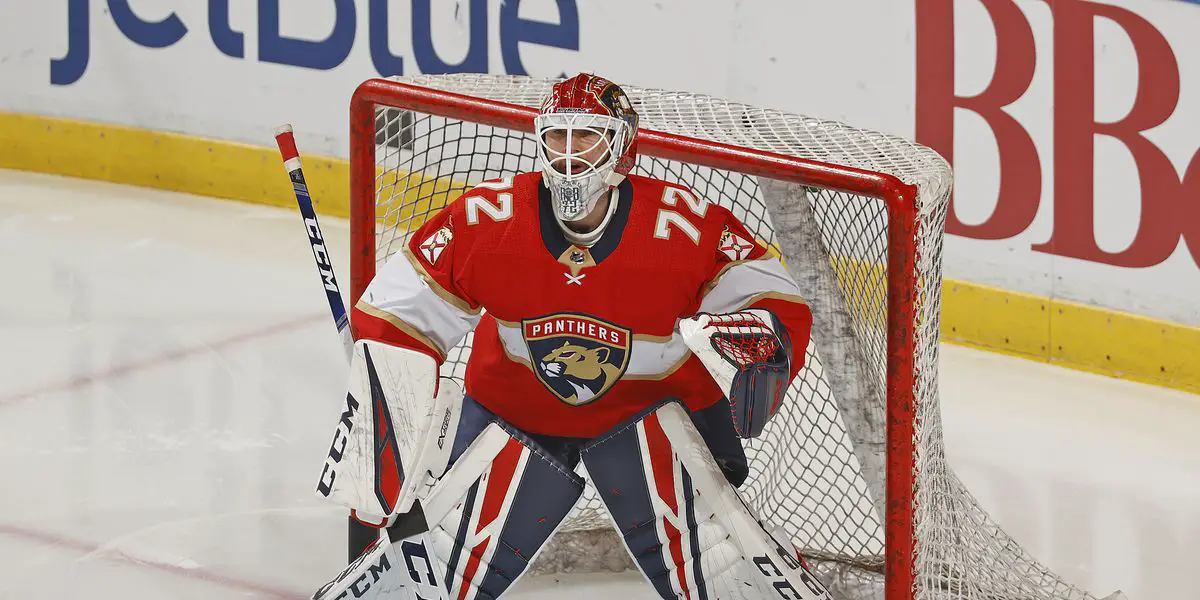 The Leafs managed to grind out a 2-1 victory in game four down in Florida, bringing the series back to Toronto for game 5. Unfortunately, heading into this game, the Leafs were 1-4 on home ice, and they only managed to score two goals in each of their past six games. Surely the blue and white were due for a breakout game from their superstars, right? Unfortunately, that was not the case. Once again, the Leafs only managed to score two goals in this one, and they lost the game 3-2 in overtime and the series 4-1. 
I'm not going to waste time talking about the refs in this game, but I would like to point out these three particular plays from game five that absolutely factored into the outcome of the game: 
The Morgan Rielly non-goal 
The hit directly to the head of Mitch Marner 
The trip/holding the stick/interference by Gudas on the game-winner. 
Anyways, here are the three stars from game 5: 
First Star – Sergei Bobrovsky. Goalie Bob dialed back the clock in this series and found his Vezina form from years past. His best performance came in game five. The Leafs fired 52 shots at him, and he stopped 50 of them. Are you kidding me? 
Game One save percentage – 0.944
Game Two save percentage – 0.946
Game Three save percentage – 0.917
Game Four save percentage – 0.920
Game Five save percentage – 0.962
Some would say it's a cop-out to say the Leafs got goalie'd this entire series, but … come on, they did. 
The Leafs "core four" fired 91 shots at Bob over the course of five games. They managed to score three goals. THREE. That's a 0.03 shooting percentage, simply unheard of; what an incredible performance from Bobrovsky. 
Second Star – Joseph Woll. This kid is the real deal, and I cannot wait to watch him play his first full year with the Leafs next season. He is calm, composed, and not phased at all. Yes, the Leafs got down 2-0 to start this game, but after that, Woll shut the door and gave his team every opportunity to come back and win this game. Sadly, they came up short. Woll faced 43 shots in this one, and he turned aside 40 of them, giving him a 0.930 save percentage. 
Outstanding numbers from a rookie playing in his first home playoff game, and it was an elimination game, no less. He is absolutely made for this market, nothing phases him, and I can't wait to see what the future holds for him. 
Third Star – Morgan Rielly. Mo had a subpar, injury-plagued regular season, but damn, did he ever show up when it mattered most. He scored two goals in game five. One counted, and one didn't. 
He also registered four shots, three hits, three blocks and played a total of 28:39; he is an absolute stud. Throughout these playoffs, Rielly played in 11 games where he scored four goals and added eight assists for a total of 12 points; the guy is an absolute gamer. There will be a lot of changes for the blue and white this offseason, and Morgan Rielly shouldn't be one of them. 
Well, that's it. The Leafs season is officially over. It's going to be a very interesting offseason in Leaf Land. I'd like to take a moment to thank each and every one of you who took the time to read any of my work throughout the season. I cannot express how much it means to me, truly. 
For more Leafs news and in-game tweets, follow me on Twitter @mikethefanatic! Also, be sure to check out The Leafs Late Night Podcast wherever you listen to your podcasts!
WELCOME BACK TO LEAFS LATE NIGHT! Presented by Inside The RinkRoscoe / Galaxy Biehn – Dubas Out?!?- Remember All The Good Times We Shared- I Don't Love Our Options- Matthews Next Deal?- Keefe's Fate- AI MascotsSPORTS! IS FUNMERCH IS AVAILABLE!JOIN OUR DISCORD!Remember to follow us on Twitter @LeafsLateNight & IG @LeafsLateNightCheck out Mike, Josh, and Nathan's articles on the Leafs + many more! insidetherink.com