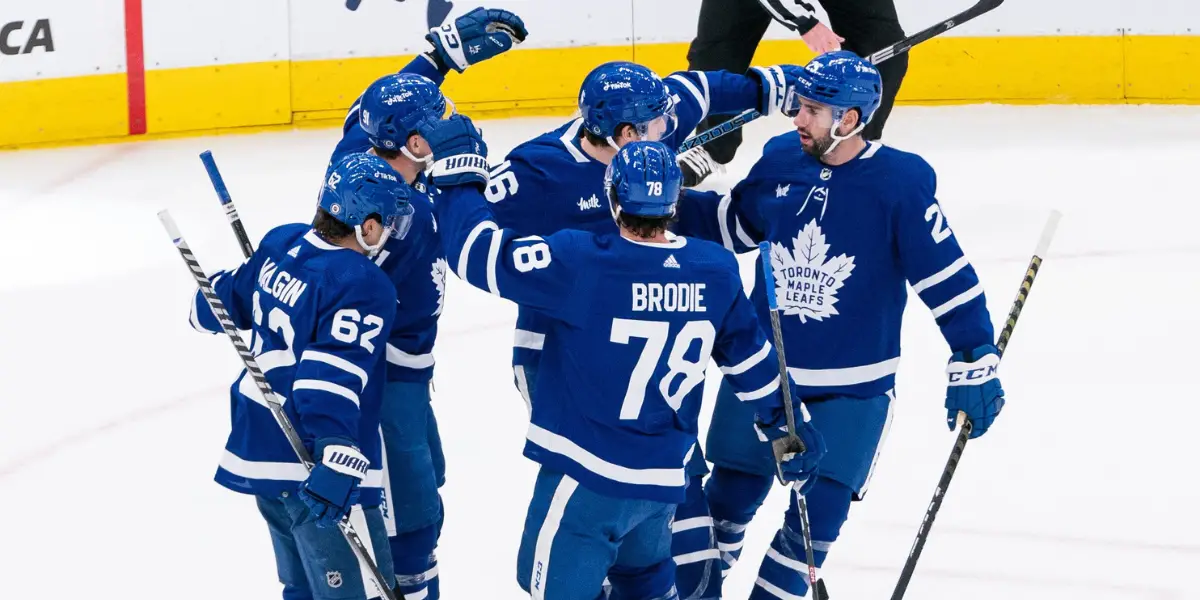 The Leafs take on the Rangers tonight as they look to continue on their strong November and December and increase their point streak to 16 games. The Rangers are a solid team who didn't quite get off to the start they would have hoped. They're picking up some momentum currently and will come hungry for the win in tonight's game. It will be up to the Leafs to play a strong defensive game and create offense if they want to come out of the night with two points.
Leafs Projected Lineup
Forwards
Bunting – Matthews – Nylander
Malgin – Tavares – Marner
Kerfoot – Kämpf – Engvall
Aston-Reese – Holmberg – Anderson
Defense
Giordano – Holl
Sandin – Liljegren
Brodie – Timmins
Goalies
Murray
Samsonov
Rangers Projected Lineup
Forwards
Panarin – Zibanejad – Goodrow
Lafreniere – Chytil – Kakko
Kreider – Trochek – Vesey
Blais – Brodzinski – Gauthier
Defense
Lindgren – Fox
Miller – Schneider
Hajek – Trouba
Goalies
Shesterkin
Halak
Three Things to Look Out For
1. Murray
Murray has been solid this season, but the last game looked shaky. They still won the game due to a 5 point night from Nylander, but I'm sure Murray wasn't too pleased with his performance. He will look to rebound tonight and help lead the Leafs to another win.
2. Bunting
Bunting had a slow start to the season and received much criticism for it, but he has started putting together another impressive season. He is currently on a nine-game point streak, and I'm sure many people didn't know that until the last game when the commentators stated it. He will look to continue to be a pest who can contribute both offensively and defensively as the Leafs take on the Rangers tonight.
3. Matthews
Matthews is a part of the streaks ongoing as he sits at an eight-game point streak. While Matthews may not be on pace for 60 goals this season, he has taken a significant step forward in his game defensively and physically. This solid defensive play has led to offense, especially in these past eight games, as he has six goals and 14 points in that period. Matthews has benefited in this stretch by playing with Nylander rather than Marner, and their chemistry looks to improve every game. It's pretty dangerous being able to send out Matthews and Nylander, then Marner and Tavares right after. If Marner ends up on Matthews's line for shifts here and there, it makes the team even more brutal to coach against.
Puck drop is at 7:00 pm EST on TSN4 as the Leafs take on the Rangers.
Thanks for reading! Feel free to follow me on Twitter @nathan_bondy.
Appreciation in Leafs Nation – RD2 GAME 5
–
Leafs Late Night
WELCOME BACK TO LEAFS LATE NIGHT! Presented by Inside The RinkRoscoe / Fanalyst / Galaxy Biehn / Marty From Keswick- We Didn't Want Florida- Rielly Robbed- Roscoe vs. Fanalyst: What Was The Deciding Factor?- Does The Regular Season Matter?- Leafs Nation Stays *mostly* PositiveMERCH IS AVAILABLE!JOIN OUR DISCORD!Remember to follow us on Twitter @LeafsLateNight & IG @LeafsLateNightCheck out Mike, Josh, and Nathan's articles on the Leafs + many more! insidetherink.com