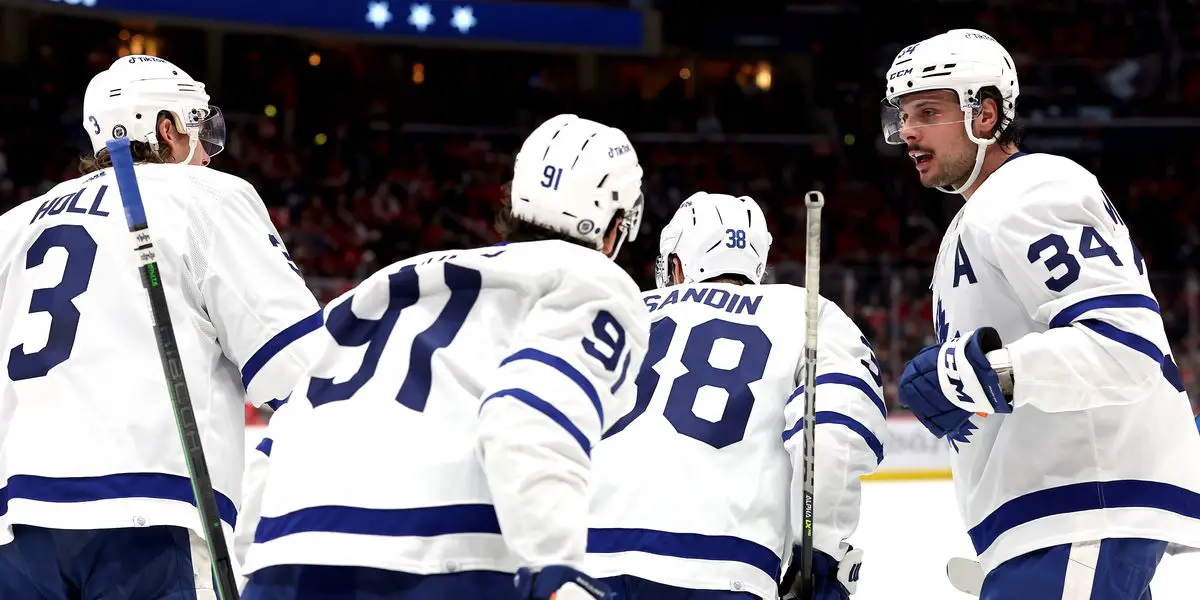 It's the Leafs against the Kraken tonight, as Giordano looks to have a solid showing against his former team. The Leafs are coming off of a rollercoaster 6-5 shootout loss where Matthews reached his 500th career point. The Kraken have improved quite a bit since last season and are currently sitting narrowly in a playoff spot, although they have less games played than all the teams in their division.
Leafs Projected Lineup
It looks like the lines will be the same tonight, as Nylander will be playing after missing yesterday's practice due to maintenance/illness. The only difference is Murray getting the start over Samsonov. I'm sure that goaltenders will rotate until one runs away with the crease, but this slowdown in numbers in the crease has led to a bit of uncertainty on who will take the majority of starts. It's not time to worry, as the Leafs will look to better support their goalies in hopes that when they make mistakes, the goaltenders will help the team out.
Kraken Projected Lineup
Forwards
Burakovsky – Beniers – Eberle
Schwartz – Wennberg – McCann
Tolvanen – Gourde – Bjorkstrand
Tanev – Geekie – Sprong
Defense
Larsson – Dunn
Oleksiak – Schultz
Soucy – Borgen
Goalies
Jones
Grubauer
Three Things to Look Out For
1. Marner
After Matthews hit 500 career points, the focus shifts to Marner; Marner enters tonight's game sitting at 498 career points. The last game was a bit quiet from him, so I expect to see more energy from him tonight, which more than likely can lead to points, putting him to the 500-point mark. It seems like every season, there's lots of milestones for this team, so it'd be great to see Marner get another tonight!
2. Bunting
Bunting is putting up quite impressive numbers once again this season, and I'm sure the Leafs are hoping to lock him down long-term in hopes his value doesn't skyrocket by waiting. He has been a unique but very effective player for the Leafs and has produced well, sitting at 29 points in 38 games. Look for him to continue producing while playing with superstars Matthews and Nylander.
3. Hunt
Dryden Hunt has been a Leaf for a few games now, and so far, he has looked decent. I like the combination that Aston Reese and him make, and I'm sure they will be able to feed off one another. Hunt looked good, especially last game showing lots of energy and actually getting some offensive zone chances too. There have been multiple players who looked good on the fourth line at first but didn't fit long-term, so it will be up to Hunt to prove that he's not more of the same and he deserves a permanent spot.
Tonight's game can be watched on Sportsnet at 7:00 pm EST!
Thanks for reading! Feel free to follow me on Twitter @nathan_bondy.
Appreciation in Leafs Nation – RD2 GAME 5
–
Leafs Late Night
WELCOME BACK TO LEAFS LATE NIGHT! Presented by Inside The RinkRoscoe / Fanalyst / Galaxy Biehn / Marty From Keswick- We Didn't Want Florida- Rielly Robbed- Roscoe vs. Fanalyst: What Was The Deciding Factor?- Does The Regular Season Matter?- Leafs Nation Stays *mostly* PositiveMERCH IS AVAILABLE!JOIN OUR DISCORD!Remember to follow us on Twitter @LeafsLateNight & IG @LeafsLateNightCheck out Mike, Josh, and Nathan's articles on the Leafs + many more! insidetherink.com