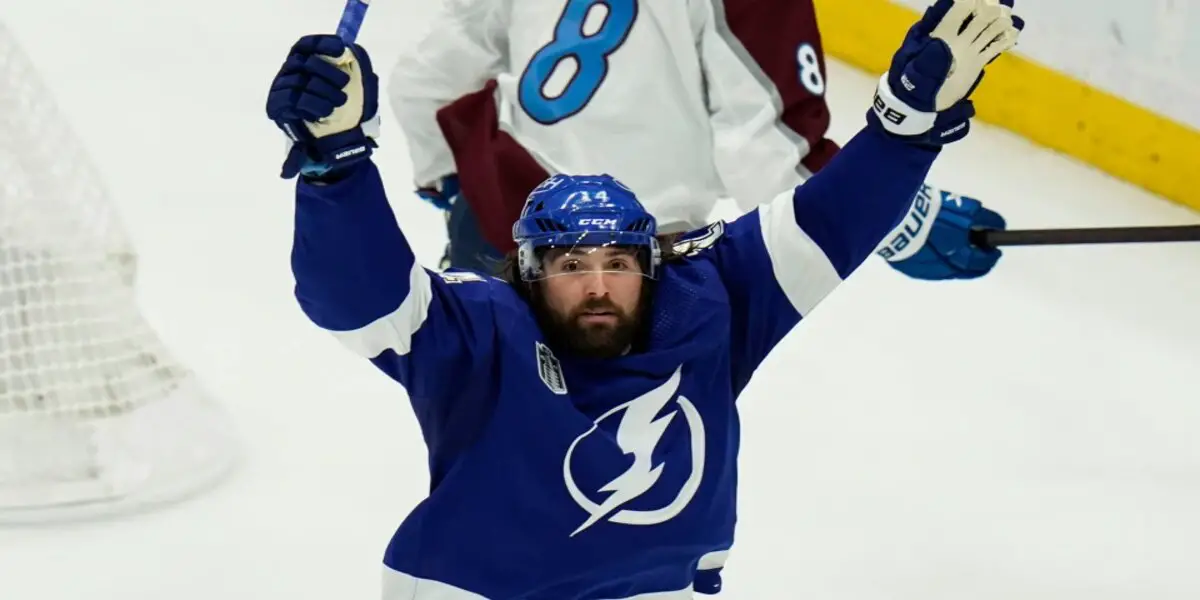 TAMPA — Steven Stamkos, Pat Maroon, and Ondrej Palat each scored and had an assist, and the Tampa Bay Lighting scored four times in the second period and overcame a disastrous game on Saturday to beat the Colorado Avalanche 6-2 in Game 3 of the Stanley Cup Final.
Anthony Cirelli, Nick Paul and Corey Perry also lit the lamp to help the two-time reigning champion Lightning bounce back after losing the first two games of the series on the road. Nikita Kucherov and Victor Hedman had two assists, and Andrei Vasilevskiy was back to his old self, stopping 37 shots.
Colorado outshot the Lightning 39-32, but Tampa Bay scored four more goals to trim their series deficit to 2-1. Avalanche coach Jared Bednar yanked Darcy Kuemper midway through the second period after allowing five goals on 17 shots.
Gabriel Landeskog scored all two goals for the Avalanche, including the first of the game to give his team a 1-0 lead, but it wasn't enough to hold back the Lightning. After Kuemper was replaced by Pavel Francouz, he finished with one goal allowed on 10 shots.
Game 4 is Wednesday evening at Amalie Arena, where the Lightning have won a franchise-record eight consecutive playoff games. Furthermore, Colorado lost on the road for the first time this postseason and for the first time since the semifinal round against the St. Louis Blues.
Two nights after a dismal performance that saw the Lightning manage just 16 shots in a 7-0 rout in Denver, the Lightning rebounded by neutralizing Colorado's speed with effective defense to avoid going into Game 4 in a 3-0 hole.
The Avalanche pulled Kuemper after Pat Maroon, who was later given a game misconduct along with Avs' center Andrew Cogliano, scored on a soft shot that put the Lightning up 5-2 with 8:45 remaining in the second period. Perry subsequently scored on a Francouz rebound to make it 6-2 with 5:02 left in the period.
The Lightning have been the comeback kids this postseason. They overcame a 3-2 series deficit against the Maple Leads in the opening round of the playoffs and a 2-0 series deficit in the Conference Finals to eliminate the New York Rangers in six games. They're looking to do it again against Colorado to become the first three-peat Stanley Cup Champion in 40 years.
Episode 51: Interview w/Jack Ahcan Episode 51 is back in action talking about the New York Paingers ITR bet, Can Buffalo Sabres make the playoffs? Is Vancouver in the wrong on the Boudreau treatment? Is Tocchet the right guy? Is Daryl Sutter the last Dinosaur in the NHL?YouTube: https://www.youtube.com/@insidetherinkTwitter: https://twitter.com/CueTheDuckBoatzFacebook: https://www.facebook.com/Cuetheduckboats/Thanks for listening! Please rate and review our show on your favorite listening platform. Check out our partner's website at www.insidetherink.com for all your latest hockey news. Also, catch all of the games in this year's NHL season by signing up for ESPN+ at Insidetherink.com/ESPN