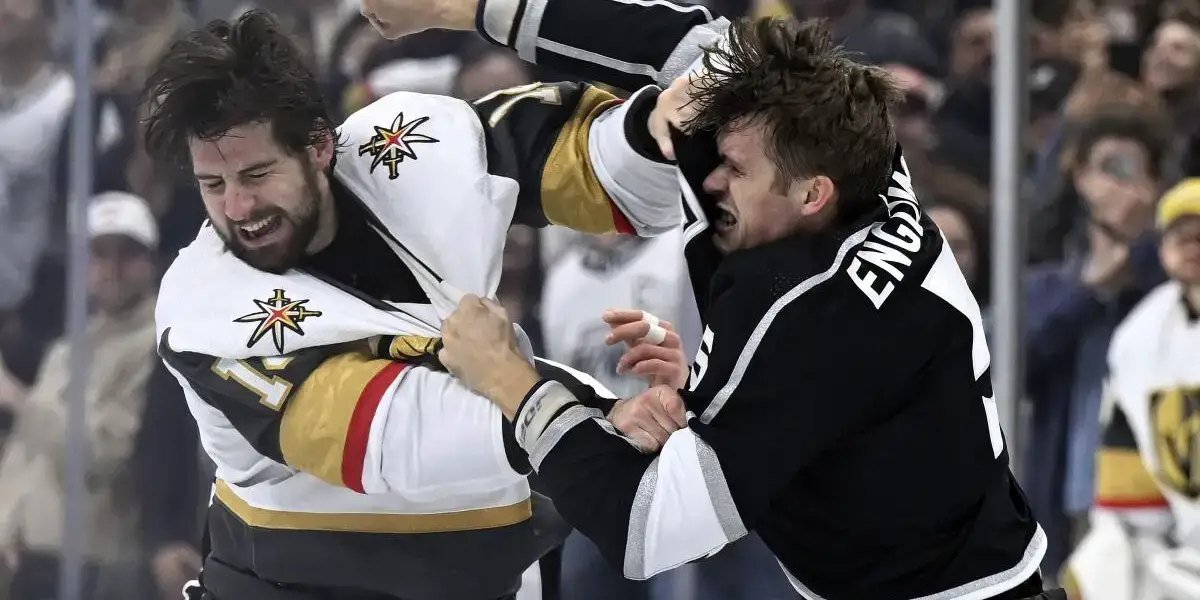 Week Three
The Kings had a home and away set against Arizona and then a home game against Vegas. Arizona has now seen the Kings more than any other team by a wide margin when also considering the two games played in Australia during the preseason. Vegas also played the Kings twice, one game leaving Mark Stone to say some memorable things. Comfortable with other systems and players, each game added a different element of highly entertaining hockey.
The Kings have played some heavier, talented teams thus far, which McLellan has described as upper echelon. This was Colorado, Carolina, Boston, and now Vegas. You can include Winnipeg and Minnesota in the mix as playoff-type teams the Kings have played. While they haven't fared as well as you would hope against the upper-echelon teams (two for eight possible points), they have fared well in each game. Vegas was an actual heavyweight bout'. Being up two goals over the defending champs was a massive boon for the boys in Black. Conceding three unanswered goals at home, particularly an odd-man rush while ahead in the game, does raise questions. The Kings have plenty of early-season measuring sticks to provide a more picturesque outlook for their new identity, and it will be tested for the next few weeks.
The following road trip will test the team that sits at a rosy 4-2-2 in a mostly lukewarm division where only Vegas has gotten off to a scorching start. The Kings remain undefeated on the road (3-0-0) and will have to face Toronto, Ottawa, Philly, and a final stop in Vegas.
As we look forward to maintaining that record, here is what elapsed during week three.
Laferriere is the real deal.
After scoring the first goal of his young career last week, Laferriere followed up with another massive goal in the 4-3 shootout loss to the Knights. Following up on a strong drive to the net by Dubois, Laferriere lurked behind to bang in the rebound, opening the scoring for the Kings. The goals and points will come while on a line with two dynamic players, but it's his IQ and stickwork that have stood out to me. He consistently gets his stick into passing lanes and gets sticks on pucks. No player in the last few seasons was better on the Kings at this than Alex Iafallo. Now, the new Alex has been excellent at getting those "ticks on pucks." He has been a disrupter, physical, and savvy with the puck. Just watch these Euro-Kopi passes.
Arvidsson is missed, but so far, this was exactly what the team needed. An opening due to injury creates a blossoming opportunity for a young player. He has gotten better each game and has been an excellent complementary piece to Dubois-Fiala as well as a lefty-saturated top nine.
Defense is in Flux
The Kings have had two steady defensive pairs through week three. Doughty-Anderson, and Roy-Gavrikov. The third pair has hardly played together at even strength. Englund and Spence have played mostly separately, split between the second pair of mainstays. Spence and Englund struggled against the Knights, and both have tread water against mid-higher competition. It is too soon to poke around at potential veteran depth defenseman around the league to potentially trade for, as Bjornfot is still a viable option to kick the tires on for another try. But this should be on Rob Blake's outlook, given the relief in the cap from the Arvidsson injury, should the need to carousel the third defensive continue. Starting in week four, I'll research some potential defensemen to target.
Q and A
Quinton Byfield, to be clear, is playing on a line with two puck-dominant players. He has been prone to defer because his role is to defer to a Hall of Fame center and a fourth goal scorer in the NHL. You don't mind him being more assertive and shooting, but his role on the line is to puck-hound, be physical, and defer. He has added more of a net front, taking it to the crease to his toolset.
He is also looking, for the first time, not tentative to burst full speed into the corners. Q came off an ankle injury during board-work and hadn't looked the same. This season, particularly in week three, he went to the dirty areas and was exceptional in tight spaces and on the boards.
Don't overlook his role in the 5-4 comeback win in Arizona (1-1-2).
Chronicles of Rittich?
For the second season in a row, Blake sought contingency plans in goal. Last year, out of pure necessity, this year to have a confident tandem while their offensive provides unheard-of run support.
Cam Talbot has proved to be the number one. That was the consensus at the end of the preseason, which is clear-cut through week three. Talbot entered the Arizona away game, gave up a goal to former Kings Sean Durzi, and then shut the door. He stopped Jack Eichel on a breakaway early in the start of the Vegas game and looked sharp throughout.
The same can't be said of Copley. Not all the goals he has given up are solely on him. There's an element of poor team play, but his stats are particularly unsavory. Copley deserves more looks to even out his stats, but you do have a third option in Ontario who has more NHL experience than Copley. Rittich is down in Ontario and has already passed through waivers.
If called up, could he act as last year's Copley? If things continue to degrade in Copley's performance?
Final Thoughts:
The boys have been dynamic on offense. In the three games this week, they scored 14 goals. Can they keep this up on the road?
Talbot should get the start in Toronto. That should be a given.
Hey Drew, the 2016 Norris winner called; he wants his award back. Keep firing away.
Rest up and gear up for a tough road trip.
Required Reading