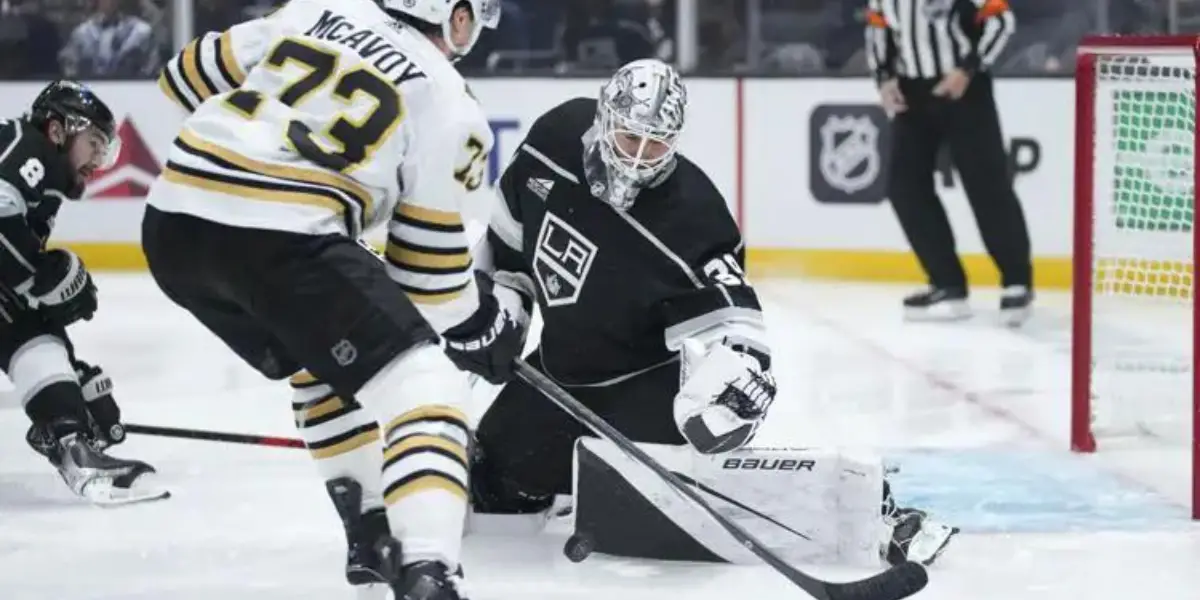 Week Two brings us precisely a quarter to the quarter-pole mark of the season. Another way of saying that is to proclaim that it is still too early to make generalizations and claims regarding the team. But we are human beings, we are analytical, and we try to pick at subliminal trends that can be found, regardless of the small sample size. Week Two saw two excellent road wins after starting the season with two obscure sample-sized losses. They capped off the week with another loss to the Bruins, who have made Crypto.com a house of horrors for the Kings, going back to the Staple Center era.
Cam Talbot looks to be the No. 1
Colorado was not the finest outing for Cam Talbot. Following the loss, Cam stood out firmly in a resounding shut-out worthy victory in Winnepg in which he withstood a first period of onslaught to keep the Kings in the game. Every person who follows this team understands that goaltending is a weary weakness for the team compared to, let's say, well, the Boston Bruins. Talbot has been excellent. Talbot's small sample size over three games affirmed that though he might not put up superior numbers if been rode for the majority of the season, but in controlled and regular doses of play, he can be dependable and make the saves needed for this team to not only win games but contend. Talbot put up a pedestrian .905 save percentage through the last three games, which is overall watered down and dropped mightily by the .840% delivered by the Bruins.
Identity Check
The Kings have played five playoff teams from last year through their first five games. Colorado boasts a significant contingency of the 2022 championship roster. Carolina is always sniffing or in competition for the Eastern Conference title. Winnipeg has been a central figure in the Central Division playoff standard for the last half of a decade. Minnesota boasts excellent talent and has been in the playoffs for three years. The Bruins, if you didn't know, made the playoffs last year while winning the President's trophy.
"Well, we really want to re-establish [advantage at home] that, but we've had the President's Trophy team come in tonight, we've had the other two division champions come in and we ended up having three nights, where we got a point out of [one]. We talked about needing measuring tools and measuring sticks, those are three teams that you have to beat, especially on home ice, at some point"

McLellan, post-game 10/21
McLellan put it beautifully after the game against the Bruins, stating that they have been tested early and have started to gauge their overall game. The balance of this team is beginning to show, with a player on the fourth line being prudent to show in the case of Carl Grundstrom. He already has three goals. The team is beautifully built for the forward corps and has come in waves during Week Two. They look like a team that eventually wears you down, coming at you line after line. The issue seen on Saturday was running into a goalie who can steal a game.
Shooters goin' Shoot? Or not?
Adrian Kempe and Kevin Fiala have combined for one goal. Yes, we are only five games in, and Fiala is amongst the league leaders in assists. But to have your forty-goal scorer from last year have one goal being an empty netter and one of your best shooters not having a single goal does raise some eyebrows for concern. It is undoubtedly known that both players will whiff over 20 goals this year; it will just come in due time.
"[Kevin's] got a tremendous shot. He's making some real good offensive plays, setting up other people, and that's real good but he's got a shot and he's got to use it. Juice has had the shot attempts, a couple off his stick, couple wobbly pucks tonight, he hasn't had anything real clean, but we aren't short on offense most nights"

McLellan, post-game 10/21
There is no need to panic, but it is something to monitor if the trend continues. However, the positive from other players scoring is refreshing, such as Laferriere scoring before Fiala this year. Also, Moore heat is coming from the "third" line. I hardly considered penciling in Moore for 30 goals this year. Keep the tracker going. "Trevor Moore led the Kings in goals in 2023-24″ would be a longshot, but the team would benefit if he can keep this play up. It looks like incredible contract value thus far.
The Fourth Line
Finally, addressing the fourth line during the second week is fair. Lizotte may be one of the best fourth-line centers in the league. Carl Grundstrom, as I've noted, is having an incredible start to the year. Trevor Lewis has struggled. He was brought in to help the penalty kill and add veteran depth to the bottom six. While the penalty kill has looked more polished and improved in the diamond-aggressive formation, he has sometimes weighed down his line. I doubt McLellan moves Trevor Lewis out of the lineup just yet, but you have Anderson-Dolan and even Alex Turcotte chomping at the bit in the AHL to enter the lineup. Strictly speaking, Lewis needs to be better with two other guys playing well on that line.
As mentioned, the ability to roll over four lines effectively for the first time in over half a decade will be the biggest strength for this team moving forward.
Required Reading
Episode 6. Early Trade Season
–
Inside The Rink
In episode 6 of the Inside The Rink Podcast, Tyler, Matt, and Connor return to business. This week, we are starting a new segment, "On The Shelf," an injury report from around the league. This week's show covers all-time leaders in empty net goals, the Washington Capitals cold start has turned into a torrid November, the Golden Knights presented US President Joe Biden with a golden hockey stick during their White House visit, which candidates should be selected for the 2024 Hockey Hall of Fame Induction, Carolina has stumbled out of the gate, and their Captain has called out his teammates, Firing Jay Woodcroft has lit a small fire under the Oilers roster after seeing 3 straight wins. Lastly, is it time for the early season trades to erupt? We discussed all the teams primed to make some moves prior to the Trade Deadline.For more ITR: https://insidetherink.com/How to support us and our sponsors: ESPN+ –  https://insidetherink.com/espnFanatics – https://fanatics.93n6tx.net/c/3080932/586570/9663Draft Kings – CODE ITR