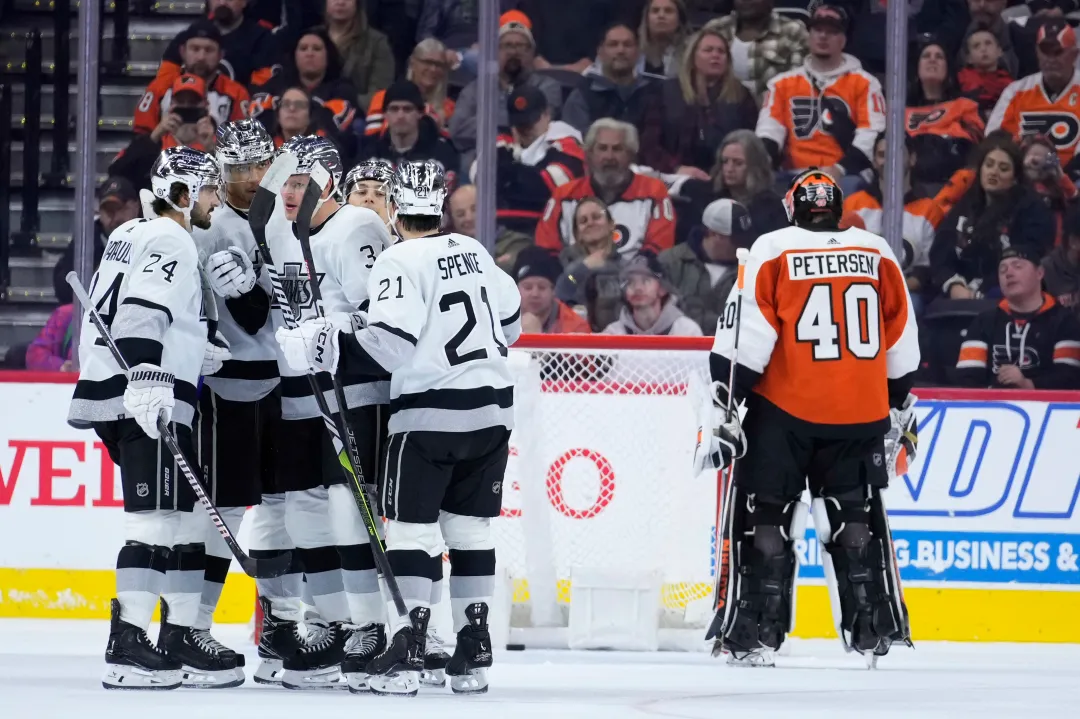 Week Three ended with a heavyweight bout that not only was the Kings' most complete 60-minute effort of the season but also went past regulation. They left for Canada to start week four. They went into Toronto and made no mistake in establishing their even-strength dominance. Toronto heavily relies on four players to drive their offense, and playing a team that is the number one rated goal-scoring offense in the league due to its scoring across all four lines, all three defensive pairs, will prove trouble for any team in the NHL, let alone a team that is overly reliant on four players.
They played shutout-worthy hockey in Toronto but gave up a goal to John Tavares on an isolation play off the wing, giving him a look to make a perfect shot, and he did. That will be a play/look the Kings will give up their new diamond PK formation. The lone D in front is covering the cross-ice, back-door play. The other team can force a play to the net without immediate opposition deterrence from the defenseman, but the player has to make an assertive, accurate play. We saw this in Ottawa, too, thank you, Gavrikov.
Shoutout to Phillip Danault for the game-winner, set up by Trevor Moore on an excellent reverse pivot back door play moving from the faceoff dot. Danault continues to be a thorn in the Leafs' core, going back to his days in Montreal.
Ottawa was another exceptional 60-minute effort from the Kings. Phillip Danault would open up the scoring from where he scores all his goals from within five feet. The Kings went out to gain a 3-0 lead and were in control completely. In many respects, it is another shutout-worthy performance by Cam Talbot. The Kings, or rather, Doughty, took an interference penalty on Tim Stutzle that was borderline Premiere League flopping. The second goal saw Batherson death-grip Matt Roy's stick behind the net before getting the puck back to the point for a shot that struck captain Anze Kopitar in the face. The play should have been called down in that sequence twice, once for the penalty and the other for Kopitar being struck in the face. However, Kopitar skated off; whereas most players would have collapsed to the ground to get a call, he went to the bench. It is what it is.
They followed up their two shutout-like performances with an actual shutout. Outside of a contested breakaway, the Flyers didn't put together enough high-danger looks to compete with the Kings. To be fair, the game was a scheduled loss for the Flyers this year. On a back-to-back, playing the rolling Kings, who in all respects on paper, are the better team, it was expected to be a loss, which snowballed into a beatdown. The Flyers game reflected that opposing teams could focus on shutting down certain players, like Dubois and Fiala in Philly, but will get burned by the other lines.
The Kings finished the week 3-0-0 and are set up to rest for a few days before they play what could be considered 'The game of the year' (to date) on Wednesday at TMobile arena.
The Top Line
Quinton Byfield finished the three games with five points, all assists. Adrian Kempe had two goals and two assists. Kopitar finished with two goals and one assist. Kempe will never be comparable to Kucherov in Tampa, one of the best shot and pass threats in the league, but he has figured out to be a pass threat against teams who already gameplan him as a shot threat whenever he's on the ice. They were lights out against all three opponents, and you have to figure, after seeing each game, that Quinton Byfield has genuinely taken that next step. Kopitar continues to turn back father time.
Trevor Moore
Moore continued his tear of play this year and was crafty, creative, and tenacious during the three-game stint. His edgework has been much crisper this year, and his shot has become more effective from his offseason work. If Dubois and Fiala are considered the second-line pair, then Danault and Moore are the clear-cut best third-line combo in the entire league. I don't believe it's that close.
The Fourth Line
If we mention the best third line in hockey? Can we talk about the Kings' fourth line? The fourth line saw most of its matchups in Ottawa against the Brady Tkachuk line of all lines. The line is centered by Blake Lizotte, who does just about everything and, while a smaller player by stature, becomes a pit bull in the corners. His hard work was rewarded with a goal against Philly for crashing down the slot for a one-timer that found twine. Carl Grundstrom has been a force, being effective on the forecheck and still maintaining his hard and accurate shot, as we saw against a broken two-on-one roof job in Ottawa. He's been more trusting this year, as last year, he was highly susceptible to taking offensive and neutral zone penalties. Lewis has become exactly what I thought he would be, a reliable and safe fourth line player capable of eating minutes on the PK.
Next Up
Week Five will be a tough one for the Kings. They have their heavyweight rematch on the road with Vegas, an 11-0-1 team vs a 6-0-0 team on the road. They play back-to-back with the struggling but veteran squad of the Pittsburg Penguins. They finish their three-games in-four stretch with a rematch of the Flyers on Saturday.
A testing but defining week ahead for the Kings.
Required Reading: