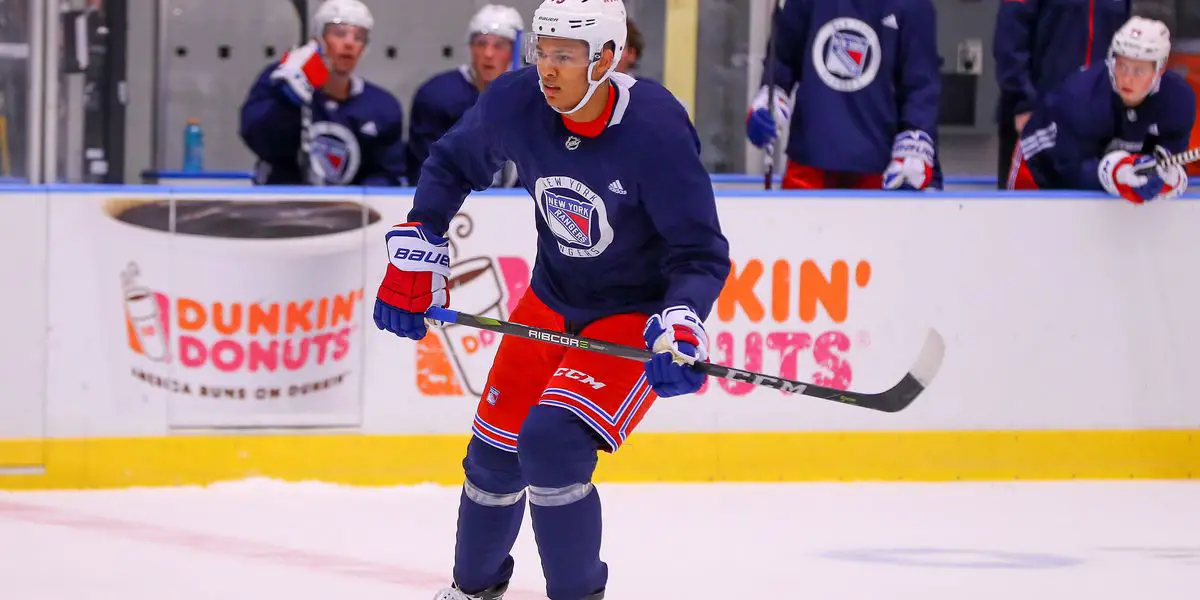 With the trade deadline fast approaching and new rumors being bandied about each day, who are the bargaining chips possibly on their way out of the franchise? Despite their youthful NHL roster filled with recent prospect graduates, the Rangers cupboard is still full of promising prospects.

Although the hype isn't quite Alexis Lafreniere or Kaapo Kakko level (probably a good thing), forwards like Brennan Othmann, Will Cuylle, Ryder Korczak, and Brett Berard are all experiencing phenomenal seasons in each of their respective leagues. With the top 6 on the big club pretty set for the foreseeable future (assuming Kakko and Lafreniere cement rolls on the top two lines), a logjam of additional promising young prospects at forward won't come for at least a few seasons.

However, the current gridlock on the Rangers defense is more pressing. It's exciting but also something to be wary of. The NHL roster currently features a top 4 of Adam Fox (turns 24 next week), Ryan Lindgren (turns 24 today, Happy Birthday), K'Andre Miller (22), and Jacob Trouba (27). While the top two pairs have been mostly steady this season, the 3rd pairing has been a disappointing mishmash of promising youth, aging veterans, and a once exciting prospect now turned suspect in Libor Hajek.

Rookies Zach Jones, Braden Schneider, and Nils Lundqvist (a top-25 NHL prospect before the season) have all gotten their fair share of chances in the bottom pairing and have each shown flashes of promise. Schneider seems to have taken the lead on the other two as he stayed in New York while Jones and Lundqvist were recently assigned to the AHL during the All-Star break. Jones and Lundqvist have joined another Rangers top defensive prospect, Matthew Robertson, in Hartford. Robertson, a second-round pick in 2019, increased his stock last season as he was a point-per-game player for the Edmonton Oil Kings.

Simple mathematics would suggest that something's got to give with all these blue-chip prospects on defense and a current NHL blueline that features a top 4 all under the age of 27. Before the season, Nils Lundqvist seemed like the preferred option out of the four prospects. While Lundqvist hasn't been bad in his 25 games this season, he hasn't been overly impressive either. Whether that's due to his pairing with Nemeth or his lack of experience is certainly up for debate.

Out of the current NHL roster, Fox and Trouba are untouchable. Fox for obvious reasons and Trouba because of his no-trade clause. Lindgren is almost untouchable because he eats up top pair minutes with his extremely team-friendly contract with an AAV of $3M. While the source of frustration at times due to inconsistent play, K'Andre Miller is still only 22 years old. He has a world of talent that you can't give up on, but he's not untouchable like the other three because of the potential return he could demand.

Out of the prospects, Jones, Robertson, Lundqvist, and Schneider could all be used in a deal that would fetch a hefty return. Still, I would be surprised if Schneider was the one dealt out of town because of the way management recently handled the AHL assignments and because of Drury's reported steadfastness to not include him in any potential Jack Eichel trade packages this past summer.

Either way, you look at it, the Rangers are in a good position right now. They can trade away from an organizational strength to bolster the current lineup for a playoff run now or wait until the offseason. Drury has a lot of options heading into the stretch run. Not all of these kids will be able to play for them, so it might benefit them to deal with some of these prospects soon instead of waiting for them to become suspects.
In this weeks episode we discuss the Rangers contender status, offensive problems, Gallants questionable decisions and more.Thanks for listening! Please rate and review our show on your favorite listening platform. Check out our partner's website at www.insidetherink.com for all your latest hockey news.