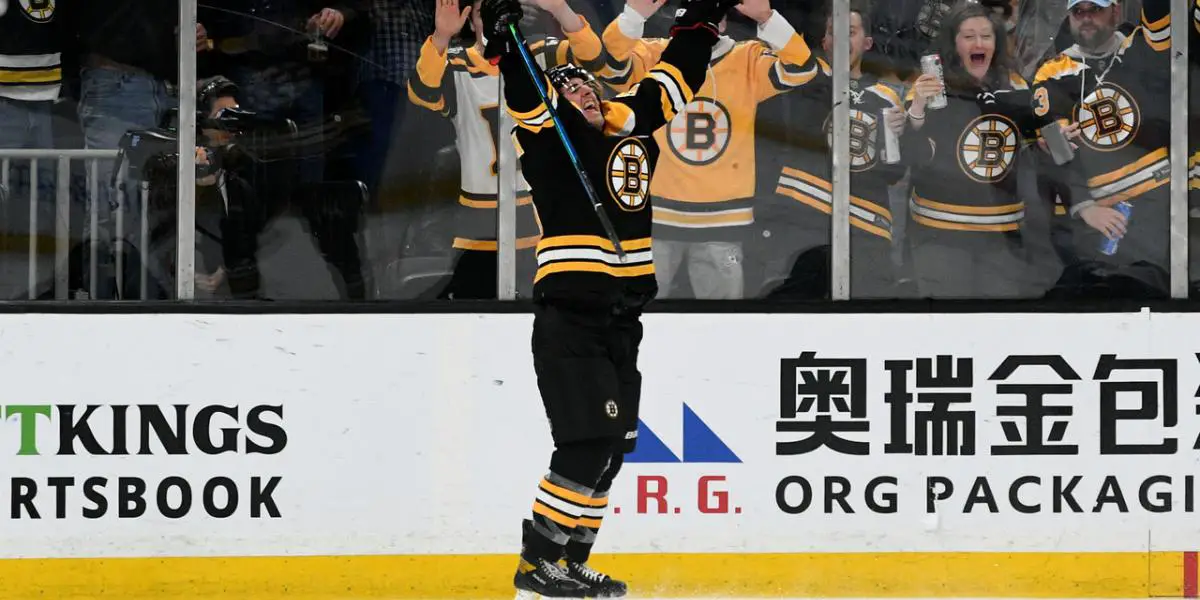 Having the privilege to suit up in the black and gold, representing Boston and all of New England, is an honor. Whether you're a newly acquired player in a trade, free-agent signing, or draft pick, being a part of the history of such a storied franchise that was one of the original six teams in the NHL doesn't get more special. This is especially true when you're a hometown boy growing up in Massachusetts, only imagining that one day you'll play for the team you idolized growing up. On Thursday night, the Boston Bruins debuted two new players in Boston as newly acquired defenseman Josh Brown got the call on the third pairing. Recently signed college free agent Marc McLaughlin made his NHL debut, sliding into the right-wing spot on the third line filling in for an injured Craig Smith. It was a perfect night for both players as they both contributed and helped Boston secure an 8-1 win over the New Jersey Devils.
Hometown Kid Makes Dream Come True
For McLaughlin, it was a dream come true as the Billerica, Mass native and Boston College alumni was able to play his first career game at home in Boston in front of more than 50 family members, friends, and college teammates. If that wasn't already enough of a special night, McLaughlin got on the scoreboard as the 22-year-old that was signed two weeks ago following the conclusion of his college career wasted no time as he scored his first career goal. McLaughlin got the job down in the second period with 7:56 left, and the Bruins were already leading New Jersey 6-1 when he added a snipe on a one-timer from linemate Trent Frederic on a 2-1 rush, beating goaltender Jon Gillies. After the game, McLaughlin said, "I feel like I've lived that moment as a kid a hundred million times, down in my basement or shooting pucks or something. But for it to come true here and get in a game and obviously be able to contribute with a goal, it's really special." It doesn't get more special than this for McLaughlin as he looks to add depth to a Bruins team fighting for a top spot in the Atlantic Division with only 15 games to go.
Josh Brown Gets Down and Dirty in Boston Debut
For Josh Brown, the Bruins already knew what they were getting from the 6'5″ mammoth of a defenseman when they acquired him at the 2022 trade deadline from the Ottawa Senators. Brown was acquired to bring a big body, hard-hitting and tough style of play to Boston's defense as Brown has a reputation for being willing to fight. Bruins fans have been waiting for head coach Bruce Cassidy to finally deploy the defenseman into his third pairing, and they got their wish on Thursday as Brown did not disappoint. Brown did exactly what he was brought in to do, and the Bruins look to deploy him with Mike Reilly on the third pairing when Derek Forbort and Connor Clifton are not in use. It didn't take Brown long to get into his first fight while donning the black and goal as he went toe to toe with New jersey's Mason Geertsen three minutes into the first period as Geertseen didn't appreciate Brown's hard-hit against the boards. Brown finished the game with a plus-minus of +2, one hit, and his one fight in 10:18 of ice time.
Bruins are in a Good Spot Moving Forward
The Bruins are in a good place right now as they look to build on this win with their next game coming Saturday, April 2nd, against the Columbus Blue Jackets at 7 pm EST. The Bruins need every point and win they can gather to stay afloat in the Atlantic Division if they have any chance to catch the Tampa Bay Lightning or Toronto Maple Leafs for the third or second spot in the Division. The bright side for the Bruins is that they now know they have solid depth at defenseman, leaving Bruce Cassidy with plenty of options to rotate around the third pairing if needed. Also, having forward depth to fill in when players get banged up or need rest is key to sustaining a healthy and contending roster that can continue to win no matter who's in the lineup. Hopefully, this is just the beginning for McLaughlin as he looks to build on his first game and carve out a role with Boston the rest of the season and into the next and beyond.
Episode 51: Interview w/Jack Ahcan Episode 51 is back in action talking about the New York Paingers ITR bet, Can Buffalo Sabres make the playoffs? Is Vancouver in the wrong on the Boudreau treatment? Is Tocchet the right guy? Is Daryl Sutter the last Dinosaur in the NHL?YouTube: https://www.youtube.com/@insidetherinkTwitter: https://twitter.com/CueTheDuckBoatzFacebook: https://www.facebook.com/Cuetheduckboats/Thanks for listening! Please rate and review our show on your favorite listening platform. Check out our partner's website at www.insidetherink.com for all your latest hockey news. Also, catch all of the games in this year's NHL season by signing up for ESPN+ at Insidetherink.com/ESPN