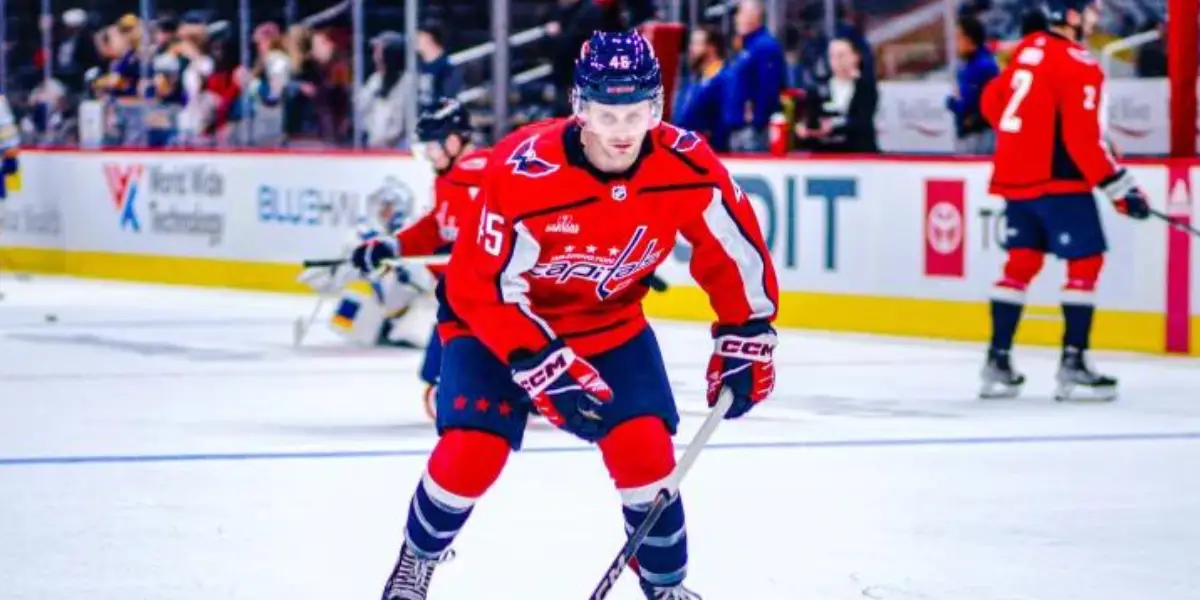 Who is Matthew Phillips?
Matthew Phillips, a right-winger from Calgary, is no stranger to success in hockey. As a junior, Phillips was drafted 33rd overall by the WHL's Victoria Royals, even practicing with them in the preseason before he was play-eligible per the WHL's rules. In 2017, Philips signed an entry-level contract with the Calgary Flames, playing in the AHL with the Stockton Heat until 2021, where he made his NHL debut with the Flames, tallying two shots on goal and 14:19 of ice time. He returned to the Heat in the 2021-2022 season and was then moved to the AHL's Calgary Wranglers during the 2022-2023 season, where he saw incredible success. Matthew Phillips scored 76 points in 66 games (36 goals, 40 assists) and was named to the AHL First All-Star Team in 2022-2023.
Preseason Performance
In 2023, as a free agent, Phillips signed a one-year, one-way contract with the Washington Capitals worth $775,000. He has proven himself throughout training camp, earning himself a skating spot on the first line alongside teammates Sonny Milano and Dylan Strome in Saturday's game against the Detroit Red Wings. Matthew Phillips was a key to the Capitals' game against the Red Wings, tallying a secondary assist (Ethen Frank to Dylan Strome) and adding a goal to the score sheet, assisted by Strome and Milano. Head Coach Spencer Carbery sees potential in Phillips, and his team is beginning to take notice, too. "He's done a really good job through Training Camp, and I think last game put the coaching staff more on notice of what he does," Carbery said to media on Monday.
The Case for Phillips
After Saturday's success, Matthew Phillips was seen skating on the first line alongside Alex Ovechkin and Nicklas Backstrom during practice Monday morning– a huge opportunity for a young player. At just 5'8 and 165 pounds, he's on the small side, but that seems to be of little concern to Spencer Carbery. "You're starting to see a player that is obviously undersized, but it doesn't affect him a whole lot when it comes to his… ability to get in on the forecheck and win loose pucks," Carbery said on Monday. "He's going to get bumped around a little bit, but we've just found his game to be really effective of keeping pucks alive, making plays when they're available, and being in good spots…He's been dialed in. He's doing a good job of making a case for himself."
Related Article: Capitals Make Cuts to Training Camp Roster
An opportunity with the Capitals would be one of Phillips' first true experiences at the NHL level, as his time on ice with the Calgary Flames was limited to just three games. Things are looking good for Matthew Phillips to be joining Washington's regular lineup once the season kicks off. Along with Spencer Carbery speaking highly of the young forward, Phillips has an advocate in the form of assistant coach Mitch Love. Matthew Phillips played under Love in the AHL, with both the Stockton Heat and Calgary Wranglers– and saw great success, too. He put up 144 points in 131 games, claiming the role of the leading goal scorer for both teams.
In part due to his smaller stature, Matthew Phillips is a quick skater, which is a valuable asset to an aging Capitals team, and something that Carbery has emphasized consistently throughout training camp. "I think I have a similar view of how to play the game to how we're trying to play here," Phillips said while speaking to the media after Monday's practice. "A lot of speed and quickness. It's a different pace of play in the NHL, and I do think my game translates. For me, it's all about just getting to [the net] as that's where I seem to produce." Having Phillips primarily practice and play with skaters in the bottom six–such as Dylan Strome and Sonny Milano– is important, as that would be his likely place come the regular season. Spencer Carbery explained that he wants to see Phillips be productive there and then be given the opportunity to move up in-game or in case of an injury.
Matthew Phillips is willing to work to realize his dream of playing consistently at the NHL level. When asked what he plans to do to get there, he replied: "It's cliche, but [take it] day by day. Don't overthink, just show up, put on your jersey – whatever color, and go to work." A player like Phillips as a Capitals regular would bring the speed, youth, and fresh game that Washington needs in the 2023-2024 season.