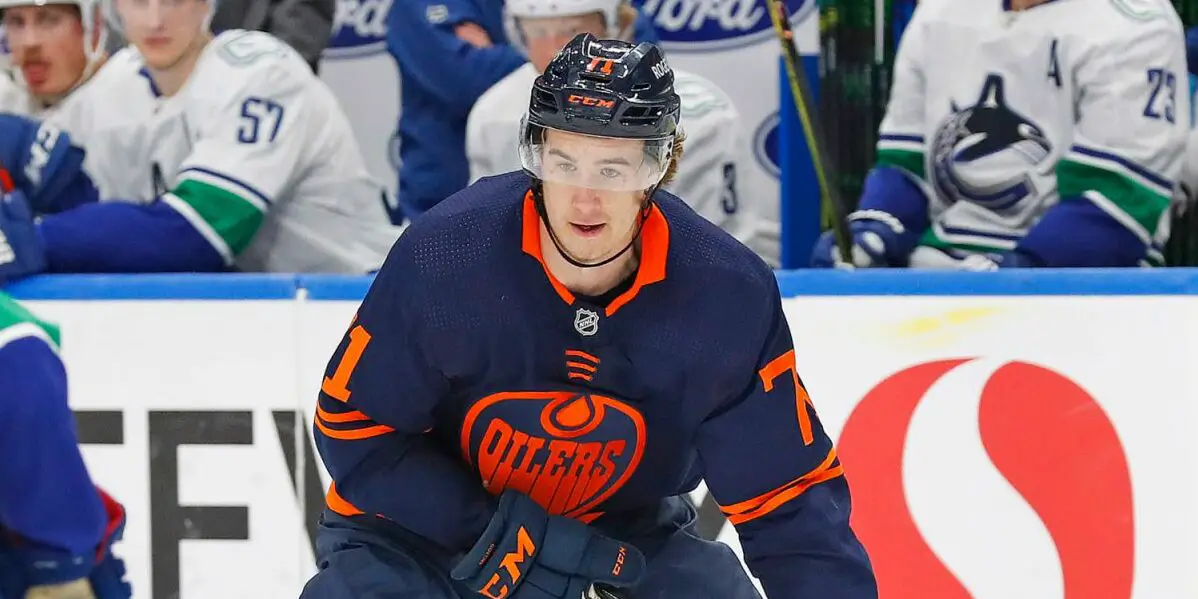 Draft year
In 2018, the Oilers had the 40th overall selection in the 2nd round of the NHL Entry Draft. With that pick, the Oilers drafted Ryan McLeod, who played for the Mississauga Steelheads in the OHL and had a phenomenal draft year, putting up 70 points (26 goals, 44 assists) through 68 games. As you can tell by the assists, McLeod was known as a great playmaker and an excellent skater. His foot speed and acceleration are the most notable parts of McLeod's skating, and it's currently showing during his time with the Oilers. Growing up, McLeod was a big Oilers fan, thanks to Oilers fan-favorite Ryan Smyth.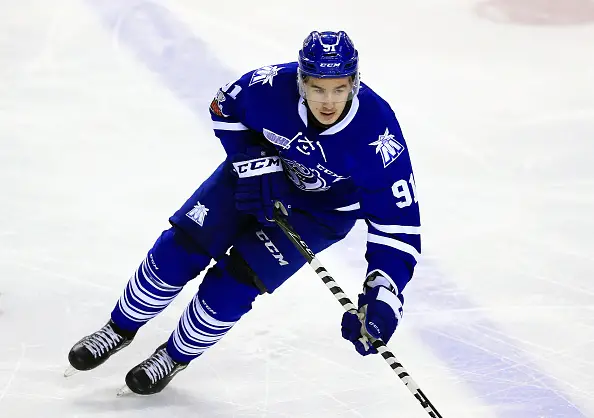 McLeod went back to the OHL for an extra season with Mississauga in his first season. During his time there, his play remained consistent. McLeod played 62 regular-season games, but not on one team, as during the season, he was part of a trade to the Saginaw Spirit in a blockbuster deal. McLeod was the only person going from Mississauga; the Spirit moved defenseman Duncan Penman, a 2019 3rd round pick, a 2020 2nd round pick, a 2022 3rd round pick, a 2024 3rd round pick, and a conditional draft pick. McLeod's play dropped a bit, as he went from putting up 38 points in 32 games in Mississauga to posting 24 points in 31 games in Saginaw. McLeod would also play 17 games in the playoffs, where he got five goals and seven assists for a total of 12 points. Though it was an excellent run for Saginaw, it would end in heartbreak, losing game 7 of the championship in OT against the Ottawa 67's.
McLeod would join the Oilers AHL affiliate, the Bakersfield Condors, during their playoff run in the same year. While only playing five playoff games, McLeod did end up with 3 points, all assists. McLeod would stay with the team during 2019-20, playing 53 games before covid hit and ended their season. In those 53 games, McLeod would get 23 points (five goals, 18 assists) in 56 games.
In 2020-21, the covid season, the AHL season was not up and running yet, and with players having a long time off, many of them looked for places to play. McLeod would find the National League in Switzerland and play 15 games for EV Zug, putting up four goals and seven assists for 11 points. After that, McLeod would join his AHL team in Bakersfield and play 28 games. McLeod's play took a jump during those games, and it looked like he was developing into a player the Oilers could use in the near future. When Oilers center Devin Shore was injured, Ryan McLeod was gifted a call-up and would play in his first NHL game against Winnipeg. Through 10 games, McLeod notched one point, an assist. He would also play four games in the playoffs but would struggle (as the whole team did) and not get a single point.
It was a good ten-game 'measuring stick' to see where McLeod's game was at, and many were wondering if he could make the team out of camp next off-season.
Earning It
While McLeod did well in training camp, he was out-performed in the eyes of Dave Tippett and would not start on the opening night roster for Edmonton. Or at least he wasn't supposed to until Devin Shore suffered an injury that would allow McLeod to step in for him. While he didn't put up any points, McLeod's game was faster and better defensively.
After the first two games, McLeod wouldn't see any action over three weeks, but that would change, as Devin Shore would suffer another injury, this time, it was long-term. With Shore reportedly out for 4-6 weeks, this was McLeod's chance to earn a spot in the lineup. While he did struggle for a couple of games, McLeod would attain his first career goal against the St. Louis Blues, as he would pot a rebound and give the Oilers a 4-2 lead. It was a big goal for McLeod and the Oilers, as the depth in Edmonton has once again struggled to produce.
As McLeod progressed through the season, the struggles would continue, as he would get two more goals in the next 13 games. It's been a tough stretch lately for the Oilers, who in their last 12 games have gone a 2-8-2 and McLeod, but his previous three games have been nothing short of impressive.
The Oilers would face the New Jersey Devils for the first time in two years, and McLeod would face his brother, Michael McLeod. Michael McLeod has had some of the same struggles as his brother, only posting 8 points in 33 games. As the brothers would go head-to-head, Ryan McLeod was sure to bring his A-game. During the game, Ryan McLeod created multiple chances for the Oilers and his line, and he would be rewarded early. McLeod would make a beautiful feed to McDavid, who then had tons of net to shoot at and scored. It was a great play, and it earned him more shifts alongside 97. Later in the game, the Oilers would tie it 4-4 in the 3rd, trying to find their first lead, and McLeod would go to work. McLeod picked up the puck, got it in deep, threw a fantastic backhand pass out front, and Devin Shore would put it top corner to give the Oilers the 5-4 lead, and McLeod's first multi-point game of his career in the NHL.
It was impressive and a breath of fresh air for the fans, finally seeing some help from the depth. Although the Oilers would lose in OT, McLeod's beautiful play was the one that allowed them to get a point.
It's been tough sledding for McLeod, who has worked very hard to get here and hasn't had the most talented linemates to work with, but McLeod could give the Oilers something they desperately need for the long term, a producing 3rd line center. A homegrown depth player, something the Oilers haven't had in quite some time. His two-way game gives him a great comparable to a player like Nugent-Hopkins. He's got speed, he's got hands, he can transport the puck from one end to the other, and he's solid in his zone. This is a player who could drastically help the Oilers' depth needs in the future, or maybe even as the season goes on.