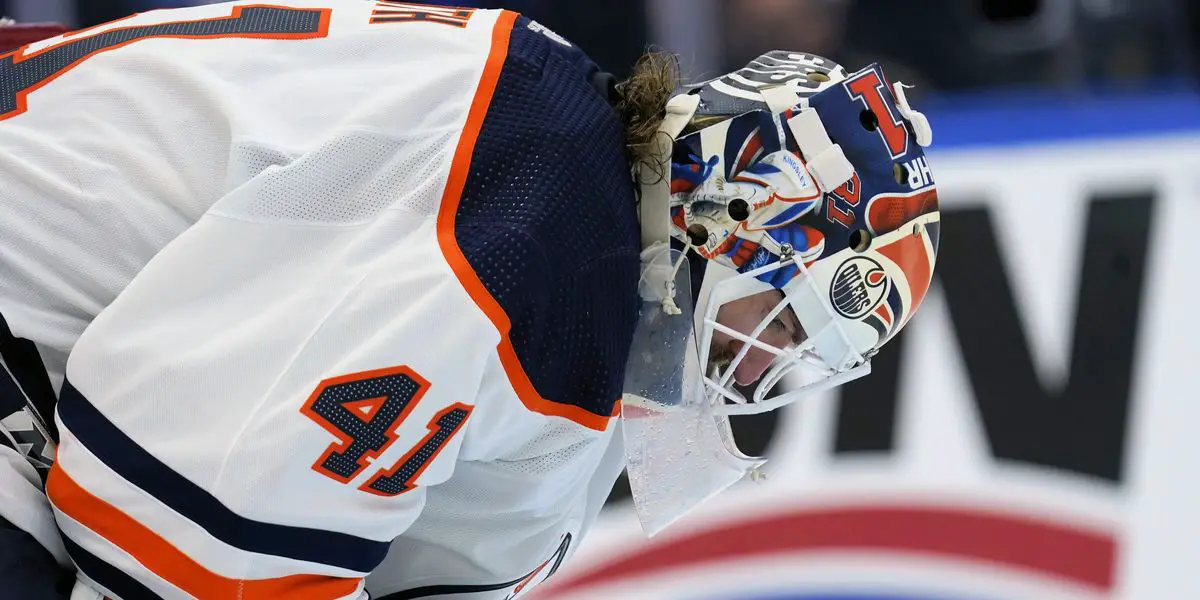 The beat goes on for Mike Smith and being injured, as his thumb injury is still aggravating him, keeping him out for longer than expected… where have we seen this before. Smith suffered in the injury in OT against the Devils, making a breakaway save on Jack Hughes.
With Mike Smith only playing six games this season, fans have many reasons to be upset about the goaltending situation. Smith is only in the 1st year of his two-year deal, yet again, terrible management decision by Ken Holland. Through 6 games, Smith is 2-2-1 (one game not showing as he got injured against the Ducks and was forced to leave the game), has a GAA of 3.76, and a SV% of .898. While the Oilers' defensive game has not been the strongest, neither has Smith's play, as in his first three games back from injury, he has allowed 13 goals against.
Opportunity Is Knocking… Again
When Mike Smith first got injured, the Oilers called up Stuart Skinner to backup Koskinen in October. Smith was only listed as day-to-day initially, and many thought Skinner wouldn't get any games in his time up, but this was not the case. It turns out Smith's injury was worse than expected, and Skinner would get a chance to show off his growth. Only playing 1 NHL game before this (this being in the 2020-21 season against the Sens, the Oilers would win 8-5), Skinner's first game this season would be against the Red Wings. Even though the Oilers would lose 3-2, it would not be Skinner's fault, as he made 35 saves and had a .921 SV%. Skinner would get two more games, one against Buffalo, and the next he would fill in for Koskinen in the 3rd period against the Jets. Both would be losses for the Oilers. Skinner would get the nod in net against the Jets again the next night, and this is where he would earn the trust of the fanbase.
Going against Hellebuyck and the Jets, Skinner would not falter under any kind of pressure. He looked calm, cool, collected the entire game. It would take over two and a half periods of play and 32 shots against Jets player Nikolaj Ehlers to finally pot one for Winnipeg. It would also be the first goal of the game. It was deflating, saying the least, it felt like the Oilers were going to waste Skinner's amazing performance and take their 3rd loss in 4 games, but McDavid wasn't ready to let that happen. As 28 seconds later, McDavid would pick up the puck at his blue line, skate in against 3 Winnipeg players, go through all of them, and score to tie the game at 1-1. Even though McDavid would tie the game, he would take a very untimely high-sticking double minor, and the Jets would head into OT with 3:17 to work with on the powerplay. Although the Jets would press, Stuart Skinner would make save after save and would bring the Oilers to the shootout. Skinner would make saves on both Scheifele and Connor in the shootout, while McDavid and Turris would score and give Skinner the 2-1 victory. Skinner would finish the game with 46 saves.
Stuart Skinner would be sent down to Bakersfield when Smith returned. During his time in Edmonton, he played nine games, went 4-5-0, had a GAA of 2.70, and a .916 SV%.
Redemption For Mikko
With Smith out, Koskinen will have eyes on him again, and with some fans voicing their displeasure with his play, this is the prime opportunity for Koskinen to get back in their good books. What was said about Smith earlier is the same for Koskinen, as his play has not been strong enough. Through 20 games, Koskinen has a record of 12-7-1, a 3.19 GAA, and a .900 SV%. Koskinen has had his share of highs and lows, games where he makes amazing saves but lets in a weak one. The Oilers haven't given him the greatest play in front of him, but he needs to be better as well.
Mikko Koskinen can play like a starting goalie. He showed us all in the 2019-20 season, where he went 18-13-3 and posted a GAA of 2.75 and a SV% of .917. Now expecting him to just jump back to that is insane, and that's not why I'm putting those numbers here, but it shows that Mikko's play can be a lot stronger than what it currently is, and if he can bring those numbers up while Smith is out, he will earn some fans trust back.
All In All
With Mike Smith out, there may be an opportunity for both guys to step up to the plate and steal a job. While it may be a short-term injury, and the Oilers only have one game in the next five games, there is no guarantee that Smith will be back anytime soon. Here's to hoping the Oilers can find a way to figure out what's going with their goalies and get back to their winning ways sooner rather than later.