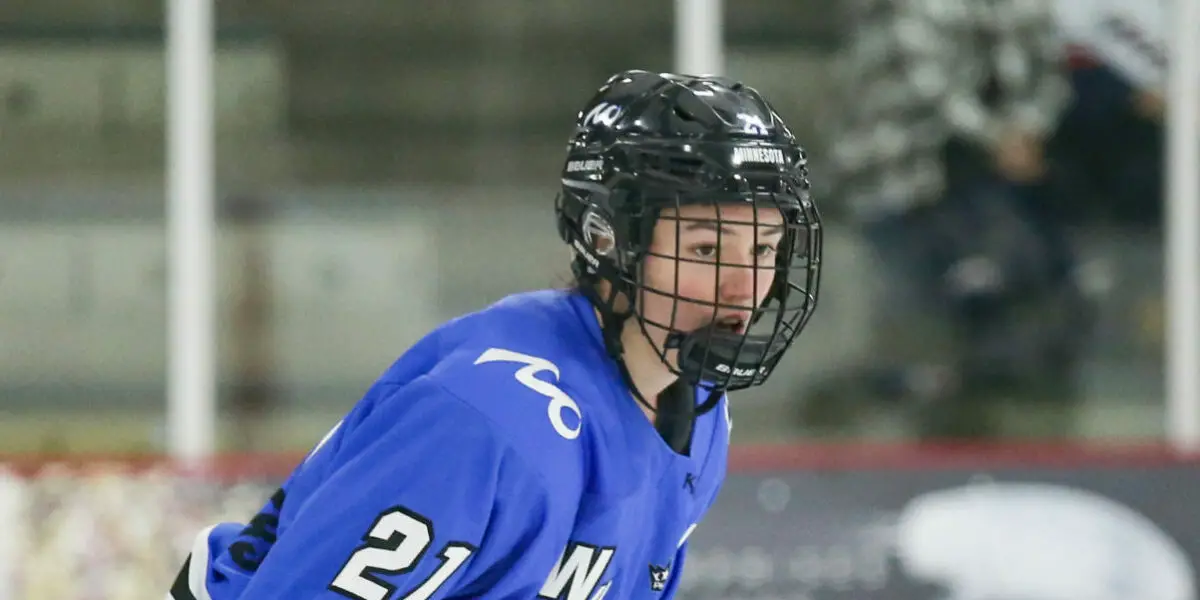 The Minnesota Whitecaps needed a statement game today. They delivered.
A much more intense offensive effort from Minnesota powered them past the Connecticut Whale 4-3 on Saturday after being shut out by Whale goalie Abbie Ives the night before. They had no answer for Connecticut's best-scoring line of Kennedy Marchment, Taylor Girard, and Alyssa Wohlfeiler, who combined for six points in the two games. But Minnesota learned their lesson from Friday night, playing to their skills offensively to break through a stifling Connecticut defense and blow the game wide open Saturday afternoon.
Minnesota's top six forwards controlled the tempo of the entire game on Saturday. Natalie Snodgrass led the way with a goal and two assists – including the eventual game-winner.
Jonna Albers, Denisa Křížová, and Olivia Knowles (her first in the PHF!) added goals, and Sidney Morin, Brittyn Fleming, Patti Marshall, and Amanda Boulier recorded assists.
Now sitting at 3-3-2 on the season, Minnesota avoided surrendering third place in the PHF to the Whale with today's win. Snodgrass moved into a tie for second in league scoring with her three-point performance, sitting even with the Toronto Six's Brittany Howard and the Metropolitan Riveters' Sarah Bujold with eight points. Montréal Force forward Jade Downie-Landry leads the league with four goals and five assists for nine points in her first six career PHF games.
Minnesota goalie Amanda Leveille has started all eight Whitecaps games this season, and she's playing as well as ever now. She had a .930 save percentage over the weekend, stopping 66 of 71 Whale shots on goal.
Liz Schepers also remains one of the best faceoff-takers in the PHF. She followed up a 13/17 performance on Friday with 10/17 on Saturday, remaining well over the 50% mark on the weekend.
Albers said during the second intermission of the game after scoring her fourth goal of the season that the team "found [their] legs" and "knew that [they] could beat this team." It's the kind of confidence you'd hope for from a leader like Albers, and it was on full display as the team pushed ahead Saturday to split the series.
Czechmate
Perhaps the biggest constant of Minnesota's 2022-23 season has been the absolute electricity of Denisa Křížová – and, perhaps, her unluckiness. She does have just two points in eight games, both goals. Yet she's still managed to generate quality scoring chances in nearly every period, let alone every game.
She won't be relied upon as the game-changing talent Albers is and will remain, nor will she be relied upon as a defensive specialist. But Křížová has one of the best skillsets and creative minds in the entire PHF. She's been a complete joy to watch and cover at every turn.
Looking Forward
Next weekend, the Whitecaps return home for a Saturday/Sunday matchup against the expansion Montréal Force. Game action will start in Richfield at 6 pm CT on Saturday and 1 pm CT on Sunday. It's Minnesota's last set of games before a two-week holiday break.
Salary cap raise 1:00All star game 7:44beauts outdoor game 10:10ECHL all star game 12:24 Live fantasy hockey draft 16:00Hockey jerseys reviews 37:36