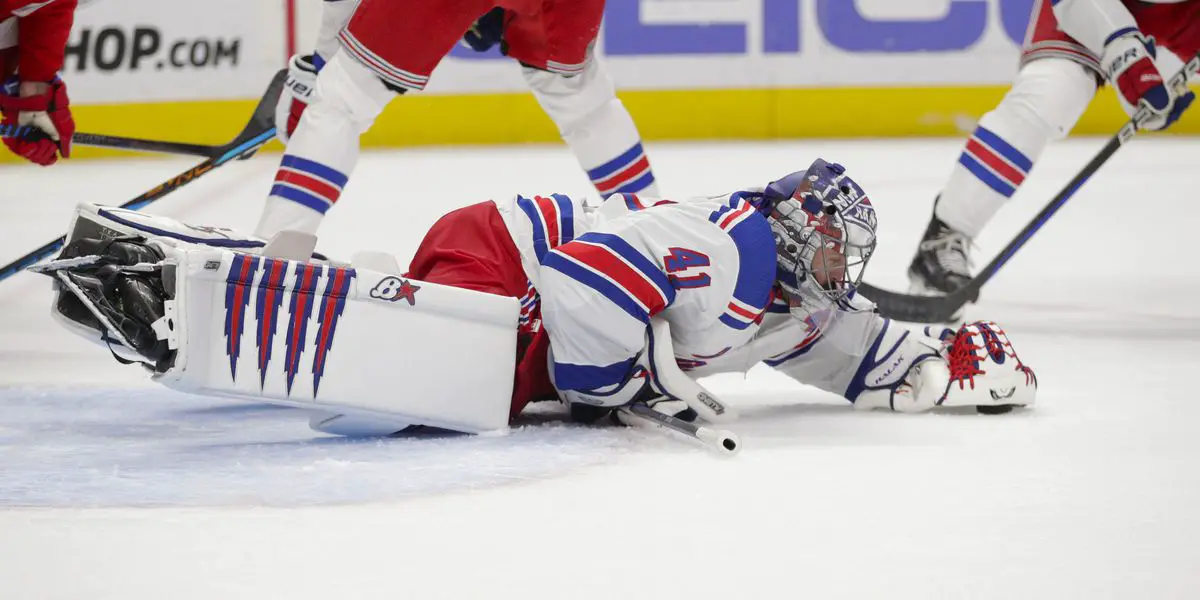 This night began with some pregame "roster management" (this term has become trendy lately) news that distracted the Rangers' fanbase. It also seemed to distract the team, as they fell to the Detroit Red Wings 4-1 in a sloppy, deflating performance in all facets for their third loss in a row. The defense was atrocious, and the offense certainly seemed like they needed Kane because they definitely weren't able. (I apologize. I'm the worst.)
Let's break down the good, the bad, and everything in between.
THAT'S GOOD
VINCENT TROCHECK
Sort of a broken record, but Vincent Trocheck was our best forward last night and has been so recently. His unassisted goal was one of the few positive highlights of the game and a microcosm of what he brings. A high hockey IQ to convert that turnover, drive the net, and find the space to beat a very solid Husso.  
He's definitely not the smoothest player out there, but that is kind of a positive definition of his game. Do what it takes by any means necessary. It wasn't nearly enough last night, but he's one of the only players where the blame doesn't lie.
THAT'S BAD
EVERYTHING ELSE
Sorry for this lazy checkout of a category, but there was no one true negative standout last night. So get ready; this will be more of a rant than a recap. 
 Last night was a collective effort of breakdowns and, frankly, disappointing structure and play from the whole team, especially the defense.
Every Detroit goal was directly the result of missed assignments or players just standing around watching the action as the Red Wings descended on Halak untouched. We repeatedly discuss these types of lapses, but they seem to happen every game.  
While it's the defense's primary responsibility, the whole team is culpable. On each goal, you can always name a couple of defensemen and at least one forward who contributed to the lapse.
Other teams will score, but you hope your team will make them earn every goal by scratching and clawing for it. At the very least, have them make an elite skill play, and you tip your cap.  
The goals this team has given up lately have been anything but. An opponent would envy the wide-open space they've given up at even strength, even if they were in a three-on-three OT.  
Structurally, the offense was fine, but again, they suffered from falling right into the defense's hands. The Red Wings style is all too happy to sit back and let you try to make the perfect pass, which the Rangers are always willing to attempt. It resulted in several blocked shots and even more deflected passes. The Rangers continued their nagging habit of trying to create a stunning Monet painting when they should act more like a Pollock and throw pucks at the net to see what sticks. (How's that for a cultured take?!)
CAN I GO NOW?
We'll talk more about Kane when it happens, but on paper, the top six SHOULD be lethal with his addition. There will be no excuses for lackluster offensive nights like this one when he arrives.
It was a choppy game last night in general. Stoppages for the Lindgren (dangerous) check to the face and a long delay to change out the glass. It didn't make watching this any easier.
Fox and Laffy got into scrums toward the end of the game after taking exceptions to big hits. While I always appreciate the team aspect of sticking up for one another, we get mad when other teams do it to us after a Trouba hit, for example, so it didn't really move any emotional needles for me.
Happy to see Motte come back from taking that puck to the neck/face. The guy is the Lindgren equivalent for forwards.
Our best try was a nice pad/skate save by Husso on a Fox shot. Again though, this team needs to be better at lifting pucks. If he is already down in his stance, you make any save easier for a goalie when you keep the puck on the ice.
The next game is Saturday at Washington against a reeling Capitals team. No excuses.
In this weeks episode we have on Drew Way to discuss analytics, defensive problems, the human element and more.Thanks for listening! Please rate and review our show on your favorite listening platform. Check out our partner's website at www.insidetherink.com for all your latest hockey news.