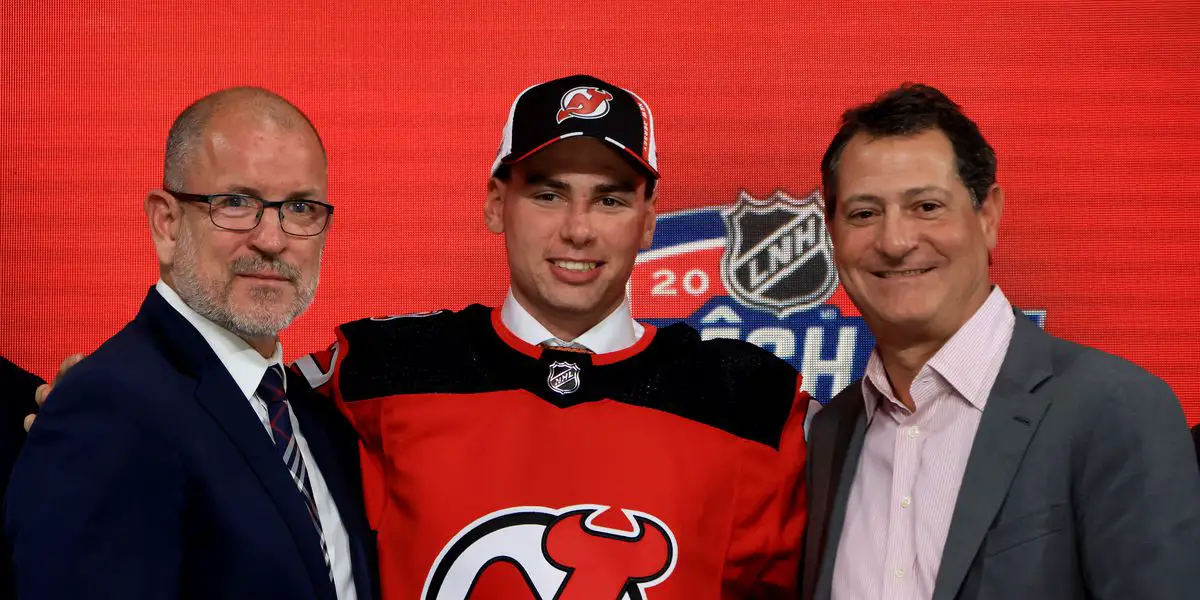 Well, the weekend has officially come and gone. It was an exciting one for the entire New Jersey Devils organization, from top to bottom for all three leagues, including their fan base from casual to the hardcore, as New Jersey wrapped up their prospect camp earlier this morning, playing their final game in the Prospect Camp.
It seems as if after every single hockey season, the off-season keeps getting shorter. For the higher-ups in the organization from the likes of names from Devils General Manager Tom Fitzgerald, Utica Comets General Manager Dan MacKinnon, Executive Director of Hockey Management and Operations Kate Madigan, Utica Comets head coach Kevin Dinnen even down to Adirondack Thunder Hockey Head Coach and Director of Hockey Operations Pete MacArthur it was the first look at what the Devils have for talent this season.
New Jersey went 1-1-0-1 on the weekend against Montreal and Buffalo and finished off this morning against Boston.
Goaltenders
All four net-minders were invited to camp. Nico Daws, Akira Schmid, Tyler Brennan, and Isaac Poulter all got into game action during the weekend. With the Devils adding more depth than ever for all three organizations, goaltending is a lock for this team unless some injuries occur during camp. It'll be Mackenzie Blackwood, Vitek Vanecek, and Jonathan Bernier in New Jersey. In the AHL, it'll be a battle to see who gets the starting job in Utica with Nico Daws and Akira Schmid, and for that third spot, it'll be between Mareks Mitens and newly signed Isaac Poulter.
In the AA for Adirondack, It will be whoever doesn't win the job as the third goalie for Kevin Dinnen's Comets' and to me and who I've asked around, it could be a toss-up between who they send here as the starting net-minder. Speaking with Dinnen over the weekend, they will be sending someone here who they want to "develop and grow" long term, which seems like they are going to send first-year pro, Swift Current Broncos product Isaac Poulter. Poulter backed up Schmid on Friday. Mitens played 35 games between Utica and Adirondack last season, going 15-15-4-0 with a combined 3.82 GAA and .874 save percentage. This season could be a lot of phone tag between Kevin Dinnen and Pete MacArthur sending both goalies up and down depending on who's hot and who's not. Of course, it could be different if an injury occurs during Devils Camp, which opens this Wednesday, September 21st, or Utica Camp, which opens the following Monday. But In Adirondack, I believe it will be Issac Poulter and Jake Theut, who Adirondack signed on August 3rd after being with Wichita Thunder last season, where he had a record of 9-14-4 mark with a 903 save percentage.
As for a Thunder goalie in Adirondack, It could be that head coach Pete MacArthur could lean on Skidmore College Product Brandon Kasel, who was a fan favorite and stood his ground and bailed out Alex Loh a few times last season. Kasel, who signed on with this team in October of last season during training camp, worked his way with an 8-15-2-0 record with a .895 save percentage and earned himself three PTO'S with Providence, Hartford, and Utica last season could be a great fallback option for Adirondack as a third goaltender.
Predilection Recap
NHL: Mackenzie Blackwood, Vitek Vanecek and Jonathan Bernier
AHL: Nico Daws, Akira Schmid and Mareks Mitens
ECHL: Issac Poulter, Jake Theut and Brandon Kasel
Defenseman
All eyes were seemingly on Simon Nemec as Devils fans and management got their first look at the 2022 2nd overall pick this weekend.
"It's really exciting I can play in this (prospect) tournament" for the Devils; I'm super excited to be here. I wanna show what I know and what I'm like with other guys (being paired with them)". Nemec said before the games Friday evening.
Kevin Dinnen even chimed in by saying, "I think there's some nerves for him and for all of us. You know you're excited that you have such an exceptional talent and someone who's come over and is committed to getting a feel for the North American game, so this is step one".
Nemec this past weekend was paired with Nikita Okhotiuk, who's entering his final year of his ELC with New Jersey on Friday, and highly touted prospect defenseman Reilly Walsh on Saturday. He didn't play against Boston this morning to wrap up the tournament.
Sounding off was Comets GM Dan MacKinnon on Nemec's play this weekend, giving the following:
"One of the sayings that we use to describe [Nemec] is he gets his work done early on the ice because he is such a quick read out there. He gets back for pucks quick and knows what options A, B, and C, are."
While management is very high on Nemec, he believes he will be in Utica to begin the season. However, if he plays well, it could be a very similar situation to Joel Farabee when he was with the Lehigh Valley Phantoms, playing in less than ten games in the American League and never seeing the AHL level again.
Meanwhile, Reilly Walsh is a defenseman prospect competing for a spot in New Jersey's blue line this season. In his second year in the prospect tournament and getting a taste of the NHL level with one game last year, the Harvard Product skated in 70 contests, potting nine goals and 34 assists for Kevin Dinnen's club last season. If you watched any of the prospect games over the weekend and today, you could see a brand new level of maturity in his game.
"Looking back on last year's tournament, I tried to do too much, in the first game with kind of overdoing it with showing my skills. I had a book talk with the coaches this year to just keep it simple and play my game, and I thought I did a better job of that last year".
Kevin Dinnen, who coached this past weekend and Walsh all year in Utica, piggybacked on Walsh's comments.
"I heard a lot of things about him on my way in here last year. He came in here in the first exhibition game; I took him off the power-play in his first game. He didn't play in the second one on the power-play. There were other areas to work on; it might have hurt his feelings a bit, but he takes his game to heart. He plays with a real passion and sincerity that makes him an elite player in our league last year".
Kevin Dinnen also spoke on the quality of veterans of Tyler Wotherspoon, who could be a depth defenseman for New Jersey this year, along with a defenseman that the Adirondack Thunder could see on the blue line due to a numbers game with the Devils organization, Robbie Russo.
"The quality of veterans that we certainly have in Utica with Robbie Russo and Tyler Wotherspoon on the defensive side of things, you know Colton White was there, they're quality individuals, but there's a bit of no-nonsense as them as well when you have that depth roll in your career you realize how fortunate you are to be in the position to do what you love and to make a living playing a professional sport and to maximize your talent, and when you see that as an example (as a rookie), sometimes it's not through words, it's through actions and through routine, and sometimes that rubs off."

Dinnen harped on how veterans will help Utica and Adirondack this season, talking about the likes of Simon Nemec, Michael Vukojevic, Riley Walsh, Nikita Okhotiuk, Jarrod Gourley, and Jérémy Groleau, to name a few.
It wasn't just highly rated prospect defenseman Nemec and Walsh that Meghan Duggan, Director of Player Development, was looking at. It was the Flip Bratt's, Jarrod Gourley, Jérémy Groleau, and Michael Vukojevic's of the world competing for a spot in the AHL to start the year.
She said, "I hope it's a great showing for our organization, like the New Jersey Devils are kicking off the season with their rookie camp, and they're ready to go," A few of us strategized around like, okay, How can we deploy resources or how can we, you know, check in on these players, keep them accountable. And so, we came up with let's see where their training environments (are), let's check in. Some were in new environments, and so we came up with a plan to go see a handful of these players, and the objectives of the visits are How has he trained? And how is he committed? Like, is he showing up late or early? What does the trainer say about him? What's the environment look like? Because you have this fantastic professional space with all the resources, or is he going to need a little extra support because the space isn't that great? Is the guy he's working with pushing them enough?"
Prediction Recap:
NHL: Hamilton, Severson, Siegenthaler, Marino, Graves and Smith.
Extra: Hickey
AHL: Bahl, Wotherspoon, Groleau, Okhotyuk, Walsh, Nemec and Geertsen.
Extra: Russo and Vukojevic.
ECHL: Blujus, Bratt, Gourley, Chukarov, Ryczek, Taylor, and DaSilva.
Extra: Dennis and Russell
New Jersey begins training camp on Wednesday, and Utica will start camp somewhere between September 26th and October 3rd. Adirondack will open camp on October 7th. ECHL players may begin reporting on October 6th.
The boys are back after a long break but have plenty to talk about as the playoffs are in full swing. We go series by series, looking at how teams have fared so far and who will come out on top. Thanks for listening! Please rate and review our show on your favorite listening platform. Check out our partner's website at www.insidetherink.com for all your latest hockey news.